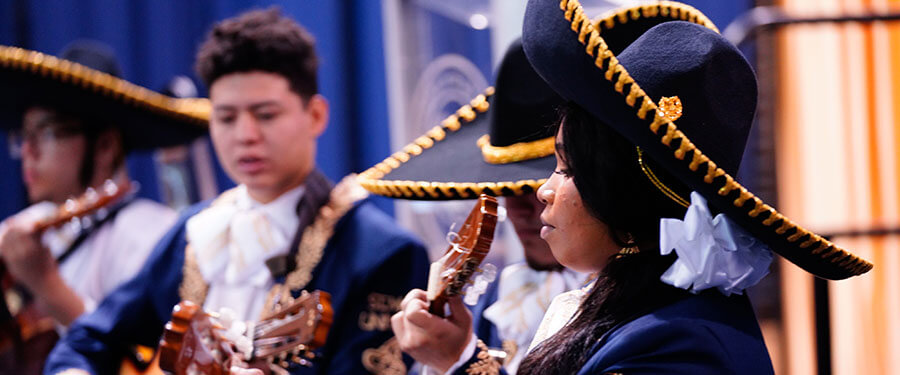 The Office of Admission invites prospective students and their families to attend one of our signature events for prospective at St. Mary's University. These larger, in-person events are designed to showcase our academic and co-curricular opportunities as well as give students a chance to interact with current St. Mary's students, faculty and staff.
Preview Night at St. Mary's

It's beginning to look a lot like Christmas at St. Mary's University! Join us for Preview Night to learn about St. Mary's University's transformative education, enjoy a campus tour and experience our family spirit, a characteristic of a Marianist education. Afterward, you and your family are invited to join our annual Christmas Tree Lighting Ceremony and Alumni Social.

This event is for high school and transfer students and their families. Registration closes on Sunday, Nov. 26.
Sleeping Bag Weekend is for current high school seniors admitted to St. Mary's University to get an exclusive, in-depth look at life as a Rattler. You'll stay in one of our residence halls and be paired with a roommate, engage with current Rattlers, and have the chance to observe and participate in a St. Mary's class.

Get a glimpse of life as a Rattler at St. Mary's University! High school freshmen, sophomores and juniors and seniors will discover academic opportunities, engage with faculty and staff, explore student life, visit residence halls, meet current students, and hear about scholarships and financial aid resources.
Information sessions held virtually and in-person are designed for prospective students to learn more about the academic, co-curricular and social opportunities available to students at St. Mary's University. These interactive sessions focus on specific areas across campus, and prospective students are encouraged to attend as many events as they want.
We look forward to meeting you and learning more about your many interests, goals and accomplishments. Members of the St. Mary's community, including admission officers, faculty and staff will be traveling throughout the country (and around the world) this year attending college fairs, visiting high schools, community colleges and universities to meet with prospective undergraduate and graduate students.
Please explore the event options below to see when and where our team will be traveling near you.
For any questions you or your family may have, please don't hesitate to reach out. We're here to support you.