About the program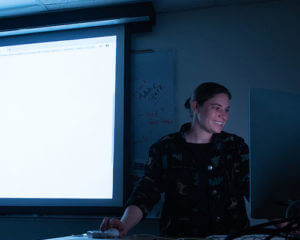 The Communication Studies major and minor build successful careers in areas such as public relations, organizational and business communication, media production, social media, law, community advocacy, politics, strategic communication, journalism and video production.
Students study business and professional communication, interpersonal communication, group communication, organizational communication, mass communication and intercultural communication.
Tracks allow students to focus on advocacy, leadership, creativity and communication through specific courses, such as media law, advocacy and persuasion, rhetorical criticism, health communication, gender communication, public relations, crisis and disaster communication, social media, business writing, freelance writing, technical writing, media writing and reporting, video production, graphic design, and media production.
More than persuasive leaders and successful peacemakers, we want our graduates to be members of society who are both productive and ethical. As such, the Communication Studies program grounds its challenging course of study in the Marianist traditions of integrity and community service.
All Communication Studies students participate in experiential education in one or two local, national and global internships. Some students participate in study abroad opportunities.
Our engaged faculty offer a variety of co-curricular activities, such as academic research and publishing, a magazine launch, broadcasting opportunities, producing the campus newspaper, video production, service learning with local not-for-profits, and participating in our honors society and local organizations.
Courses and degree plan
Students can pursue one of the following program options:
Bachelor of Arts in Communication Studies Requirements and Degree Plan
Bachelor of Arts in Communication Studies with Teacher Certification Requirements and Degree Plan
Bachelor of Arts in Communication Studies with Nelson Wolff Law Early Admission Program Requirements and Degree Plan
Minor in Communication Studies Requirements and Plan
Student Outcomes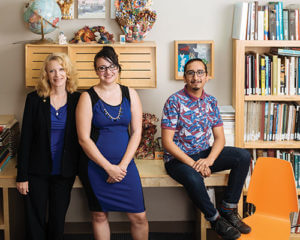 Students whom have majored in Communication Studies have launched a variety of extraordinary careers with organizations such as San Antonio Spurs, Rackspace, USAA, Bromley Communications, and San Antonio Express-News as strategic communicators, web designers, public relations officers, event planners and journalists.
Teacher Certification option
Students interested in teaching can obtain a Bachelor of Arts in Communication Studies with Teacher Certification. The St. Mary's University Department of Teacher Education is committed to preparing teachers for the important role they play in our society's future. The elementary, secondary, and all-level teacher certification programs integrate rigorous academic training and supervised field experience with a well-rounded education, thus providing our students with tools they need to be effective educators.
The Educator Preparation Program instills in our students an appreciation for the fulfillment derived from the teaching profession. This requires that St. Mary's teacher certification candidates be committed to a profession wherein they can make a difference in the lives of young people.
Law School options
For more information about any of these law-related programs, please see the School of Law Admission section.
Learn more about the St. Mary's Communication Studies program
Loading…