About the program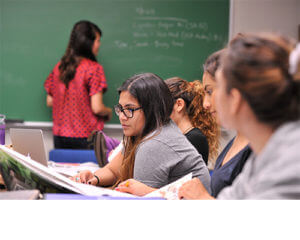 The Communication Studies major or minor is ideal for a student who is looking to build a successful career on a foundation of oral communication skills. Because this major is much more than 'just giving speeches,' the fields we study include interpersonal communication, group communication, organizational communication, and intercultural communication.
There are also courses in specific subjects such as legal communication, health communication, business communication, gender communication, mass communication and management communication. Students with an interest in and talent for oral communication who have majored in Communication Studies have launched a variety of extraordinary careers.
Communication Studies offers a practical study of the principles and mechanisms of human interaction: How can the student be most persuasive? How can the student become an effective, respected leader? How can the student understand, avoid, and, when necessary, resolve conflict? More than persuasive leaders and successful peacemakers, we want our graduates to be members of society who are both productive and ethical. As such, the Communication Studies program grounds its challenging course of study in the Marianist traditions of integrity and community service.
Students can pursue one of the following program options:
Courses and degree plan
Bachelor of Arts in Communication Studies Requirements and Degree Plan
Bachelor of Arts in Communication Studies with Teacher Certification Requirements and Degree Plan
Bachelor of Arts in Communication Studies with Nelson Wolff Law Early Admission Program Requirements and Degree Plan
Minor in Communication Studies Requirements and Plan
Career Opportunities
Public relations
Advertising
Customer service
Writing and editing
Development
Public opinion research
Nonprofit, government or corporate public affairs
Newspaper or magazine writing/editing
Hospitality or tourism industry
Retail management
Teacher Certification option
Students interested in teaching can obtain a Bachelor of Arts in Communication Studies with Teacher Certification. The St. Mary's University Department of Teacher Education is committed to preparing teachers for the important role they play in our society's future. The elementary, secondary, and all-level teacher certification programs integrate rigorous academic training and supervised field experience with a well-rounded education, thus providing our students with tools they need to be effective educators.
The Educator Preparation Program instills in our students an appreciation for the fulfillment derived from the teaching profession. This requires that St. Mary's teacher certification candidates be committed to a profession wherein they can make a difference in the lives of young people.
Law School options
For more information about any of these law-related programs, please see the School of Law Admission section.
Learn more about the St. Mary's Communication Studies program
Loading…