Student newspaper turns 100, continues to adapt
by Francisco Vara-Orta (B.A. '06)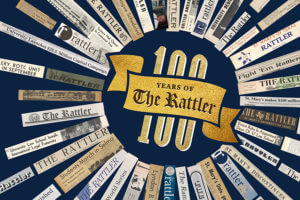 When the Dean of Students asked me to be the editor-in-chief of St. Mary's University's student-run newspaper as a freshman in Fall 2002, I scoffed. I didn't feel ready or capable. I barely knew my way around campus.
The prior academic year, the paper disbanded after the administration and student editors didn't see eye-to-eye on content. Meanwhile, I was working as a reporter at a bilingual publication downtown while finishing my senior year of high school.
But as I would learn throughout my eight semesters at St. Mary's — seven of which I served as editor-in-chief of The Rattler — the University would leave an indelible mark on me about the importance of service, rising to the occasion, and using the published word as a way to educate and pursue justice.
Most students who run The Rattler are still finding their footing as adults. But an examination of their journalism — part of a canon of work founded 100 years ago — shows how, in addition to serving the University community, the platform allowed them to parlay the opportunity into fulfilling careers.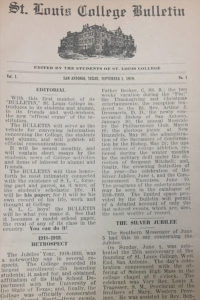 St. Mary's University's student newspaper wasn't always known as The Rattler — a reference to the mascot. When it debuted in September 1919, it was known as the St. Louis College Bulletin. When the name of the institution changed in 1923, the newspaper was renamed the St. Mary's College Bulletin, according to research conducted by Brother Dennis Bautista, S.M., Ph.D., former Faculty Adviser to The Rattler.
The next fall, a school-wide contest was held to choose a new name for the publication, with a whopping $5 prize for the winning replacement.
"We ran a contest, but none of the suggestions were right. Then one day, I asked a Brother friend of mine who said, 'Call it The Rattler and be done with it.' In this part of the country, with names like Longhorns, Mustangs and Javelinas, the title Rattler was good," Brother John Black, S.M., former Dean of Men, recalled in a story the paper later ran.
The Rattler was first published Oct. 15, 1924. Since then, its pages have reflected the changes on campus and in American society, as the institution embraced its growing female student population and its status as a Hispanic-Serving Institution.
Henry Guerra (B.A. '40) arguably was the first major name to come out of The Rattler's stable of editors-in-chief, breaking barriers as the first self-identified Latino editor of the publication.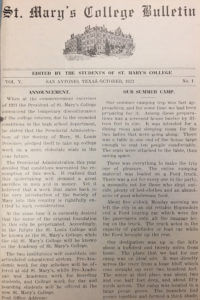 At the age of 21, he continued to make history — becoming the first Mexican American announcer to use his own surname at a major English-language radio station in Texas when he began his career at WOAI Radio in 1939, according to the San Antonio Radio Hall of Fame. Ten years later, Guerra made history again during WOAI-TV's inaugural televised newscast as the city's first Mexican American television announcer.
Guerra became known as the "Voice of San Antonio" with his bilingual trademark sign-off, "Good night y muy buenas noches." After his death in 2000, the San Antonio Association of Hispanic Journalists named its annual lifetime achievement award after him.
Following in those footsteps was another Rattler editor, journalist Rick Casey (B.A. '68), whose career spans newspapers, radio, television and online platforms.
Casey came to San Antonio from his native St. Louis in the 1960s and presided over the paper amid the Civil Rights movement and the early discontent with the Vietnam War.
"It was an intense time to be shaped as a journalist," Casey said. "It was the foundation of me seeing the importance of a free press and giving voice to the community."
He recalled his evolving understanding of the importance of civic engagement — a tenet of the University's values. In 1968, Casey attended a journalism conference at Morehouse College in Atlanta, where, at a nearby church, he met Martin Luther King Jr., fresh out of prison for nonviolent protest.
"King was too sick to speak, but a group of about 15 of us held hands and sang We Shall Overcome with him," Casey said. "All of it really broadened my horizons, as I grew up rather sheltered and San Antonio wasn't a hotbed of civil rights or anti-war activities. It set the stage for my whole career."
Casey parlayed his experience at The Rattler into an internship at the San Antonio Light — one of the city's major daily newspapers at the time. His career also included work for the National Catholic Reporter, the San Antonio Express- News, the Seattle Times, the Houston Chronicle, and hosting a weekly news program on the local public television station, KLRN. He has written for outlets from the New York Times and Washington Post to the Rivard Report, a newer local digital news nonprofit.
After Casey's tenure, Noeli Lytton (B.A. '71) broke another barrier as The Rattler's first female editor. The city's newspapers covered the announcement, writing profiles that remarked on her beauty and asking the male staff members if her decision-making was too "emotional."
Lytton laughs it off now, as she did then.
"I was raised with three brothers so I always felt like one of the team," Lytton said, who followed her brothers to St. Mary's as the first woman in her family to earn a degree. "I was a Philosophy major, so I focused on people having dialogue, getting them to work together on issues that mattered to a wider swath of students."
The Rattler also helped bolster future San Antonio power couple Richard Noll (B.A. '72, J.D. '75) and Diane Abdo (B.A. '72). After meeting while attending Catholic high schools, the two wound up at St. Mary's University. At The Rattler, Noll succeeded Lytton as editor and Abdo became features editor.
Noll is now an attorney and Abdo a professor at the University of Texas at San Antonio, where she helped found its independent student newspaper, The Paisano. She credited The Rattler with teaching her "the ins and outs of the publication process and how to coach students."
"I tell young people, 'If you write for a student newspaper, you gain many skills," Noll added. "As a journalist you learn to read, write and interview, which is sort of like cross-examining a witness. And you are working on deadline, learning how to organize thoughts and putting information out in an understandable manner.'"
The Rattler at different times alternated between a broadsheet and a tabloid, and came out once or twice a month. Under Henry Krausse (B.A. '78), now an assistant city editor at the San Antonio Express-News, fresh issues rolled out to stands weekly. He was named the city's best student editor by the San Antonio Light during his one-year tenure — as did Casey and, later, Ken Slavin (B.A. '83).
"There was a lot of slapstick, but we had some serious issues to cover — a projected shortage of dorm space; and the Board of Trustees' sudden decision to eliminate athletic scholarships, which caused a huge outcry," Krausse recalled.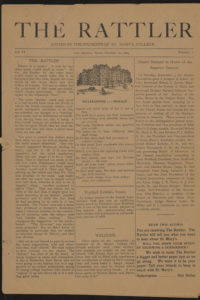 In the 1980s, Slavin took the helm as editor and recalled the paper covering the emergence of the AIDS epidemic, which was just starting to grasp the world. Like Lytton, at the time he didn't fully understand the depths to which discrimination stymied, in this instance, the public health conversation.
"I think The Rattler has long reflected the community, even if not overtly, and those were wonderful years," Slavin said.
The Rattler provided his first step on a communications career that led him to newspaper and radio journalism, to found his own communications firm, and become chief advancement officer for the San Antonio AIDS Foundation, alongside a concurrent career as a jazz crooner.
Among the first in a more recent series of Latina editors was Helen Montoya Henrichs (B.A. '00), who came to St. Mary's from New Mexico and felt right at home.
"The Rattler prepared me to do a little of everything, from writing to photography to working on a team, and that set me up for a successful career in communications," said Henrichs, a photojournalist who worked for newspapers for about 15 years before moving into nonprofit communications for the Girl Scouts.
"I had to understand all facets of how to run a newspaper as editor," Henrichs said. "You could throw me in any part of the newsroom after that as I could see the bigger picture of how it all comes together."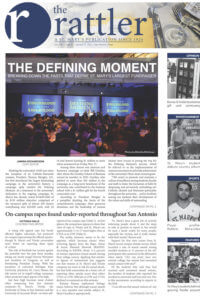 During my tenure, Chuck Kerr (B.A. '07) stood out as a superstar, winning 20-plus awards alone for his work.
Even before he graduated, Kerr had a job lined up designing for San Antonio's alternative weekly, the Current. After art directing the Current, he relocated to Los Angeles to work for Variety and now Entertainment Weekly. Recently, as deputy design director, he worked on a series of 16 covers commemorating the final season of Game of Thrones.
Kerr recalled the grueling production weekends when The Rattler editorial staff would lock themselves in the newsroom on the second floor of the University Center until the paper was finished — sometimes pulling all-nighters amid schoolwork.
"Looking back now that I am in the industry, I realize how we didn't have the privilege or infrastructure of many big schools or (journalism) school programs, and somehow managed to put out a product that we were proud of and that connected with students and the community," Kerr said.
"It taught me to be resourceful and the importance of hustle and hard work," Kerr added.
As for me, my first full-time job as a journalist was at the Los Angeles Times. This year, I'm marking my 18th year in journalism — now as a training director for the Investigative Reporters & Editors Inc., a nonprofit housed at the University of Missouri with staff who travel the world teaching journalists best practices.
The most important lesson I learned as a Rattler editor was simple: Put the right people in the right places — where they will feel motivated and empowered — sit back and let them work their magic.
We won more than 100 national and statewide awards during my tenure — with our first of those as the best newspaper in the nation in 2004 from the Associated Collegiate Press — after a 21-year award drought. We raised enough money to expand our budget significantly and grew from a core staff of 12 to 50 people regularly contributing to the publication.
As the newspaper industry grapples with significant change, The Rattler continues to rack up awards, churn out future leaders and evolve with the times.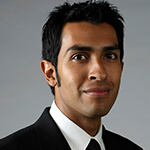 Editor's Note: Francisco Vara-Orta is a former editor-in-chief of The Rattler who has nearly two decades of newsroom experience and leads training at Investigative Reporters & Editors Inc., an international nonprofit.