by Alex Z. Salinas (B.S. '11, M.A. '19)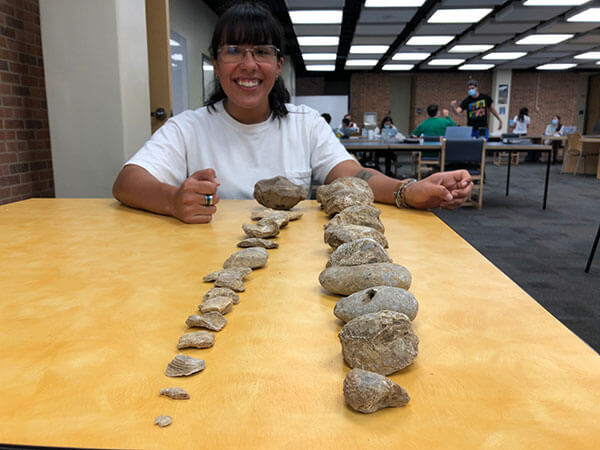 Karina Nanez, senior Communication Studies major, has collected rocks — almost daily — since age 5.
The El Paso native picked up the hobby from her aunt Josefina, who inspired in her an early sense of wonderment at the natural world.
"I still carry rocks in my pockets," Nanez said. "You can imagine how thrilled my mom was about that when she'd wash my clothes."
Nanez excelled at Loretto Academy, an all-girls Catholic school, then joined a classmate in attending St. Mary's University.
In her freshman year, Nanez unearthed — along the sloping driveway between the Alumni Athletics & Convocation Center and the Sarita Kenedy East Law Library — a fossilized oyster from the Cretaceous era, the geological period that lasted from about 145 to 66 million years ago.
"It's not from Oyster Bake," she said in jest about the annual, on-campus event celebrated during Fiesta.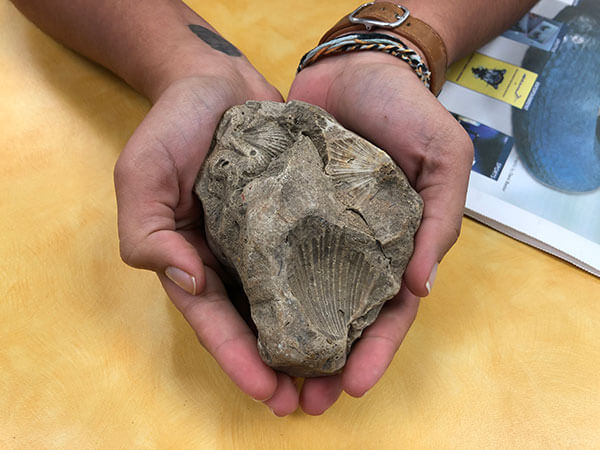 The fossil is her prize possession in her still-growing "college rock collection," many pieces of which she stored in a cardboard box imprinted with the Aramark logo.
"You have to have a keen eye and want to find something," Nanez said about collecting rocks and fossils. "All that may be poking out of the ground is two inches max, but you never quite know what you'll find."
David Turner, Ph.D., Associate Professor of Environmental Science, a former geologist, was someone whom Nanez gravitated toward upon her arrival to St. Mary's.
"My favorite story is when Karina confessed to taking a plastic spoon from the cafeteria to go fossil hunting on campus," Turner said. "It must have been a strange sight, a bit like a prison break, but with a different endgame in mind."
Nanez credited Turner for encouraging her to minor in Geology — which she said was the result of her "just really liking rocks for no rhyme or reason."
Nanez — who's in the Honors Program and is secretary of the Environment, Conservation and Outreach (ECO) Club — said her education at St. Mary's has instilled in her patience.
"It takes a lot of patience to learn about rocks, to dig them up, to talk about the historical narratives they tell us, especially considering that most people walk right past them without second thought," she said.
Upon graduation, Nanez said she's prepared to use her Communication Studies degree in a corporate environment, but would be thrilled if she worked at a natural history museum.
With the aid of her tools — a plastic spoon, a dog toothbrush, a paintbrush and, on occasion, her student ID — Nanez plans to continue excavating and collecting rocks for the rest of her life.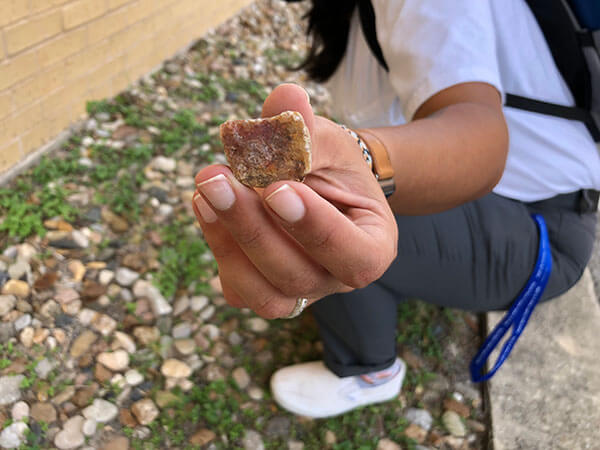 "I frequently daydream about hosting a rock showcase at my future home," she said. "I sometimes think, 'I hope my future spouse is okay with this!'"
For the record, Nanez is content — even "loves it" — when she receives rocks as gifts.
Whether they're shards of quartz, flint or ancient clam shells, Nanez appreciates each piece equally.
"I believe everybody has a little bit of that child in them, the person that's in constant awe of something about the world that's hard to put into words," she said.