by Anndria Flores (B.A. '12, M.A. '16)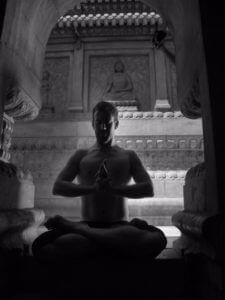 In the late '90s, Richard Baimbridge (B.A. '91) lived in New York City leading a life many young writers dream of, writing for magazines such as Conde Nast Traveler, Wired, Maxim, GQ and Elle.
While impressive to most, Baimbridge's success doesn't come as a surprise to his former mentor, Richard Pressman, Ph.D., Professor Emeritus of English and Communication Studies.
"He was a plugger," Pressman said. "Well, not at first. For many people — myself included — it takes time to develop, to make the leap from so-so producer to the world-beater Richard Baimbridge is today."
Before attending St. Mary's, Bambridge — a lifelong surfer — went to school in Southern California for his first year of college but spent far more time riding waves than in class.
"So I decided it was probably best to study in a less distracting environment," Baimbridge said.
He made a clean break from the California waves and followed his sister Lynn's (B.B.A. '84) footsteps to St. Mary's.
"One day, between his sophomore and junior years, Richard woke up," Pressman said. "He wanted to excel because his soul had awakened."
Baimbridge began building his portfolio before graduating, working as a freelance writer for weekly newspapers in San Antonio.
"Dr. Pressman was one of the very special people I can point to as someone who helped me recognize that I had talent and helped me believe in myself and take life more seriously," he said.
Upon graduating, Baimbridge landed a job with the San Antonio Light newspaper.
Then, in 1999, the Corpus Christi native and former editor of The Rattler took a writing assignment that more permanently planted him across the globe. At the time, he was already living in Beijing and writing.
Unlike his many adventures — backpacking solo across Mexico as a teenager, living in the jungles of Bali for a year, taking a one-way ticket to Europe and landing on his feet as a magazine writer in Prague — after arriving in China, Baimbridge never really left.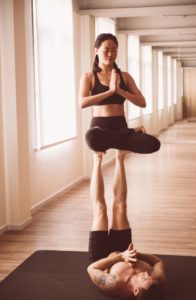 Because of his interest in martial arts and Buddhism, he left his job as a journalist and went deep into the mountains near Tibet. He lived in a small monastery for a year with no electricity or running water, practicing martial arts about eight hours a day and studying Buddhism.
"The 'shifu' (master) of the temple is like a father to me now — though we rarely speak since there's not even a telephone there," he said.
In the temple, Baimbridge said he built relationships with the monks and met a world-champion martial artist from Israel. Together, they embarked upon a business venture in the cone-shaped mountains of Yangshuo.
"We opened China's first retreat center for yoga, meditation and martial arts," Baimbridge said. "At that time, yoga didn't really exist in China. But, along with everything else fashionable in the West, yoga soon became very popular in China."
According to yujia.com, a Chinese yoga industry news site, Baimbridge received his AcroYoga certification in 2009, becoming the first person to share the practice in China.
After selling his part of the business, he now lives in Wuxi, Jiangsu Province, and is one of a handful of Westerners who can teach yoga in fluent Chinese — a skill Baimbridge said requires deep knowledge of anatomy, yoga philosophy, Buddhism and the Sanskrit language.
"Even people who have university degrees in Chinese and English can't translate a course like that," he said. "It takes years of experience. So I found a very specialized niche."
The acclaimed yogi said he has witnessed China's evolution from poverty to wealth, which has also led to the loss of many old Chinese traditions.
"There is a real thirst for deeper meaning in China, as people start to realize that money and luxury cars, clothes, etc., still leave them feeling spiritually empty," he said. "I've been here for that whole evolution and transition, so I know exactly what they're experiencing on a very personal level."
He and his wife, Sara Pei, primarily work teaching monthlong teacher training programs to people who want to become yoga instructors. They also host workshops and an annual retreat in Indonesia.
"We take groups of Chinese people to beautiful places to do yoga, have fun and experience local culture, but we also let them reflect on their lives," he said.
"You don't have to live the life that is shoved in front of you — there is really very little stopping you from living your dreams, other than fear and laziness."