Four St. Mary's University students each earned $10,000 scholarships, funded by the USAA Foundation, Inc. for future work with local nonprofits.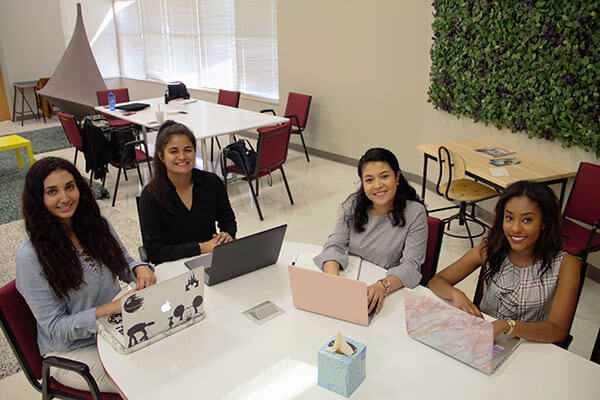 With industry demand growing for employees with visual communication skills, the newly created Business Innovation Scholarships — part of a two-year grant St. Mary's received from The USAA Foundation — were awarded to St. Mary's students minoring in Visual Communication Design.
The recipients — senior Marketing major Daria Flowers, junior Communication Studies major Tawny Davis, junior Marketing major Jocelyn Alvarez Bibian and junior Communication Studies major Samantha Salazar — will work with the Maestro Entrepreneur Center and the Family Justice Center of Bexar County.
"This is a really extraordinary, altruistic case, deeply rooted in student experience," said Camille Langston, Ph.D., Chair and Associate Professor of Communication Studies. "Our students who won the scholarship are deserving. It was very competitive."
Davis and Salazar will be assigned to the Family Justice Center to reach out to at-risk children and families through surveys, advertising and the creation of an app for children that teaches them about healthy relationships.
Flowers and Bibian will work to rebrand the Maestro Entrepreneur Center and assist in promoting the growth of small businesses in Bexar County.
"I'm excited for the opportunity and challenges to come," said Flowers. "It's not only the money, but the experience."
Much of the students' work will be developed in the Harvey Najim Center for Business Innovation and Social Responsibility, a newly renovated space on the St. Mary's campus that encourages students of all disciplines to collaborate on real-world projects.
"We take in projects offered to us by organizations of all kinds for students to produce solutions," said Hugh Stevens, Director of the Najim Center.
Stevens participated in the interview process of selecting the scholarship recipients, ensuring the winners were dedicated to community work.
"St. Mary's has an incredible amount of resources that benefit the community," he said. "Students get a lot out of it, and companies do too."
This year's scholarship recipients expressed that they are both excited and nervous to begin their assignments.
"Actual people outside of St. Mary's will see our work," Flowers said. "It's different from a class project."
The students will work with their respective organizations until the end of Spring 2019, at which point, four new scholarships will be awarded for the following academic year.