Leading the Marianist way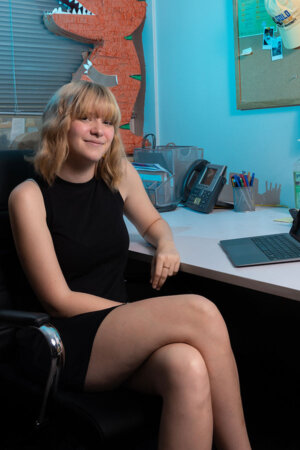 Whether it is through her Student Government Association presidency, as a member of the Marianist Leadership Program, a coach and staffer on the St. Mary's University's Esports team, or in her combined degree program that has her starting graduate Communication Studies classes as a junior, she's taking advantage of numerous opportunities.
For Schow, leading the Marianist way — as a servant leader — is one of the most important skills a student can learn. As SGA president, Schow puts that into action by being the person who helps students communicate with University leadership. She joined student government in her freshman year, when she was elected as a senator, and has since helped rewrite the SGA bylaws and constitution and coordinated events with the deans and others across campus.
Schow, who participates in the Marianist Leadership Program to cultivate community, strives to be a servant leader by asking herself, "How do I make sure no one is left behind?"
"It is dedicating yourself to others as a leader that sets St. Mary's graduates apart," she said.
Moving from El Paso to San Antonio, a city where she only knew her great-grandfather, was more challenging because COVID-19 was in its first wave in 2020.
She did her best to get immersed in student life, despite restrictions, which is how she became involved with the Rattler Esports team. Seeing a job opening for the team's community coordinator and applying, Schow was soon scheduling virtual game nights and promoting them on social media.
Over the next few years, she worked her way up to coach for the Call of Duty team.
"It is dedicating yourself to others as a leader that sets St. Mary's graduates apart."

Lily Schow, junior Communications Studies and Political Science major
Director of Esports Kaitlin Teniente, the first female head coach of a varsity esports program in Texas, said that Schow has been integral in creating a more inclusive environment.
"Video games and esports have traditionally been male-dominated, especially in college esports," Teniente said. "Lily has broken barriers for women and underrepresented genders within St. Mary's University and the collegiate esports community. Her fierce commitment to community and hard work have made a significant, lasting mark."
The marketing and public relations practice of promoting esports fit right in with one of her majors. She's double majoring in Communication Studies and Political Science. Schow is not sure if she wants to work in corporate communications or for political campaigns but plans to explore her options through the St. Mary's Master of Arts in Communication Studies combined degree program.
As part of the program, undergraduate students begin graduate studies during their junior year. One of Schow's professors, Amanda Hill, Ph.D., encouraged her to apply.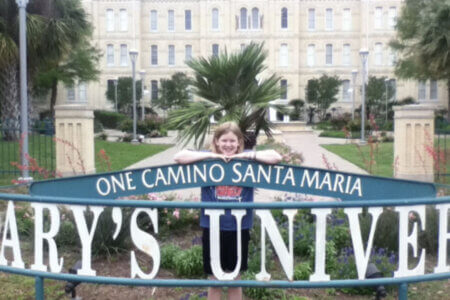 "Lily has always shown immense drive and persistence," said Hill, Associate Professor of Communication Studies. "I have always admired Lily's commitment to her own learning and her peers' learning. Lily's ability to encourage others in the classroom, to take time to help others, while still learning the material herself is a great example of education in the family spirit."
Schow is taking her first graduate class this Fall.
"It's really exciting," she said. "I knew I would like St. Mary's, but I didn't know I would like it this much. You know college is going to be fun, but I didn't know I would have all of these opportunities. It would not have been the same anywhere else."