Pre-Law Advising
Pre-Law Advising at St. Mary's University provides undergraduate students with information and opportunities to enhance their chances for admission to law school and prepare them for successful legal careers.
Pre-Law Advising provides:
• Assistance with designing a Pre-Law academic plan
• Advice on undergraduate curriculum
• Guidance on law school application timetables
• Help with letters of recommendation and personal statements
• Law school selection assistance
• Information about taking the Law School Admission Test (LSAT)
• Information about law school forums
• Faculty interaction and mentoring on legal career opportunities
LSAT Preparation Course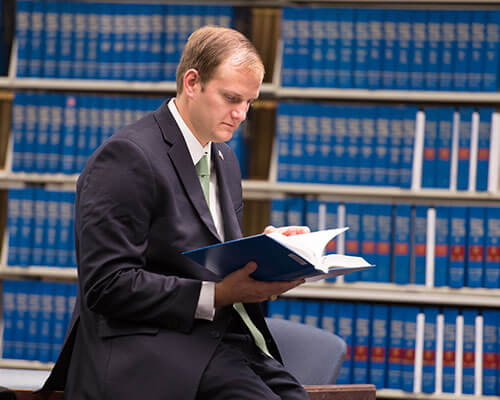 LSAT courses are held on campus and aim to prepare students for their law school entrance exam. For more information about the prep-course, contact a Pre-Law adviser.
What are the benefits of taking the LSAT course at St. Mary's?

The main benefits of taking this course is that is on-campus and offered once a week, and provides students with a more structured approach to preparing for the LSAT.

Is this course like other courses offered at St. Mary's?

No, this is an intensive 10-week course that meets weekly, typically from 6 to 9:30 p.m. It is offered only in the fall semester. It begins at the start of the semester and ends typically in early November. It is designed to prepare students who want to take the LSAT in that same fall semester, typically in November.

Can students other than St. Mary's students take the course?

The course is offered only to students attending (or matriculated) at St. Mary's.

The course is offered on campus and taught by an instructor from Kaplan (a reputable organization on test preparation). The pre-law adviser is the Instructor on Record, a professor from St. Mary's.

Will I receive course credit?

The course is offered as an HU (Humanities course) but students will not receive course credit hours towards their major, the Core or as an elective.

Will I receive a grade for the course?

Students receive a PASS/NO PASS for the course.

Will the course appear on my transcript?

Yes, once students have completed the course, it will appear on their transcript.

What can I expect from the course?

Students will initially take a diagnostic test (a pre-test) to assess strengths and weaknesses. Period tests will be administered to measure student's improvement. The Kaplan instructor will introduce students to the types of questions one can expect on the LSAT, providing strategies and exercises, and covering various aspects of the LSAT test.

Can I expect to see improvement in my LSAT score if I take the course?

Yes, typically student's score will show improvement.

When should I take the course?

Students should plan to take the course in the year they plan to take the LSAT. Typically, students will take the course in the fall semester, if they plan to apply to law school for the following year.

What is the fee for the course?

Typically the cost $1,050 and is subject to change every year. The cost is set by Kaplan.

What does the fee include?

The fee includes the books/manuals and access to online materials by Kaplan.

Can I get a refund on the course?

The student must drop the course before the first day of class to not be charged the course fee. Once the student receives the course materials on the first day of class, the course fee will be nonrefundable.

If I don't complete the course, can I be reimbursed?

No, the course is nonrefundable.

Does my financial aid cover the fee?

Students must check with the Financial Office to inquire whether financial aid (including aid covered by scholarships, the military, etc). Typically, financial aid does not cover the fee. Students must make arrangements with financial aid to pay for the fee when the student registers for the course.

If I want to register for the course, whom do I contact?

Students must contact the Instructor on Record Sonia Garcia, Ph.D., Pre-Law Adviser, to get instructor approval at sgarcia@stmarytx.edu

Where do I register for the LSAT? Where do I find more information regarding LSAT, such as test dates?

FAQs
Resources
Below are a few helpful resources for students interested in law school: