About the McNair Scholars Program
For many university students, advanced degrees and graduate school may seem a distant goal. For first-generation, minority and financially challenged students, continuing their education past the baccalaureate degree may seem virtually impossible.
The Ronald E. McNair Post-Baccalaureate Achievement Program is designed to prepare undergraduate students for doctoral studies through involvement in research and other scholarly activities.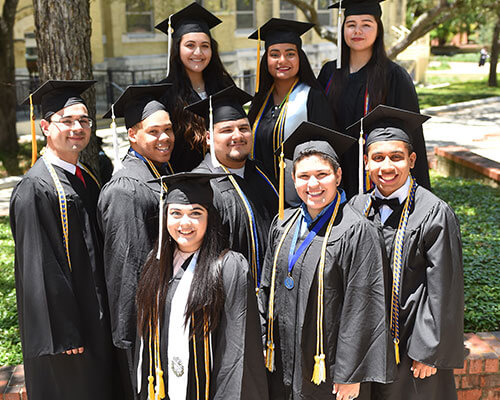 Founded in 1996 in honor of Ronald E. McNair, Ph.D., the laser physicist and Challenger space shuttle astronaut, the McNair program is designed to help increase the number of underrepresented students in graduate programs and, ultimately, help diversify the faculty in college and universities and those employed in various areas of science.
The McNair Scholars Program helps undergraduate students interested in all types of doctoral degrees and from all majors, but students interested in pursuing a doctoral degree in Engineering and Computer Science are particularly sought.
Students must meet the following criteria to be eligible for the McNair Scholars Program:

Be an undergraduate student

Demonstrate strong academic potential

Complete a minimum of 60 hours of college credit before summer research begins

At least one year remaining before graduation

A U.S. Citizen or Legal Permanent Resident

Maintain a minimum 12-hour course load per semester

Additionally, students must meet ONE of the following criteria:

Low-income/high financial need and first-generation college student (neither parent received a Bachelor's degree)

Member of a government-recognized ethnic or racial minority (Hispanic, African American or Native American)
The goal of the McNair Scholars Program is to help first-generation, low-income students, especially students who are members of groups traditionally underrepresented in higher education, gain access to graduate education and earn doctoral degrees (Ph.D., Psy.D., Ed.D.)
To achieve that goal, our scholars:
Participate in research and other scholarly activities

Enroll in appropriate graduate programs after earning their baccalaureate degree

Continue on to a doctoral program

Earn their doctorate-level degree
Benefits of the McNair Scholar Program
The McNair Scholars Program prepares undergraduate students by providing individual and group services designed to enhance successful entry into post-baccalaureate education. McNair Scholars Program staff and faculty mentors meet with scholars to provide them guidance toward achieving this goal. Scholars are provided with opportunities to attend seminars and conferences.
Dedicated faculty mentor in scholar's area of study

Graduate School application fee waivers

Paid summer research program, including free room and board ($2,800 stipend)

Publication of summer research project in the McNair Research Journal

Tuition waiver for required spring semester McNair research course

Travel assistance to present research at conferences and visits to prospective graduate academic programs