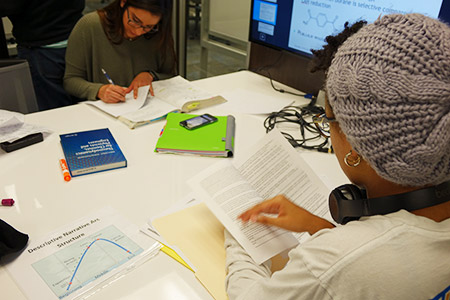 How Academic Peer Coaching Helps
Academic peer coaches partner with students to equip, encourage and ensure academic success. Peer coaches help students develop action plans to meet identified goals and strategies for accomplishment.
Academic Peer Coaches build motivation and self-confidence while providing students with tools to tackle the rigors of academic and personal activities. An important aspect of academic coaching is helping students understand how their use of time and levels of organization or disorganization impact their studies. Other important aspects of academic coaching relate to strategic thinking, problem-solving and learning to work effectively with others.
Academic Peer Coaching Services
The Rattler Success Center offers one-on-one appointments with peer academic coaches who provide skills training. Academic coaching is a designed alliance between a peer coach and a student to foster success skills. Some of the topics that our students find helpful to discuss with their peer coach include:
Through individualized sessions with their academic peer coach, students have the opportunity to accelerate their learning, build problem-solving skills, strengthen interpersonal communication skills, emphasize academic development and increase productivity.
88%
Said a tutor or coach contributed to their overall success
30%
Visited the RSC services more than once a week
93%
Said they would continue to use the RSC services
30%
Of all student appointments were for Writing Center Assistance
If you'd like to learn more about Academic Peer Coaching, contact the Rattler Success Center.