What is the AMP / TRiO Program? 
Funded by the federal TRiO – Student Support Services division of the Department of Education, the goal of AMP (Achieving Maximum Potential) is to provide St. Mary's University first-generation college students, low-income students, and students with disabilities the resources needed to earn their degree.
AMP / TRiO – Student Support Services is committed to helping students progress toward graduation and gain the necessary skills to continue their education or begin their careers.
6
Presidential Award winners
78%
First-generation and low-income students
97%
Students in Good Academic Standing
69%
Students with 3.0+ GPA
140
Students in the program
Eligible St. Mary's students have access to a wide range of college and career support services in an effort to aid in retention and improve graduation rates. All services are free for program participants.
Goal setting and course selection
Tutoring and writing assistance
Study groups
Time management
Study skills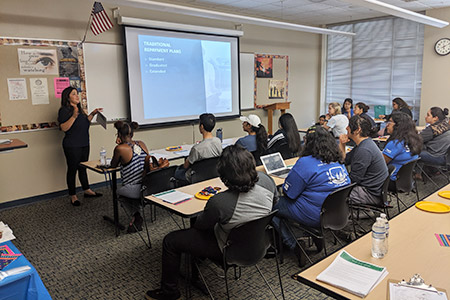 Financial Aid and Literacy
FAFSA and scholarship application assistance
Financial literacy workshops
Financial aid assistance
Time management and procrastination tools
Performance anxiety reduction
Research paper help
Career Exploration and Preparation
Job tours and shadowing
Résumé and cover letter development and editing
Professional networking opportunities
Post-Grad Education Exploration and Preparation
Graduate and professional school application assistance
Entrance exam preparation
Regional school tours
To participate in the program, St. Mary's students must be a U.S. citizen or permanent resident who meets one of the following criteria:
Be a first-generation college student (neither parent has received a bachelor's degree)
Be a student with a documented life-long disability
Be a student who meets specific approved federal income levels (see chart below)
| Family Size | Maximum Income Level (Taxable Income) |
| --- | --- |
| 1 | $19,320 |
| 2 | $26,130 |
| 3 | $32,940 |
| 4 | $39,750 |
| 5 | $46,560 |
| 6 | $53,370 |
| 7 | $60,180 |
| 8 | $66,990 |
Families with more than eight members or those living in Alaska or Hawaii, please contact Marcy LaBossiere, Director of AMP / TRiO – Student Support Services, at mlabossiere@stmarytx.edu.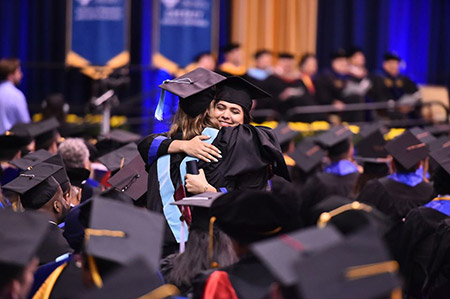 St. Mary's has already seen success for the students accepted into the AMP / TRiO program. Through academic and career advising, financial literacy, individual coaching and community building, our goal of helping disadvantaged students graduate is being met.
Apply to the AMP / TRiO Program
If you meet the requirements listed above and would like to be considered for the AMP / TRiO program, please complete the form below.
Please contact Marcy LaBossiere, Director of AMP/TRiO-Student Support Services, at mlabossiere@stmarytx.edu with any questions regarding the program.