Academic Advising at St. Mary's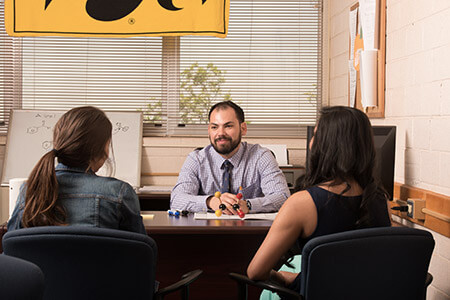 At St. Mary's University, our goal is for our students to graduate with a degree that leads to a meaningful career and values-driven life. To support this goal, all students are assigned advisers who will guide them through their academic and career exploration and provide all the resources needed to be successful.
During their first year, freshmen are assigned a professional academic adviser from the Rattler Success Center and a faculty mentor from their major department. Transfer students are also assigned a professional academic adviser and a faculty mentor during their first semester. For first-time freshmen, the faculty mentor assumes the role of academic adviser at the start of the second year. For transfer students, the faculty mentor assumes the role of academic adviser at the start of their second semester.
Academic Advising Services

Students meet with their academic advisers at least three times per semester and their faculty adviser at least once per semester. Through academic advising at the Rattler Success Center, students will:

Make informed decisions regarding their educational and career goals

Select appropriate courses based on degree requirements and academic goals

Build a plan outlining a path to timely graduation

Monitor progress towards degree completion

Academic Advising Success

The partnership between a student and their advisers helps build a strong foundation for academic success at St. Mary's University.

After the first year of the Academic Advising program, students weighed in on how the program benefited them.
91%
Satisfied with the advice they received
87%
Would recommend an academic adviser
93%
GPS plan helped them understand graduation requirements
92%
Meeting with faculty helped them learn more about their major
During their advising sessions, students reported discussing the following topics with their advisers:
Semester-by-semester plan

Academic information, including major requirements and important deadlines
Contact the Academic Advising Office with any questions.