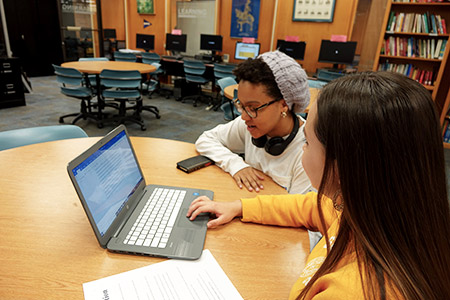 Explore the Writing Center at St. Mary's University
The Rattler Success Center's Writing Center is staffed with professionally trained tutors, as well as undergraduate and graduate students from all majors, devoted to improving writers at all levels.
For more than 35 years, the Writing Center has helped students feel empowered in their writing, and it's still going strong. In fact, the Fall 2019 semester saw 531 visits and 416 hours of support.
Our staff understands that the ability to write well is fundamental to success in college and in life. Students and professors in all schools and majors, and those whose first writing experiences were forged in another language, can benefit from the Center's experienced and friendly service.
During Fall 2022, the Peer Tutoring, Coaching, and Writing Center appointments were made by:
Tutoring at St. Mary's University
Peer tutors from the College of Arts, Humanities and Social Sciences; the Bill Greehey School of Business; and the School of Engineering and Technology are eager to help you grasp concepts and complete assignments.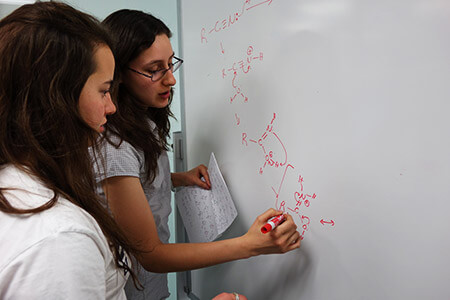 No matter the subject you need assistance in, tutoring services from the Rattler Success Center can provide the help you need to succeed.
Subjects that students have recently been tutored in include:
During the Fall 2019 semester, tutoring support covered:
48%
School of Science, Engineering and Technology
13%
Bill Greehey School of Business
38%
College of Arts, Humanities and Social Sciences
Why Tutoring is Important

Real learning takes time. Tutoring allows students to learn concepts at their own pace so they can fully understand the subject matter. The benefits of tutoring include:

Students learn important study techniques

Students receive constant feedback and build confidence

Professors will see that the student is taking the course seriously

When you drop-in to any of our tutoring locations, you will sit at a table with others studying the same subject you are. After assessing your learning needs, our tutors may work with you individually or encourage you to collaborate with other students working on the same idea. We recommend that you attempt the concept independently before coming in; however, if you aren't sure where to begin, our tutors will help you work through the concept.
St. Mary's tutors are selected based on professors' recommendations and their GPA. All tutors must complete intensive tutor training before their first semester of tutoring and as well as maintain and advance their knowledge through monthly training sessions.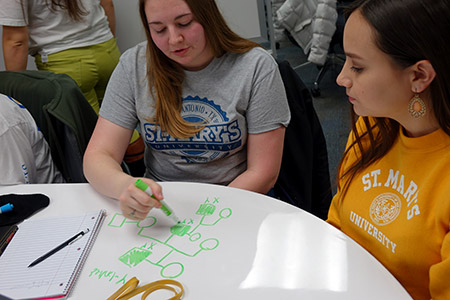 This means that in addition to their academic achievements, our tutors develop skills in communicating and facilitating learning skills within a diverse population of learners.
Tutoring is a fantastic on-campus job that provides sophomores, juniors, and seniors with professional development opportunities while honing their math, science, business and/or writing skills. Our tutors have reported that working at the Tutoring Center has strengthened their interpersonal and communication skills. We hire new tutors every semester.
"I have had the chance to practice many skills through tutoring like reading other people (to check their understanding), managing my schedule better, approaching ideas from different perspectives to better explain them, and also in being encouraging to students who, beyond help with content, generally also need a boost in confidence."

— 2020-2021 tutor
If you're interested in learning more about the Writing Center and Tutoring, contact us.