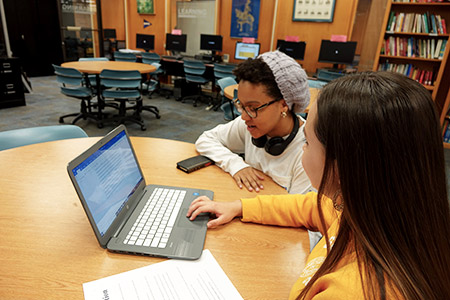 Explore the Writing Center at St. Mary's University
The Rattler Success Center's Writing Center is staffed with professionally trained tutors, as well as undergraduate and graduate students from all majors, devoted to improving writers at all levels.
For more than 35 years, the Writing Center has helped students feel empowered in their writing, and it's still going strong. In fact, the Fall 2019 semester saw 531 visits and 416 hours of support.
Our staff understands that the ability to write well is fundamental to success in college and in life. Students and professors in all schools and majors, and those whose first writing experiences were forged in another language, can benefit from the Center's experienced and friendly service. 
During the Fall 2019 semester, the Writing Center and Tutoring saw:
The Writing Center gives you the opportunity to work alongside peer tutors on any writing task and in any subject that requires writing. We also help international students who want to improve their English skills.
Students can set appointments by accessing the tutoring portal in the RattlerNavigate app.
Tutoring at St. Mary's University
Peer tutors from the College of Arts, Humanities and Social Sciences; the Bill Greehey School of Business; and the School of Engineering and Technology are eager to help you grasp concepts and complete assignments.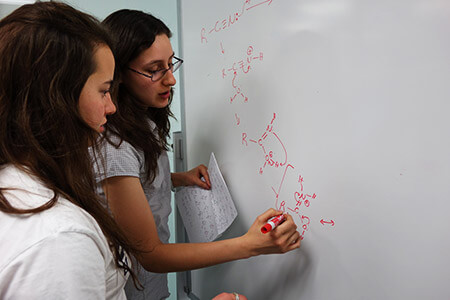 No matter the subject you need assistance in, tutoring services from the Rattler Success Center can provide the help you need to succeed.
Guidelines for Online Tutoring and Peer Coaching

The Academic Success Department at the Rattler Success Center offers a convenient way for St. Mary's University students to receive online tutoring and peer coaching via Zoom, an interactive videoconferencing interface that allows students to share their desktop and documents with our trained student staff.

Students seeking assistance with writing projects who have limited connectivity can email Word documents to one of our trained writing tutors for editing with the Track Changes feature enabled.

Each online appointment is 30 minutes long.
Students may schedule one online appointment per day per course to ensure as many students as possible have access to this resource.
Appointment days/times and Zoom meeting IDs can be accessed on the Rattler Success Center Gateway page. To access, students will need to be signed in to their St. Mary's University account.

Computer, laptop or smartphone with working microphone and camera
Zoom Meeting Client, downloaded or accessed online at stmarytx.zoom.us. Note: Zoom can also be downloaded via the App Store or Google Play.
Internet access

All students seeking appointments for course assistance should be prepared in the following ways:

For writing appointments, students have the option of file or screen sharing through Zoom with an open discussion of writing suggestions with their tutor. Another option is to email your documents to rattlersuccesscenter@stmarytx.edu for editing in Word with emailed suggestions returned within 24 hours.
For course-related questions in STEM, Psychology or Accounting, students should have their questions ready before signing in for their appointment. Please be aware that tutors may need a few minutes to get the session ready so all preparation that students can do before will help speed the appointment along.

Temporary Online Services
Subjects that students have recently been tutored in include:
Accounting
Biology
Chemistry
Engineering
ESL
Languages
Music
Philosophy
Physics
During the Fall 2019 semester, tutoring support covered:
48%
School of Science, Engineering and Technology
13%
Bill Greehey School of Business
38%
College of Arts, Humanities and Social Sciences
Why Tutoring is Important
Real learning takes time. Tutoring allows students to learn concepts at their own pace so they can fully understand the subject matter. The benefits of tutoring include:
Students learn important study techniques
Students receive constant feedback and build confidence
Professors will see that the student is taking the course seriously
When you drop-in to any of our tutoring locations, you will sit at a table with others studying the same subject you are. After assessing your learning needs, our tutors may work with you individually or encourage you to collaborate with other students working on the same idea. We recommend that you attempt the concept independently before coming in; however, if you aren't sure where to begin, our tutors will help you work through the concept.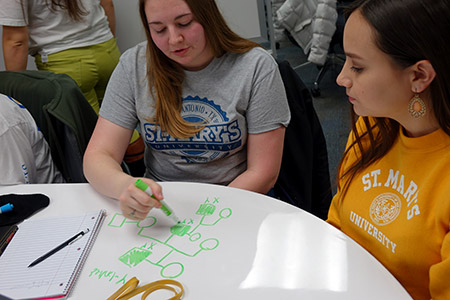 St. Mary's tutors are selected based on professors' recommendations and their GPA. All tutors must complete intensive tutor training before their first semester of tutoring and as well as maintain and advance their knowledge through monthly training sessions.
This means that in addition to their academic achievements, our tutors develop skills in communicating and facilitating learning skills within a diverse population of learners.
Tutoring is a fantastic on-campus job that provides sophomores, juniors, and seniors with professional development opportunities while honing their math, science, business and/or writing skills. Our tutors have reported that working at the Tutoring Center has strengthened their interpersonal and communication skills. We hire new tutors every semester.
If you're interested in learning more about the Writing Center and Tutoring, contact us.