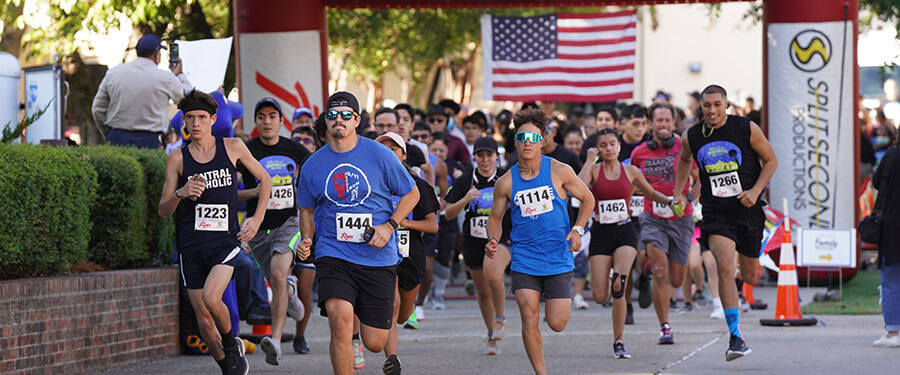 The StMU 5K for the Neighborhood is an annual 5K race and event on the St. Mary's University campus. Each fall, hundreds of St. Mary's University students, alumni, faculty, staff and community members come together to run or walk five kilometers on our beautiful campus, and to celebrate afterward with food, fun, music and fellowship.
The Office of Admission invites prospective students and their families to attend one of our signature events for prospective at St. Mary's University. These larger, in-person events are designed to showcase our academic and co-curricular opportunities as well as give students a chance to interact with current St. Mary's students, faculty and staff.
St. Mary's University is a community of diverse cultures and we are proud to celebrate the history of that diversity. We invite you to join us for our various celebrations throughout the year.
To celebrate the life and legacy of Martin Luther King Jr., St. Mary's brings in speakers, hold readings of his speeches, and have nights of spoken word poetry. Students also ride the Rattler Bus to San Antonio's MLK March, one of the largest in the country.

Martin Luther King Day – January 21
At the heart of a diverse city like San Antonio, St. Mary's represents a rich array of ethnicities and cultures. Since its founding in 1852, the University has welcomed all nationalities and religions. St. Mary's is committed to promoting diversity and honoring all of its influences.

Before the U.S. Supreme Court ruling on Brown vs. the Board of Education declared segregation in public schools unconstitutional in 1954, African-American students had already been attending St. Mary's for several years.

Black History Month – February
Women's History Month is observed in March each year, with the purpose of recognizing and reclaiming women's history and raising awareness. Students, staff, faculty and alumni participate in the Women's History Month (WHM) Planning Committee. The WHM Planning Committee typically meets starting each October and continues to meet through April.

Over the years, the Women's History Month Planning Committee has organized numerous events at St. Mary's University. Some examples include the Alice Wright Franzke Feminist Award Luncheon, a blessing of women at the University, presentations by students and faculty about related research, poetry readings, book club discussions, the Alma L. Lopez Woman in Law Student Leadership Award ceremony, student panel discussions, and more.

Women's History Month – March
From the beginning, St. Mary's, as a Catholic and Marianist University, has been rooted in its mission to serve Hispanic students. As a Hispanic-Serving Institution (HSI), the University enrolls a majority of Hispanic students while serving a broad range of diverse students in a multicultural environment. Read more about our Hispanic-Serving history.

Hispanic Heritage Month – September/October
Pope Anastasius I was among the first to condemn the works of Origen. Elected to the papacy in 399.

One of the martyrs of Vietnam. A Dominican tertiary, Augustine worked as a day laborer.

The patron of Teramo, Italy, Bernard was a Benedictine monk at Monte Cassino.

St. Thomas De & Companions

Vietnamese martyrs. Thomas was a Vietnamese tailor who entered the Dominicans as a tertiary.

Martyr with Zosimus, Paul, and Secundus. They died at Nicaea, Turkey.

Vietnamese martyr, a tertiary of the Dominican Order. He was strangled at the age of twenty-six.

Dominican tertiary, a martyr of Vietnam. Francis was serving as a catechist when arrested.

Martyr of Vietnam. He was a native catechist who was strangled, as were his four companions.

The mother of St. Anastasia of Sirmium. Serbia, Yugoslavia. Fausta was a model matron of her era.

Bishop and an apostle to Scotland. He evangelized the Highlanders in the northern regions.

Revered abbot of the monastery of Saint Oyend, also called Ribarius.

Martyr of Egypt. He was burned alive in Alexandria, Egypt, during the persecutions under Emperor Trajanus Decius.

Martyred virgins from Gaza, in Palestine. Meuris died in prison while being tortured.

St. Nemesius of Alexandria

After being tortured and severely beaten at Alexandria while still alive, Kemet authorities burned him in 307 A.D.

Catholic Feast Days – December 19
Each December and May, St. Mary's holds a commencement ceremony in the Alumni Athletics & Convocation Center. Friends and family of graduates who cannot attend can livestream the ceremony from their home. The day prior to commencement, graduating students and their guests are invited to Baccalaureate Mass.
Families of current St. Mary's University students are invited to join us for a weekend of fun, family, live music, athletics games, Mass and more each fall.
St. Mary's University students benefit from a diverse group of national speakers and guest lecturers as well as myriad opportunities to serve the community. Speaker events include The MacTaggart Catholic Intellectual Tradition Lecture Series, Escobedo Saint John's Bible Lecture Series, The Forum on Entrepreneurship Breakfast Series, among others.