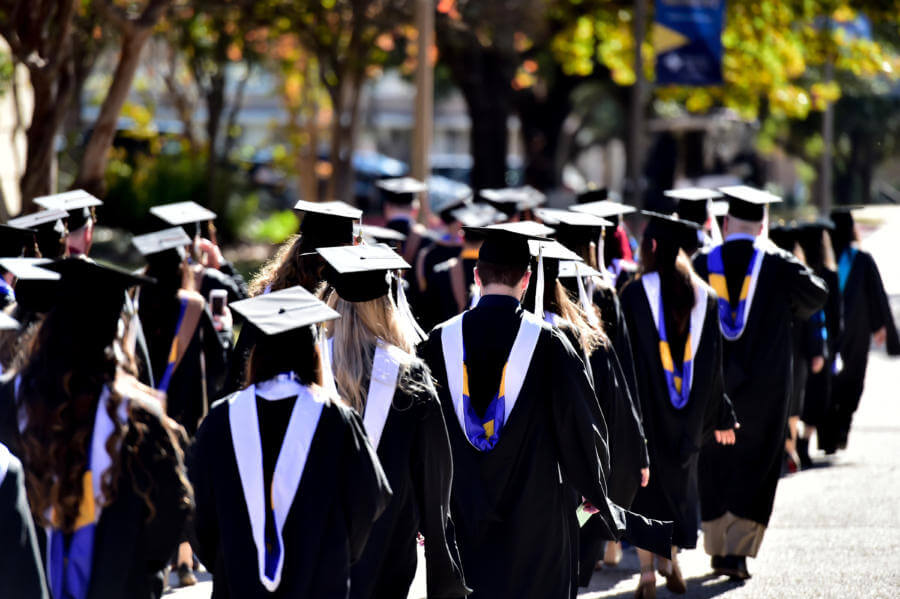 Saturday, December 10, 2022
1:30 p.m.
Alumni Athletics and Convocation Center, Bill Greehey Arena
Check in at noon in the Quad.
Academic Procession begins in the Quad.
In the case of inclement weather, check in will occur in the Alumni Athletics & Convocation Center, Auxiliary Gym.
Wear your cap and gown (University) and tam and hood (Law).
Bachelor's students, don't forget your St. Mary's University sash.
Master's students, wear your hoods.

Only approved cords and sashes may be worn. 
Caps (University) or tams (Law) may not be decorated for the ceremony.
Wear sensible shoes; you'll be walking across campus and to the arena.
Don't bring guests with you — they should go to the arena to be seated. The procession will be televised inside the arena.
Leave personal belongings at home or with your family.
Wear comfortable shoes!
Check back soon for information on the Fall Commencement speaker.
Graduating students of all faiths are invited to attend Baccalaureate Mass. The Rev. John Thompson, S.M., Ed.D., Vice President for Mission at St. Mary's University, will celebrate the Mass. Afterwards, graduates and their guests are invited to a wine and cheese reception.

Friday, Dec. 9, 2022
5:30 p.m.

Ceremony COVID-19 Information

The University will continue to monitor CDC guidance for gathering safely amid the COVID-19 pandemic.

If government guidelines for COVID-19 change, the University may implement alternative plans for graduation celebrations, which may include cancellation of in-person events.
The University's Fall 2022 Commencement Ceremony will include the School of Law. For a schedule of deadlines leading up to the ceremony, view the Fall 2022 Event Sheet on Gateway.
Due to limited seating in the Bill Greehey Arena, commencement tickets are required for admission. Each graduating student approved in the Fall 2022 Commencement will receive an email for the number of tickets they will receive.
To accommodate additional guests, overflow seating will be available in the University Center, Conference Room A, where guests will view a live broadcast of the ceremony. No tickets are required to enter the University Center. Immediately following the ceremony, all guests will reunite with the graduates outside the Arena.
For guests unable to attend, please note that the commencement ceremony will be livestreamed on our website. Visit the livestream page to check technical requirements or to watch the ceremony.
Children age 3 and under do not need tickets provided they can sit upon an adult's lap for the duration of the ceremony.
Information on registering for the allotted commencement tickets will be provided to graduates in a few weeks. Graduates should stay tuned to their St. Mary's email account.
Wheelchair Accommodations
A few sections for guests in wheelchairs are available along the second level of Bill Greehey Arena. For individuals who plan to sit in this section, they will be allowed one person to remain with them in the area. Due to limited seats, seating in these sections is on a first-come, first-serve basis.
Ceremonia de graduación para la Clase de 2022
Sábado, 10 de diciembre de 2022
1:30 p.m.
Alumni Athletics & Convocation Center
Bill Greehey Arena

Estudiantes deben de reportarse a las 12:00 p.m. en el Quad donde comenzará la procesión académica.

Invitados pueden ir directamente a Bill Greehey Arena.

Todos los graduados, sin importar su origen religioso, están invitados a participar de la Misa de Graduación. El Rev. John Thompson, S.M., Ed.D., vice presidente de la Oficina de Misión de St. Mary's University, celebrará la Misa.

Viernes, 9 de diciembre de 2022

5:30 p.m.
Alumni Athletics & Convocation Center
Bill Greehey Arena

Invitados se pueden estacionar en los siguientes lotes: