Commencement general information
Details on fall Commencement have not yet been determined. Students will receive an email once all information is confirmed.
| Event | Spring Commencement / Graduation | Fall Commencement / Graduation |
| --- | --- | --- |
| Apply for graduation | November | April |
| Reminder to apply for graduation | December | May |
| Deadline to apply for graduation: 3rd Friday of the semester | January | August |
| Registrar's Office provides degree audit results | February | September |
| Number of guest tickets is announced | March | October |
| Online ordering open for caps, gowns, announcements and international sashes | March | October |
| Caps, gowns and guest tickets are distributed | April | November |
| Email is sent to all commencement participants to verify their name pronunciation | April | November |
| Graduation group photo is taken at 4:30 the Friday of Baccalaureate Mass | May | December |
| Commencement ceremony is held | May | December |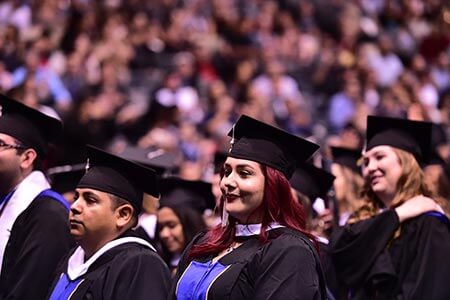 Seating in the Bill Greehey Arena is limited and tickets are required for Commencement.
Commencement tickets will be limited and the number of tickets per graduate is dependent on the total number of graduation candidates.
The larger the graduating class, the fewer tickets distributed. Therefore, it is critical that students apply for graduation by the published deadline to ensure they will be eligible to receive the maximum allotment of tickets.
Tickets are not guaranteed for applications received after the deadline. Students are required to reapply if they applied for graduation for a previous term and did not graduate.
For May Commencement, overflow seating for guests without tickets will be available in the University Center, Conference Room A. The University Center will house more than 400 extra seats, and a live broadcast of Commencement will be aired. No tickets are required and light refreshments will be served. Following the ceremony, all guests seated in the Bill Greehey Arena and the University Center will reunite with the graduates outside the arena.
Overflow seating is not available for December Commencement due to a smaller graduating class.
Children age 3 and under do not need tickets provided they can sit on an adult's lap for the duration of the ceremony.
Commencement and Baccalaureate Mass Livestream
For guests unable to attend, please note that both events will be live streamed on our website. Visit the Livestream page to check technical requirements or to watch the ceremony.
Group Photo
A group photograph is taken the day before Commencement. Photo packages include one 10 x 24-inch laminated panoramic, one 5 x 8-inch miniature photo and one fun photo.

Individual Photo
Graduates will be photographed twice during Commencement. The first photo will be taken as each student crosses the stage to receive his/her diploma from the University president. In the second photo, the student is allowed a quick pose holding the diploma tube after crossing the stage.

Flash Photography will email free proofs to graduates within one week of the ceremony. Contact them at 210-443-9393 or visit their website www.flashphotography.com.
Guests with hearing or vision impairment who need assistance should contact the Office of the Registrar at least two weeks prior.
A few sections for guests in wheelchairs are available along the second level of Bill Greehey Arena. Those sitting in this section may have one person remain with them in the area. Due to limited seats, seating in these sections is on a first-come, first-served basis.