Thomas M. Mengler, J.D., President
Thomas M. Mengler, J.D., became the 13th president of St. Mary's University on June 1, 2012.
Since joining the University, he has furthered its Catholic and Marianist mission and its dedication to developing graduates who are well-prepared for professional lives and called to serve the common good.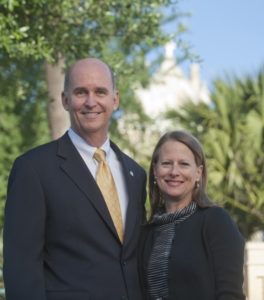 His first strategic plan, Gateway: A Vision for St. Mary's University, sets a blueprint for the University through 2020 to become one of the finest private universities in the region – a gateway for our graduates to professional lives as ethical leaders in Texas, the nation and the world.
And it is producing results.
In April 2015, the Brookings Institution, a renowned independent think tank, ranked St. Mary's 17th among the nation's four-year universities for its contribution (or "value added") to the financial success of its mid-career graduates. That put St. Mary's in the same league as MIT, Stanford and Rice and slightly ahead of Harvard, Yale, Notre Dame, Texas A&M and UT-Austin.
In speeches and writings, Mengler has emphasized the value of a Catholic, liberal arts education, especially the St. Mary's Core Curriculum and its advantages in forming faithful, ethical leaders in the workforce. He has confronted questions about the viability and cost of residential, private liberal arts institutions and has pushed the University to adapt and change with the times. In pursuit of academic excellence, he has increased experiential and mentorship opportunities for students.
Innovative study centers and programs – some offered online – have been unveiled during his tenure, catering to the demand for qualified professionals in fields such as Mechanical Engineering, Software Engineering, Accounting and Data Analytics, Cybersecurity, and International Relations. Two federal Title V grants totaling more than $5 million helped make much of this possible.
Under Mengler's leadership, the University has focused on increasing annual contributions, which have nearly doubled since 2012. Also, the St. Mary's School of Law became the first in Texas to offer a Master of Jurisprudence designed to help non-lawyers grasp legal issues.
Mengler understands the importance of community spirit, and the introduction of The Park at St. Mary's athletics complex in 2013, The Pub at St. Mary's in 2015, and The Village at St. Mary's living community in 2016 have nurtured that spirit. These campus hubs promote a core Catholic and Marianist belief: that we are relational beings who long for connection.
He has traveled to France, Spain, India, Saudi Arabia, Haiti, Peru and elsewhere to promote St. Mary's and discover opportunities to help those in need. St. Mary's also seeks to engage San Antonio and the Southwest, with plans to establish a Center for Catholic Studies to promote dialogue and understanding about the Catholic faith and Marianist charism — and, more broadly, religion and culture. The Center will house the University's seven-volume Heritage Edition of The Saint John's Bible, acquired in 2013.
The St. Mary's University Neighborhood Revitalization Project has made progress under Mengler. One example being the StMU 5K for the Neighborhood, which has raised funds Holy Rosary Catholic Church, The Neighborhood Place, United Way and SNIPSA since it began in 2014.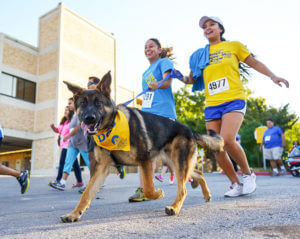 Mengler helped Catholic Charities-Archdiocese of San Antonio launch the "40 Days of Service" campaign and has served on Catholic Charities' local Education Advisory Board. He also has partnered with the Westside Development Corporation, Young Catholic Professionals, Legatus' San Antonio Chapter, and United Way of San Antonio and Bexar County's Executive Committee.
Before arriving at St. Mary's, Mengler served as the dean of the University of St. Thomas School of Law in Minneapolis, where he also held the Ryan Chair in Law. Before that, he worked at the University of Illinois, where he was dean of the College of Law as well as interim provost and vice chancellor for Academic Affairs.
Mengler received his bachelor's in Philosophy from Carleton College and a master's in Philosophy from the University of Texas at Austin, where he also earned his law degree.
He and his wife, Mona, have a daughter and three sons.