The School of Humanities and Social Sciences hosts a variety of events every year that enhance our students academic experience.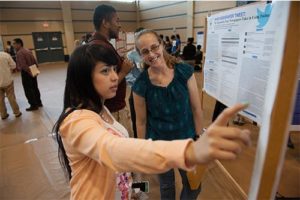 Students have a chance to meet professionals in their field of interest in the classroom and at major University events such as the annual Fiesta Jazz Festival, where world renown artists and musicians host workshops for our students, and the Las Americas Letters Series, an annual conference that encourages empowerment through creativity and cultural understanding by bridging the Americas through the work of authors, artists, musicians, scholars and educators.
Stage productions by St. Mary's students go way back in our history, at least to 1895, as documented in our archives, including old Rattler newspapers, performances by groups called The Mission Players, The Cameo Players, The St. Mary's Theatre Guild, St. Mary's Drama Club and The Shoestring Players. Every year our StMU Theatre troupe performs in the spring and fall semester.
Many of our events are also open to the public, allowing the San Antonio community the opportunity to be a part of the learning experience at St. Mary's University. We invite you to learn about our annual and special events below and additional events listed on our campus calendar and join us at our next event.
Featured Event
Gentilz Exhibit

Held in conjunction with the Annual O'Connor Lecture, a collection of 19th-century paintings of the Catholic missions in San Antonio by Jean Louis Théodore Gentilz (1819-1906) will be on display through Wednesday, Oct. 31.

Gentilz became one of Texas' earliest professional artists and art teachers, recording both daily life and historic structures such as the five Catholic missions that came to define San Antonio. His paintings realistically portray customs of early Texas. Gentilz taught Art at St. Mary's College from 1864 to 1894, which became St. Mary's University in 1927.

The exhibition will run through Wednesday, Oct. 31.
Exhibition hours: 8 a.m. to 5 p.m.*

*When doors are open. To accommodate events in the room, selected viewing times are listed below.

Wednesday, Oct. 3
8 to 11 a.m.

Thursday, Oct. 4
8 a.m. to 1 p.m. and 3 to 5 p.m.

Sunday, Oct. 7
10 a.m. to 5 p.m.

Tuesday, Oct. 16
8 a.m. to 11 a.m. and 2:30 to 5 p.m.

Wednesday, Oct. 17
8 a.m. to 2:45 p.m.

Monday, Oct. 22
8 a.m. to 4:30 p.m.

Tuesday, Oct. 23
8 a.m. to 1:45 p.m.

Monday, Oct. 29
8 a.m. to 1:45 p.m.

Wednesday, OCt. 31
8 to 11 a.m.




Signature Events
Community Reading Experience
Fiesta Jazz Festival
Las Americas Letters
StMU Theatre