About Fiesta Jazz Festival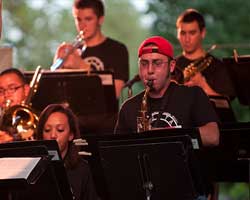 The Fiesta Jazz Festival offers a unique educational and music performance experience for over 500 middle school, high school and college jazz student performers from across the state. At the same time, for more than 50 years it has given the Fiesta audience and San Antonio community a unique and admission free family event. The Fiesta Jazz Festival is one of Texas' oldest and is dedicated to presenting the finest jazz, America's national treasure.
Every year the festival also hosts the Fiesta World Jazz Concert which presents an opportunity for the general public in San Antonio and jazz festival participants to hear performances by outstanding jazz musicians from across the United States. Featured artists present a clinic the following day to connect face-to-face real world insights to all in attendance. Billy Childs, John Pattitucci, Bob Moses, Will Kennedy, Ignacio Berroa, Hannibal Lokumbe, Gordon Goodwin, Danilo Perez, Rufus Reid and Bill Watrous are a few of the artists from past festivals.
Admission is free and open to the public both days of the festival.
Dates
Fiesta World Jazz Concert
Friday, April 24
1 to 10 p.m.
St. Mary's University
Pecan Grove
Fiesta Jazz Band Festival
Saturday, April 25, 2020
8 a.m. to 5 p.m.
St. Mary's University
Past Artists
Past Artists




Billy Childs
Yellowjackets
Al Porcino
Maynard Ferguson
Dizzy Gillespie
Michael Brecker
Al Porcino
Peter Erskine
Mike Mainieri
Eddie Gomez
Eliane Elias
Paquito D'Rivera
Dizzy Gillespie
U.S. Air Force Dimensions in Blue
Willie Thomas
Bunky Green
Bobby Shew
Rufus Reid
Bill Watrous
Bobby Meyer
Jon Faddis
Jazz Orchestra of San Antonio
Don Menza
Tuck Andress
Patti Cathcart
US Army Jazz Ambassadors
Jim Cullum
Valerie Washington
Vital Signs Septet
Bob Moses Trio
Marvin Stamm
George Garzone
John Lockwood
James Polk
Akira Tana
Nobuko Trio

Marcus Belgrave
Hal Galper
Ignacio Berroa
Kenny Garrett
Kenny Kirkland
Jeff Watts
Nat Reeves
Terence Blanchard
Phillip Manuel
Mark Schim
Edward Simon
Jeff Clapp
David Pulphus
Kenny Werner
Bob Gullotti
Wayne Bergeron
Danilo Perez
Adam Cruz
Ben Street
Patrick Cornelis
Miro Sprayue
Peter Slavor
Paul Wiltgen
Bob Mintzer
Steve Allee
Duduka Da Fonseca
Gorden Goodwin
Hannibal Lokumbe
Rakalam Bob Moses
Michael Gregory Jackson
Phil Grenadier
Will Kennedy
The Powerhouse Big Band



---
Support Fiesta Jazz Festival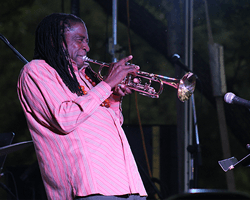 You can help create unique educational and music performance opportunities for St. Mary's students and middle school and high school students from across the state by supporting Fiesta Jazz Festival. Your proceeds will directly support keeping this San Antonio Fiesta and educational tradition alive. Click the button below and customize your gift in the "Other" category to support Fiesta Jazz Festival.
Interested in becoming an official event sponsor? Contact John Rankin at St. Mary's University at 210-436-3421 or jrankin@stmarytx.edu.
---
Participate in Fiesta Jazz Festival
Saturday, April 25, 2020
Fiesta Jazz Band Festival is San Antonio's oldest educational jazz festival, attracting junior and senior high school jazz ensembles from Texas and neighboring states. Participants perform for criticism before a panel of renowned jazz clinicians. Trophies and awards are given for outstanding performances in various categories. A special mid-day clinic is presented by the featured Fiesta Jazz artist. Past clinicians have included Dizzy Gillespie, Bob Mintzer, Gordon Goodwin, Kenny Garrett and Terrance Blanchard.
Festival registration is on a first come basis and automatically ends when all slots are filled. The Festival is open to middle schools and high schools. You may enter for competition, play for critique only, or performance only. If your group is competing you must play in your school's classification (5A, 6A, 2C, 3C, etc.). Three charts of contrasting styles are required. In the Fiesta tradition, one should be in a Latin jazz style. Each band will be allowed 25 minutes, including set up and strike.
Interested Student Jazz Ensembles wanting to participate in the 57th Annual Fiesta Jazz Band Festival in April 2020 are encouraged to complete the online entry form that will be made available in Spring 2020.
For more information about Fiesta Jazz Festival and how to participate, contact Edith Ortega at 210-436-3421 or eortega@stmarytx.edu.
Register Your Middle School or High School Ensembles
Register your middle school or high school student ensembles to participate in the 2019 Fiesta Jazz Festival on Saturday, April 25, 2020 with students from across the state.
Entry Fee: $235 per group
A CD recording of your performance is included. Please make checks payable to St. Mary's University Music Department. Upon closure of festival entries we will mail you an acceptance letter with detailed performance information.
Registration: Registration will open in Spring 2020. Come back for more information.

Remit to:
St. Mary's University
Fiesta Jazz Festival
Department of Music
One Camino Santa Maria
San Antonio, Texas 78228-8562