About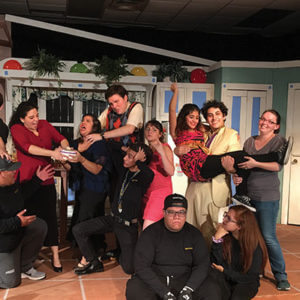 All St. Mary's productions are conducted under the auspices of our theater company, StMU Theatre. It serves the campus community and beyond with stage performances throughout the academic year.
Stage productions by St. Mary's students go way back in our history, at least to 1895, as documented in our archives, including old Rattler newspapers, performances by groups called The Mission Players, The Cameo Players, The St. Mary's Theatre Guild, St. Mary's Drama Club and The Shoestring Players.
All students, regardless of major, are permitted to audition to participate in StMU Theatre, on stage as actors or behind the scenes as part of our technical crew, costume designers and more.
Upcoming Productions
Fall 2019
CRIMES OF THE HEART
by Beth Henley
Produced with special permission from Dramatists Play Service.
Directed by Bernadette Hamilton-Brady
Production Design by Dion Denevan
Costume Design & Supervision by Kathrine Johnson
Audition Dates:
Aug. 27-29, 2019
4 to 6 p.m.
Treadaway Hall, Room 381
Dress comfortably and be prepared to participate in theatre games and cold readings.
For more information, contact StMU Theatre at 210-436-3545 or stmutheatre@stmarytx.edu.
Running Dates:
Friday, Oct. 25 and Saturday, Oct. 26 at 7:30 p.m.
Sunday, Oct. 27 at 2:30 p.m.
Thursday, Oct. 31 to Saturday, Nov. 2 at 7:30 p.m.
A private performance will be held for select area high schools on Wednesday, Oct. 30 at 2:30 p.m. This showtime is not open to the public.
Location: Treadaway Hall, Recital Hall
The Story
The scene is Hazlehurst, Mississippi, where three Magrath sisters have gathered to await news of the family patriarch , their grandfather, who is living out his last hours in the local hospital. Lenny, the oldest sister, is unmarried at thirty and facing diminishing marital prospects; Meg, the middle sister, who quickly outgrew Hazlehurst, is back after a failed singing career on the West Coast; while Babe, the youngest, is out on bail after having shot her husband in the stomach.
Their troubles, grave and yet, somehow, hilarious, are highlighted by their priggish cousin, Chick, and by the awkward young lawyer who tries to keep Babe out of jail while helpless not to fall in love with her. In the end the play is the story of how its young characters escape the past to seize the future – but the telling is so true and touching and consistently hilarious that it will linger in the mind long after the curtain has descended.
Recent Past Performances