All St. Mary's productions are conducted under the auspices of our theater company, StMU Theatre. It serves the campus community and beyond with stage performances throughout the academic year.
Stage productions by St. Mary's students go way back in our history, at least to 1895, as documented in our archives, including old Rattler newspapers, performances by groups called The Mission Players, The Cameo Players, The St. Mary's Theatre Guild, St. Mary's Drama Club and The Shoestring Players.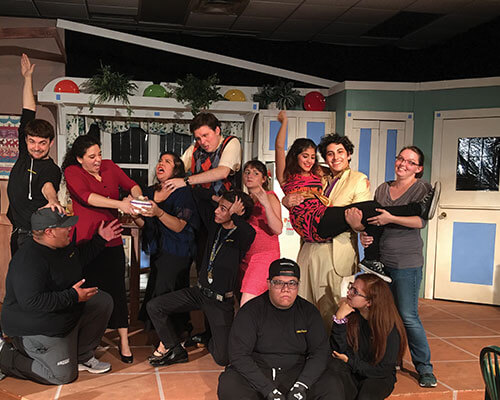 All students, regardless of major, are permitted to audition to participate in StMU Theatre, on stage as actors or behind the scenes as part of our technical crew, costume designers and more.
StMU Theatre and the St. Mary's Department of Music present
A comedy with music, in three acts.
Music by Kurt Weill, Lyrics by Bertolt Brecht
Original German book by Elisabeth Hauptmann ("Dorothy Lane")
English Adaptation of book and lyrics by Michael Feingold
Directed by George Kendall
Music Direction by James Garcia
Scenic and Lighting Design by Dion Denevan
Costume Design and Supervision by Kathrine Johnson
March 26, 27, 31 and April 2, 3 at 7:30 p.m.
Saturday, March 28, at 1:30 p.m.
St. Mary's University
Treadaway Hall, Recital Hall
$15 General admission
$12 Faculty, staff, military and senior citizens
$10 Students
Free for professed Marianists
Information on purchasing or reserving tickets coming soon.
Used by arrangement with European American Music Corporation, agent for the Kurt Weill Foundation for Music, Inc. and agent for the Brecht heirs.