About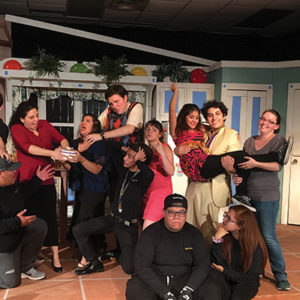 All St. Mary's productions are conducted under the auspices of our theater company, StMU Theatre. It serves the campus community and beyond with stage performances throughout the academic year.
Stage productions by St. Mary's students go way back in our history, at least to 1895, as documented in our archives, including old Rattler newspapers, performances by groups called The Mission Players, The Cameo Players, The St. Mary's Theatre Guild, St. Mary's Drama Club and The Shoestring Players.
All students, regardless of major, are permitted to audition to participate in StMU Theatre, on stage as actors or behind the scenes as part of our technical crew, costume designers and more.
Upcoming Productions
Spring 2019
THE TRIANGLE FACTORY FIRE PROJECT
by Christopher Piehler
in collaboration with Scott Alan Evans
Directed by Bernadette Hamilton-Brady
Production Design by Dion Denevan
Costume Design & Supervision by Kathrine Johnson
THE TRIANGLE FACTORY FIRE PROJECT is presented by special arrangement with Dramatists Play Service, Inc., New York.
Running Dates: March 1-2, 6-8,  at 7:30 p.m.; and March 3 2:30 p.m.
A private performance will be held for select area high schools on March 5. This showtime is not open to the public.
Location: Guadalupe Chapel
The Story
On Sunday, March 25, 1911 at 4:45 p.m., in the Triangle Shirtwaist Factory off downtown Manhattan's Washington Square on, where 500 immigrant workers from Poland, Russia and Italy toil 14-hour days making lady's dresses, a cigarette is tossed into a bin of fabric craps.
Despite desperate efforts, flames swept through the eighth, ninth and 10th floors. Panic-stricken workers run in all directions. In the span of 28 minutes, the fire is brought under control, but 146 people, mainly young immigrant girls, died.
The Triangle Factory Fire Project uses eyewitness accounts, court transcripts and other archival material to create a dramatic moment-by-moment account of this historic fire and the social upheaval that followed. It paints a heartbreakingly clear picture of a disastrous day in American history and explores the human toll such a tragedy takes on us all.
Recent Past Performances