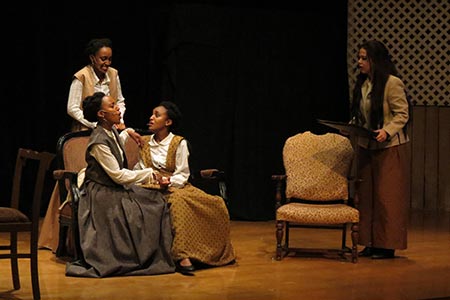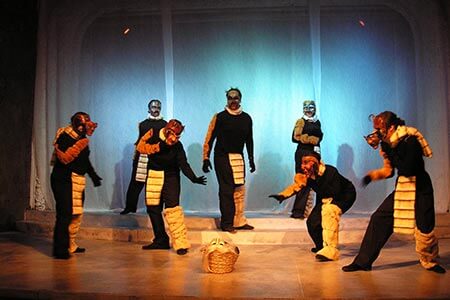 All the Drama Department's productions are conducted under the auspices of its theatre company, StMU Theatre. It serves the campus community and beyond with a variety of performances and workshops throughout the academic year. All students, regardless of major, are welcome to participate as performers, directors, designers and technicians.
Planned 2022-2023 Productions

Check back for ticket sales.

The 39 Steps
Adapted by Patrick Barlow from the novel by John Buchan
Directed by Shawn Hardee

My Body is Not a Prayer Request
Adapted by Bernadette Hamilton-Brady from the book by Amy Kenny
Directed by Bernadette Hamilton-Brad
1895
Year of the first St. Mary's stage production
20+
Majors represented in our theatre shows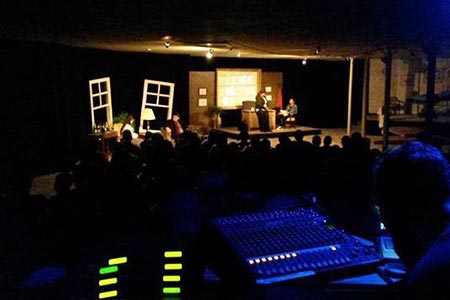 Once students complete DM 3331 Directing and its course prerequisites, they qualify to direct a One-Act play as part of our production season. The shows are all student-produced with the support of our StMU Theatre company and Alpha Psi Omega.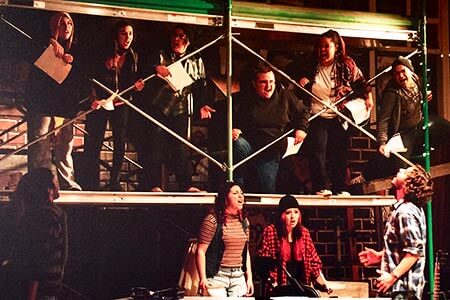 StMU Theatre partners with the St. Mary's University Music Department on musicals. These are typically mounted in the Treadaway Recital Hall or in Guadalupe Chapel. Examples of our past collaborations have been Side by Side by Sondheim, Winter's Tales: A Shakespearean Dinner, The Pirates of Penzance, RENT, Godspell. Young Frankenstein and Little Women.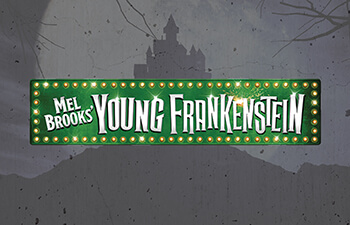 History of Theatre at St. Mary's
Theatre productions by St. Mary's University students reach back to at least 1895, with performances by such troupes as The Mission Players, The Cameo Players, The St. Mary's Theatre Guild, and the St. Mary's Drama Club.
One of the most beloved and remembered of these is The Shoestring Players of the 1960s and 1970s. This troupe was founded by the late Dr. Charles Myles when the Drama Department offered a major.
Due to low enrollment in the 1980s, the major was discontinued and converted to a minor. There was a lull in theatre production until 1989. That same year, Prof. Bernadette Hamilton (Brady) came onboard and rebuilt the program. Since then, the Department has grown to include up to fifty students who participate in production with two to three shows a season. Some of those shows were collaborations with the English, Languages, and Music Departments and staged in the now decommissioned Reinbolt Theatre.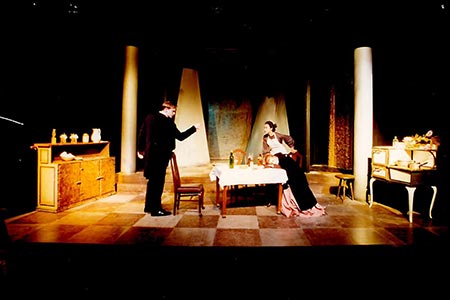 Since 2011, theatre productions have been mounted in 'found' spaces around the St. Mary's University campus. Reinbolt Theatre was the Department's primary performance space prior to this time. The last show staged in Reinbolt Theatre was Into The Woods, a joint production with the Music Department.
Throughout the years, we have adapted and thrived by showcasing our innovation and creativity by making theatre in all its different forms. Over sixty (60) productions have been in our repertoire. This testifies to our mission to serve our students' desire to keep theatre in their lives and augment their academic education. We have also invited local Guest Artists to either perform or design alongside our students. These interactions with professionals not only emphasizes the master-apprentice dynamic but also encourages our students to attain higher professional standards for themselves and for our productions. At this time, we typically utilize Treadaway Recital Hall or Guadalupe Chapel for our performances.