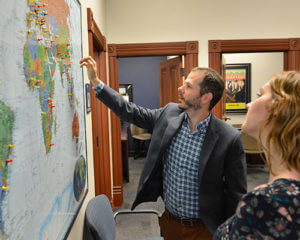 Studying in a foreign country is not just about travel; it is about opening a world of learning to our students who will encounter experiences that will affect them both personally and professionally. As a St. Mary's student, understanding your role in our global community is a paramount goal. And study abroad can be a transformative part of meeting that goal.
St. Mary's University's Office of Study Abroad offers outstanding opportunities for our students to study while experiencing life abroad. Contact the Center for International Programs or current students can visit Gateway to learn more about this international experiences.
---
Study Abroad Programs
London Fall and Spring Semester Program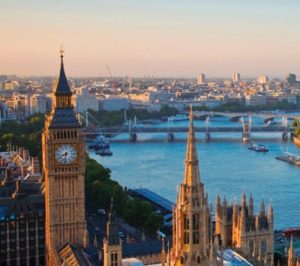 St. Mary's London program provides a formative experience comprised of academic study in the midst of a rich geographical, historical and multicultural urban backdrop.  The vibrant city of London boasts a wide array of historical landmarks, world-class museums, beautiful parks and gardens, and world-renowned theaters and concert halls. London's location and role as hub of the United Kingdom affords students significant travel opportunities across the British Isles and on the European continent.
The semester-long program is run through the Foundation for International Education (FIE), a non-profit education organization that provides the supportive network for students to thrive in their new environment. Students study at FIE's Kensington Campus, located near Kensington Palace and Hyde Park.
Students will gain firsthand experience mastering the practical affairs of everyday life in a foreign locale. The city serves as a personal, social, and psychological test for our students who navigate its streets. A sense of moral awareness is heightened by the necessity of living together with others in a highly interdependent environment. Students increasingly come to live in a world quite different from the one left in San Antonio. Our London program presents an opportunity for personal growth and transformation of consciousness.
Spain Fall and Spring Semester Program
The Franklin Institute-University of Alcalá is located approximately twenty miles east of Madrid. The university is one of the oldest higher education institutions in Spain, and it was declared a World Heritage Site by UNESCO in 1998. The Franklin Institute has more than 28 years of experience teaching international students.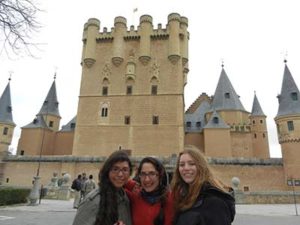 The St. Mary's Spain Semester Program is an immersion experience that offers homestay lodging with Spanish families. Because students live with local families, this is an opportunity for rich language acquisition and powerful intercultural experiences. Students engage in sincere discussions over the course of a whole semester, providing invaluable language practice and insight into a new culture. The time spent studying in Alcalá is considered a fundamental period of academic and personal development for the students.
At Alcalá, students are able to take local course offerings which may count for both majors and electives. Students from St. Mary's have traditionally enrolled in the Spanish Studies Program, which features courses in the humanities (language, literature, and art history), as well as courses in political science, international relations, and business. The Franklin Institute also offers five discipline-based programs: Service Learning and Education, International Business, Journalism and Communications, Health Studies, and Translation. The institute also offers the possibility to design a specific customized program that aligns with your academic interests and requirements.  Students should meet with their academic advisors at St. Mary's to plan course registration for both the semester abroad and the semester preceding the trip. Students take a regular semester class load of four or five courses, from Monday to Thursday, with long weekends available for travel. The university's proximity to Madrid's Adolpho Suarez airport means that students can easily travel within Spain and around Europe.
Sogang University- South Korea.
Sogang University is one of the leading research and liberal arts universities of South Korea. The university was established in 1960 by the Wisconsin province of the Society of Jesus to provide education based on Catholic beliefs inspired by the Jesuit education philosophy. Sister schools of Sogang, founded on Jesuit philosophies, include Georgetown University and Sophia University. Sogang's Foreign Language Education Center and its Korean Language Education Center is South Korea's leading language institute. It educates Ministry of Foreign Affairs (South Korea) state-funded foreign exchange students. There are over 200 courses taught in English for exchange students.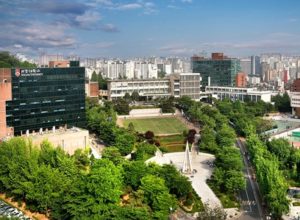 Sogang University is an exchange program under an agreement with St. Mary's University. Students pay tuition at St. Mary's and no additional tuition is charged by the host university (Sogang University). Students are able to attend Sogang University for any courses they are eligible for as well as Korean language courses. Exchange students are fully integrated into regular programs with Korean students, which allows exchange students to experience Korean culture to the fullest extent. All courses offered in the Graduate School of International Studies (GSIS) are lectured in English. Exchange students may also register free of charge in Korean language courses offered by the Korean Language Education Center.
Pontifícia Universidade Católica do Paraná – Brazil.
The Brazil Exchange Program is through an agreement between the Pontifical Catholic University and St. Mary's University. Students pay tuition at St. Mary's and no additional tuition is charged by the host university in Brazil. Students can spend one or two semesters studying in Brazil. Pontifical Catholic University does not have a language proficiency requirement; however, they do recommend students take at least one semester of Portuguese before starting the exchange program. Students can choose to study for one semester or a full academic year.
The Pontifical Catholic University of Paraná (Pontifícia Universidade Católica do Paraná; or PUCPR) is a private, not-for-profit Catholic university with its main campus in Curitiba, the capital city of the State of Paraná, Brazil. The university has more than 30,000 students and offers a large selection of undergraduate and postgraduate courses. Classes are taught in English and Portuguese.
Cuernavaca, Mexico Spring Travel Seminar
St. Mary's University will offer a Special Topics in Anthropology course, which includes an intensive, nine-day field experience in Cuernavaca, Mexico. Students travel with St. Mary's faculty to Cuernavaca, a city whose origins date back to Aztec settlements in the 12th century. Cuernavaca is located approximately 60 miles south of Mexico City.
The academic program explores the continuity of cultural elements in Mesoamerica from ancient cultures of Mexico to modern urban life. Students visit archaeological sites as well as explore social issues of modern-day life. Students examine and observe how present-day sociocultural features in modern Mexico are linked to the past and what implications these may have for the future.
The travel seminar complements St. Mary's courses in the social sciences, such as Anthropology, Sociology, History and International Relations. Students in the social sciences will be able to expand their classroom learning with observational experience in the field.
Magellan Exchange Program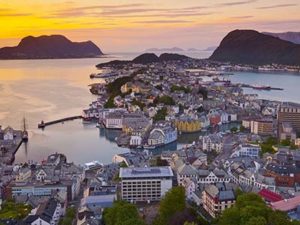 The Magellan Exchange Program is a non-profit consortium of universities worldwide that provides students the opportunity to study and take part in an internship in another country at an affordable cost. The Magellan Exchange Program is the ideal way to learn about other cultures and countries. Students will be fully immersed in the educational and social life of their host country and have unique experiences. Study abroad for a semester, summer or academic year. There is no language proficiency requirement. Classes are available in English in every location, however, language courses are available to students. The Magellan Exchange Program is located in the following countries: Australia, Austria, Belgium, Costa Rica, Denmark, Finland, France, Germany, Mexico, Netherlands and South Korea.
China Exchange Program
The China Exchange Program is through an agreement between Beihang University (School of Foreign Language) in Beijing, China and St. Mary's University. Students pay tuition at St. Mary's and no additional tuition is charged by the host university in China. Students can spend one or two semesters studying in China. Beihang University does not have a language proficiency requirement; however, they do recommend students to have sufficient Chinese or English language skills to be successful in their exchange program of study.
Students can choose to study for one semester or a full academic year. Beihang University's International School is well known for providing international students a large range of extracurricular activities, from sports clubs to photographic exhibitions. Other popular activities include introductions to Chinese culture, such as music, calligraphy and painting. Every semester the International School organizes trips for international students to visit scenic areas and some of the many famous historic and cultural sites in and around the city of Beijing.
Sophia University Semester and Academic Year Exchange Program – Tokyo, Japan
At Sophia University, located in the Chiyoda District, students become a part of an active urban campus in central Tokyo.
Sophia University has been at the forefront of Japan's internationalization initiatives, inviting students, faculty and researchers into its global academic network. Exchange students enroll in undergraduate programs for a semester or academic year, gaining full student privileges. Sophia offers courses in the liberal arts, which includes courses in comparative culture, international business and economics, and social studies. Regular and intensive Japanese language programs are also available. In the sciences, Sophia University features innovative programs in global environmental studies, most notably in their Green Science and Green Engineering programs. Tuition is paid to St. Mary's University. Exchange students are responsible for their own room and board and transportation to and from the host institution. Housing can be organized with Sophia University upon application.
Doshisha University Semester and Academic Year Exchange Program – Kyoto, Japan
At Doshisha University, students find themselves immersed in Japan's history. The city served as the residence of the Emperor for over one thousand years until 1868, when the Meiji Restoration moved the capital to Tokyo. The picturesque campus, which features a mix of historic and modern buildings, lies directly across the street from the Kyoto Imperial Palace. Students will walk through Japan's history on their way to classes, and will be able to explore Kyoto's most famous tourist attractions at their own pace.
The Doshisha curriculum and support services for exchange students are run through the university's Center for Global Education (CGE) and Center for Japanese Language and Culture (CJLC), which organize area studies courses taught in English, and intensive Japanese language courses, respectively. In the CGE Program, students take courses in Japanese culture, society and nature in English. These courses are comprised of both international and Japanese students, giving exchange students the opportunity to have a meaningful intercultural dialogue with Japanese students in the classroom. The CJLC Program offers a dedicated language and culture program taught in Japanese. Students are expected to have one year of prior language coursework on the university level. Students with a sufficient level of Japanese proficiency can also take regular subjects at the undergraduate and graduate level.
Doshisha University's foundation embodies the spirit of academic exchange. The university's founder became the first Japanese citizen to obtain an academic degree at Amherst College in the United States before establishing Doshisha in 1875. Today, the university has approximately 26,000 undergraduate students, and is considered to be one of the most prestigious private universities in Japan.
---
School of Law Study Abroad Programs
The St. Mary's University School of Law offers two outstanding summer study abroad programs for our law students, one in the beautiful Alps of Austria and the other in Beijing.
Austria law summer study abroad program
China law summer study abroad program
Mexico spring break study abroad program
---
Contact
Center for International Programs
St. Mary's University
St. Louis Hall, Room 105
210-431-5091