Experience the World
Discover your connection to the global community. As part of our Marianist tradition of equity, we aim to make study abroad accessible, so all students can experience life abroad. Study, intern and serve while experiencing life in another country.
Top Benefits of Studying Abroad
Experiential Learning
Students are introduced to new experiences, meet new people and access materials that aren't available on campus. On a program led by business faculty, students visit corporations, meet with industry leaders and engage in design projects. A fine arts class may be primarily conducted in museums, archives or backstage at a national theater.
Learn a New Way of Life
Traveling as a student comes with different expectations than tourism. Students become immersed in their surroundings, learn new languages, the local history and politics of a region and its people's values, beliefs and cultures. Exposure to all these areas means students develop intercultural competency: the ability to communicate with people of other cultures.
Career Prospects
Numerous studies demonstrate that study abroad participants have higher graduation rates and better placement into graduate school and the job market. Students interning with an overseas organization distinguish themselves; just 1% of the U.S. university population has this experience at the time of graduation.
Lessons Learned
Returning students demonstrate an increased ability to articulate their experiences. They learn what it takes to show empathy and compassion for others. Students learn to work independently and gain resilience through the process of cultural adaptation. Our students learn what it means to be a global citizen and a global leader.
It's More Affordable than you Think
Our study abroad program prices are lower than most institutions', and a student's normal scholarship package often travels with the student. Many resources are available to students on summer- or semester-long programs.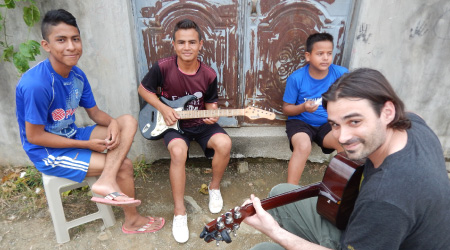 Choose from a Variety of Study Abroad Programs
You can travel to over 20 countries while you're a St. Mary's student. We'll help you choose from a variety of countries, decide how long you want to stay, and consider all the options before you narrow down your list.
How to Choose
Which study abroad program is right for you? Consider:
Can I take courses that fit my degree plan?
Do I want to learn a foreign language?
How long do I want to be away from home?
Do I want to travel independently or with other St. Mary's students?
What are my goals in attending this program?
Head over to the Rattlers Abroad portal for in-depth details on everything from individual programs to how you can sign up!
Information for Parents
We know you want to keep your student safe. That's why each student attends an orientation session and obtains a health clearance.
Discover more of the resources available to families of students studying abroad.