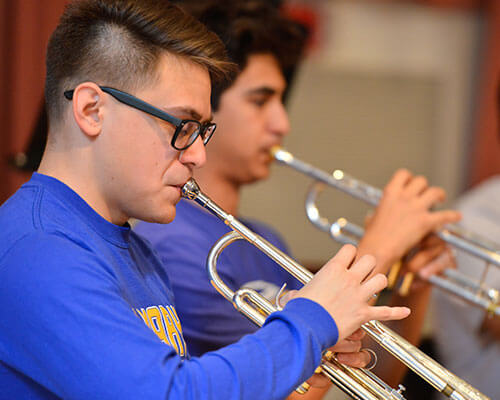 The St. Mary's University Department of Music is offering the opportunity for Texas Band students interested in auditioning for Texas All-State or All-Region Band to participate in a virtual Mock Audition.
Students will perform their audition etudes through Zoom, and receive feedback from St. Mary's University Music Professors. The Mock Audition will also result in placements to show students how they rank against the competition.
This opportunity is completely free to high school students in Texas.
2020 Mock Audition Schedule

12 p.m.
Flute, Clarinet, Trumpet, Percussion

12 p.m.
Oboe, Bassoon, Tenor Saxophone, Baritone Saxophone, Horn, Trombone, Euphonium
Mock Audition Details and Procedure
After registering, Zoom links will be sent to each student by instrument. At the audition date and time, everyone meets in the Zoom meeting room for their instrument. Students are all muted until it is their turn to play.
Virtual Mock audition procedure will resemble normal TMEA procedures:
Each student will be given a performance order.
Each student plays one etude at a time.
Letter A plays etude #1, then letter B, etc.
Once everyone has played #1, then the room moves on to etude #2, and then to #3.
When it is their turn to play, each student will give a quick microphone check for the adjudicator.
At the completion, the adjudicator completes the final results and provides feedback.
Each participant will need their own internet access, and a standard Zoom account to attend the sessions. St. Mary's University is not responsible for data usage charges from cellular providers.
Sessions will be held through Zoom, a videoconferencing app. Participants will need to have a Zoom account, but only the free version is required. You will not need to upgrade your account to participate. Desktop computers are recommended, but mobile devices are also useable.
For the best overall experience, each participant should have a quality video and microphone set up.

Technology
Each participant will need access to an instrument to participate fully in the section sessions.
Percussionists in particular will need to have access to a snare drum and marimba.
Repertoire: 2020-2021 TMEA All-State Band Audition Etudes

Instrument and Repertoire
For more information about the St. Mary's University All-State Band Virtual Mock Audition, contact Matthew Mireles, D.M.A..
Matthew Mireles, D.M.A.
Chair, Department of Music
Director of Bands
St. Mary's University
mmireles1@stmarytx.edu
210-436-3421