About the Community Reading Experience
The Community Reading Experience was created by the Department of English Literature and Language to provide an opportunity for St. Mary's University students and the San Antonio community to engage in reading, participate in meaningful conversations about literature and meet a local published author.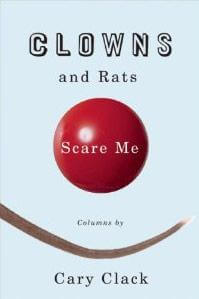 Past featured authors and panelists include, Naomi Shihab Nye, Carmen Tafolla, Frank Kersnowski, Ph.D., Jean M. Cannon Ph.D., Elizabeth L. Garver and Retired U.S. Army Major General Alfred Valenzuela to name a few.
The 2018 Community Reading Experience featured author was former San Antonio Express-News columnist Cary Clack (B.A. '85). At the event, St. Mary's students interviewed Clack and discussed his book Clowns and Rats Scare Me, followed by an audience Q&A and book signing.
2018 Featured Author - Cary Clack (B.A. '85)


Cary Clack is well-known for his writing on local and national news, events and social issues. Born in San Antonio, he is a graduate of St. Gerard High School and St. Mary's University. In summer 1984, he was a scholar-intern at the Martin Luther King Jr. Center for Nonviolent Social Change in Atlanta, and he wrote CNN commentaries for Coretta Scott King. From 1989 to 1995, he was a trainer in nonviolence at King Center workshops for high school and college students. He wrote columns for the San Antonio Snap and the San Antonio Informer and in 1994 began writing a biweekly column for theSan Antonio Express-News, becoming a full-time staffer one year later as a general assignment reporter and weekly columnist. In 1998 Clack joined the Express-News editorial board and in 2000 became a metro columnist. He has won the Dallas Press Club's Katie Award for Best General Column and in 2008 won the Friends of the San Antonio Public Library's Arts and Letters Award.

---
Support the Community Reading Experience
You can help create unique educational opportunities centered around reading for St. Mary's students and the San Antonio community by supporting the Community Reading Experience. Your proceeds will directly support keeping this educational reading tradition alive.
Interested in becoming an official event sponsor? Contact Kathleen Maloney, Ph.D., at St. Mary's University at 210-431-2005 or kmaloney@stmarytx.edu.
---
For more information about the 2018 Community Reading Experience, contact Diane Gonzales Bertrand, at 210-431-2003 or dbertrand@stmarytx.edu.