About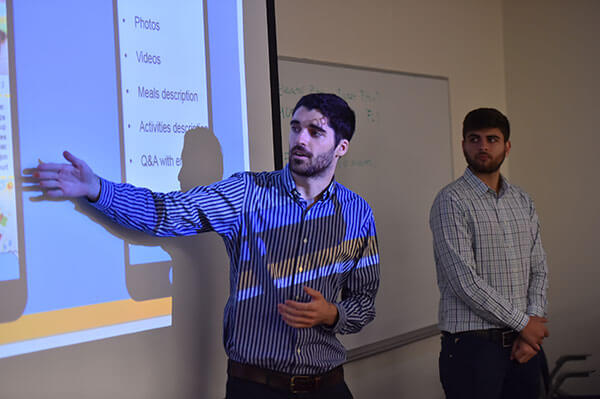 The Management program at St. Mary's University ensures students gain skills in leadership, negotiation, communication, data analysis, decision making, innovation and change. Management majors will have the opportunity to integrate their knowledge of management processes with action-based learning in their senior year. Local, national and international corporations have joined St. Mary's in its commitment to engage students in supervised consulting projects to better prepare them for management careers.
"My management professors, and really all of the professors in the Greehey Business School, encouraged me to go above and beyond just learning the facts. They taught in real-world settings and helped to connect content to real situations. I truly believe that is a something unique for St. Mary's because, yes, I was learning the curriculum, but even more my professors were shaping me to be a leader outside of the classroom." – Devan Hartung (B.B.A. '15)
Program Options
Students can pursue one of the following program options:
Bachelor of Business Administration in Management

General Track
Entrepreneurship and Innovation Track

Minor in Entrepreneurship and Innovation
The General Track is designed for students to gain a firm foundation in broad management knowledge such as human resource management, international management, leadership and negotiation, and quantitative management. This track prepares students for leadership careers in corporations, public institutions, not-for-profit organization and small businesses.
The Entrepreneurship and Innovation Track is designed to cultivate entrepreneurial mindsets by developing students' skills in entrepreneurial innovation, social entrepreneurship, crowdfunding and the start-up process. This program prepares students to become innovative and self-driven entrepreneurs with the skills and knowledge needed for enterprise creation.
The Minor in Entrepreneurship and Innovation aims to instill students with the motivation, creativity, problem-solving skills, leadership abilities and entrepreneurship skills needed for a life of innovation. These skills can benefit students regardless of major. This minor is open to all non-business students.
Courses and Degree Plans
Students can pursue a Bachelor of Business Administration in Management in either the General Track or the Entrepreneurship and Innovation Track. In addition to their major courses, students from the Greehey School of Business take courses from the St. Mary's Core Curriculum and the Greehey School of Business School Specific Core. The B.B.A. in Management requires a minimum of 27 credit hours within the major.
View the Management – General Track Requirements and Degree Plan
View the Management – Entrepreneurship and Innovation Track Requirements and Degree Plan
View the Minor in Entrepreneurship and Innovation Requirements and Degree Plan
Career Options
Management – General Track students aspire to advance in managerial roles and have a particular desire to broaden their knowledge of business environments. Recent graduates have gone on to work for companies such as:
Argo Group
E.L. Broady Academy
Enterprise Rent-A-Car
Laredo Housing Authority
Ludus Media
Target
Management – Entrepreneurship and Innovation Track students have numerous career opportunities related to the entrepreneurial field such as:
Business owner
Business consultant
Sales manager
Product manager
Management analyst
Public relations/fundraising manager
Learn more about the St. Mary's Management Program
Loading…