About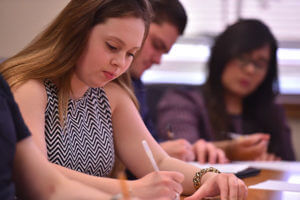 The field of marketing is changing rapidly, and the opportunities for aspiring marketers are limitless. In the Marketing program at St. Mary's University, students develop an understanding of marketing in both nonprofit and for-profit organizations, and learn to evaluate and interpret the psychological, economic and sociocultural factors and trends that influence purchase and consumption of goods and services.
Students pursuing this major can choose between two marketing tracks: a Traditional Marketing Track or a Digital Marketing Track.
Marketing Minor
A minor in Marketing is also offered by the Greehey School of Business and is developed specifically for Communication Studies majors at St. Mary's University.
Students  in the Marketing minor develop skills that increase knowledge in marketing strategy, promotions, consumer behavior, and other niche areas. Students will learn how to integrate their liberal arts knowledge with marketing acumen and how to apply their diverse skill set across the Communications industry.
Courses and degree plan
Students can pursue one of the following program options:
Bachelor of Business Administration in Marketing (Traditional Track)
Bachelor of Business Administration in Marketing (Digital Marketing Track)
Minor in Marketing – Degree Plan
Career options
Students in the Marketing program have obtained internships and job opportunities at:
Aleuro
American Lung Association
GE Healthcare
H-E-B
San Antonio Parks Foundation
San Antonio Stock Show and Rodeo
The PM Group
Learn more about the St. Mary's Marketing Program
Loading…