November 4, 2019
Lanham Napier will speak at the Forum on Entrepreneurship Breakfast Series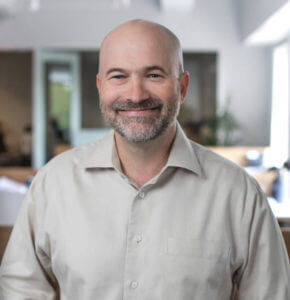 The breakfast discussion, titled "The next generation of private capital," will be held at the Pearl Stable of the Historic Pearl Brewery.
The Meadows Center for Entrepreneurial Studies at St. Mary's University hosts the ongoing breakfast series. Registration, networking and breakfast at the Pearl Stable begin at 7 a.m., followed by the program at 8 a.m.
"We are delighted to have Lanham Napier as our featured speaker at the Forum on Entrepreneurship Breakfast Series. Lanham's expertise of the technologies driving our current and future world is impressive to say the least," said Tanuja Singh, D.B.A., Dean of the Greehey School of Business.
"He is passionate about technology and the audience is bound to be energized and inspired as they hear from Lanham," Singh said.
Napier is considered BuildGroup's "CEO Whisperer." He knows what life is like in the CEO seat and how important it is to build the core leadership team that takes a company on the long journey to greatness. Napier is BuildGroup's visionary and has made it his life's mission to create a better way to build companies.
Napier led Rackspace from $1.5 million to $1.5 billion in revenue over a 13-year period, helping to create the cloud service leader and one of Fortune's 100 Best Companies to Work For. He has an MBA from Harvard Business School.
"I am excited that Lanham will be sharing his wealth of experience in private capital as well as artificial intelligence," said Chris Edelen, Chairman of the Forum on Entrepreneurship Breakfast Series and St. Mary's Executive in Residence. "Lanham recently raised more than $300 million dollars to acquire companies with a different philosophy than traditional private equity. The audience will hear his latest thinking and direction for his investments."
More about the Forum Breakfast series
The Meadows Center for Entrepreneurial Studies promotes and encourages entrepreneurial thought, business and activities locally, regionally and nationally. The purpose of the Forum on Entrepreneurship Breakfast Series is to offer the larger San Antonio community and students of St. Mary's University a forum to hear from some of the most talented individuals in industry and government. Funds generated from the series support student scholarships and encourage entrepreneurial activities in San Antonio and the region.
The series' 2019-2020 title sponsor is PwC. For information on sponsorship opportunities and purchasing tables and individual tickets, please contact Pamela Luna at forumbreakfast@stmarytx.edu or 210-436-3124.