Management junior Kaitlyn Bloch opened two businesses before the age of 21 and plans to reshape the pet industry with her newest venture.
by Alex Z. Salinas (B.A. '11)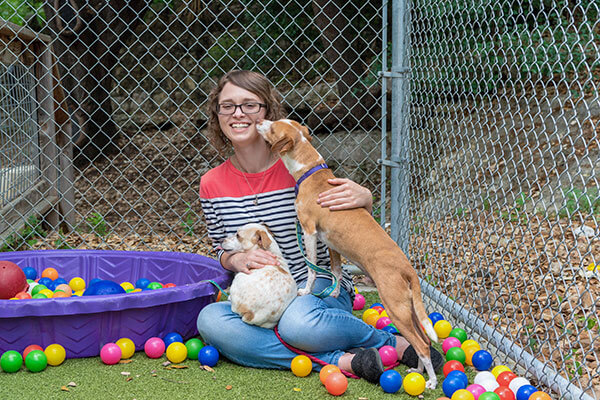 Most children like to play with toys; others like to dress up. But when Kaitlyn Bloch was a kid, she imagined being a business owner.
"I would act as if I owned a shop and that my parents were my customers," Bloch said. "I've always been entrepreneurial in that way. It's part of who I am."
Since age 11, the San Antonio native has known the exact industry in which she wanted to work, although unfortunate events pushed her in that direction.
At the time, Bloch had pet guinea pigs, which her family bought from a local pet store. Bloch soon discovered that certain products from the store were harmful to her guinea pigs. One product gave them skin rashes.
"I realized that there were problems in the pet industry and that bad information was going out, so I wanted to help fix that," Bloch said.
Fast forward to November 2017 when Bloch, a Management senior in the new Entrepreneurship and Innovation track at St. Mary's University, launched her online pet supply store, Cloud 9 Lives.
Now, the young entrepreneur is a step – and a paw print – closer to making her dreams come true.
"My goal is to reshape the pet industry through education and innovative design," said Bloch, whose startup was selected by the innovation nonprofit Velocity TX to join its tech incubator.
According to the Cloud 9 Lives website, which Bloch designed herself, people can buy "high-quality handmade pet supplies and gifts for pet lovers."
For now, Cloud 9 Lives is a one-woman shop, with Bloch working like a dog to manufacture her merchandise, manage content on the website, and process and deliver orders.
Bloch is also the lone wolf of her marketing team. She's handed out business cards and has been invited to the Pearl Weekend Market to spread brand awareness. She's also participated in business pitch competitions, including the San Antonio Entrepreneurship Week Pitch Tab Competition, during which she delivered a 90-second elevator pitch about Cloud 9 Lives to a panel of judges.
Bloch placed first out of 10 participants in the competition, earning $150. Like a dedicated entrepreneur, she invested the prize money into her business.
"I look back and see how my time as a business school student at St. Mary's has shaped everything I'm doing," Bloch said.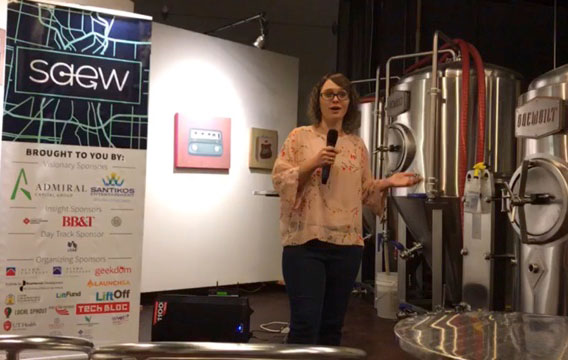 These are sweet words from someone who started her first business – a cupcake delivery shop – when she was a junior at Business Careers High School in San Antonio. She ran the food business, called Kate's Cakes, entirely from her parents' kitchen. Bloch managed all operations for one year before the business closed.
So how did St. Mary's fit into her entrepreneurial vision?
"The principal of my high school was an alum, and he encouraged me to tour the Greehey School of Business," Bloch said. "After I did that, I knew right away that I wanted to be part of that school."
Bloch has excelled at St. Mary's, discovering a home away from home.
"There's a family-type community at St. Mary's," she said. "Everybody holds the doors open for everybody else. Everyone here is part of a very caring environment."
Sergio Palacios, Ph.D., Visiting Assistant Professor of Entrepreneurial Studies, taught Bloch in a course called The Entrepreneurial Mindset and has used her experiences to help teach important business lessons.
"In my classes, we've talked about her success and how the use of stories, paired with her passion, made a real impact on her performance," Palacios said. "We talked about how several entrepreneurs risk a lot of resources in developing plans and executing such plans, in contrast to how Kaitlyn is taking an iterative approach, minimizing risk by working with the skills and resources she already possesses, and is validating her ideas with real customer feedback."
Palacios also incorporates experiential activities, like developing creative elevator pitches, into his curriculum, which he said has helped his students "not to fall in love with their ideas, but to fall in love with solving a problem they are passionate about solving."
Bloch credits her Management courses for helping her to think like an entrepreneur, and her St. Mary's Core classes for widening her business scope – and her personal mission.
"I have a totally different worldview now than when I first started college," she said. "Growing my business is important, of course, and will continue to be my focus, but my main goal is to solve a problem. To reshape the pet industry and make my community better."