by Alex Z. Salinas (B.A. '11, M.A. '19)
For some St. Mary's University students, like Management major Nadia Carrasco-Vasquez, who graduated this May, owning a business is a lifelong dream — in her case, since childhood days in her mom's coffee shop in Arizona.
Others experience their entrepreneurial eureka moment in a flash, like Management senior Azucena Rangel Olvera did minutes before pitching a business idea for a class taught by Associate Professor of Management Sergio Palacios, Ph.D.
Today, Vasquez and Rangel Olvera — both age 20 — are proud small business owners, fusing interests in fashion and St. Mary's educations to put their visions in the form of products before customers, which Palacios called, "actual innovation."
Vasquez hadn't been at St. Mary's a full semester before thinking, "I'm tired of being broke. I need to do something with my education."
Driven by her affinity for makeup and fashion, she started her own luxury eyelash business — VAS Cosmetics — in September 2019.
"I want to be a brand that's relatable for all types of women and people who wear makeup."

Nadia Carrasco-Vasquez, Management graduate
Vasquez's eyelash products are made of vegan, cruelty-free silk — an expression of her being pescatarian (a person who eats seafood but not meat) since age 8.
"I always knew I wanted to start my own business," the Phoenix native said.
Having enrolled in the Entrepreneurship and Innovation Track, she captured the attention of Palacios, who mentored Vasquez and called her success the result of "outstanding problem-solving skills and her dedication to learning everything she needs to continue growing her startup."
VAS Cosmetics has expanded to 12 styles of lashes and will soon include brushes, Vasquez said.
"I fully embrace being a Latina business owner, but also a woman business owner," she said. "I want to be a brand that's relatable for all types of women and people who wear makeup."
In Fall 2019, Rangel Olvera was about to present a business idea for Palacios' class when at the last minute she changed her mind.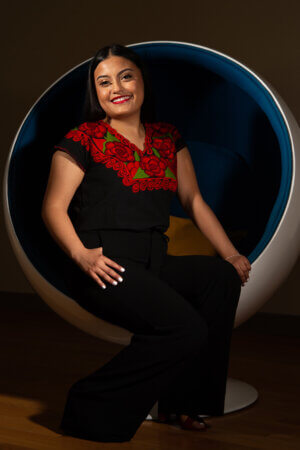 "I was wearing a Mexican artisanal shirt and thought, 'Why not a business selling these?'" she said, having long worn the embroidered shirts. The judges and class agreed.
With help from her older sister, the first-generation college student from Mexico launched La Tiendita Boutique in October 2020.
Starting with just 12 artisanal shirts, Rangel Olvera's line now includes seven colorful designs for women, an option for men, huaraches (a type of sandal), purses and coin holders.
"The meaning behind my fashion business is cultural awareness," she said. "I want people to know they're sharing their experiences with me via our clothing."
Rangel Olvera said her hand-knitted products are manufactured primarily in Oaxaca, Mexico.
"I donate 25% of revenues back to the Mexican workers," she said.
"Azucena's business is another great example of capitalizing on opportunities," Palacios said. "She had an idea, she worked with what she had available in her tools and resources and then started her store."
"St. Mary's has given me courage and confidence. The professors remind me I don't have limits."

Azucena Rangel Olvera, Management senior
With Rangel Olvera slated to graduate from St. Mary's in December, both she and Vasquez plan to continue growing their businesses — one eyelash and artisanal shirt at a time.
"I finally purchased a vending machine for my eyelashes, and spray-painted the inside baby pink," Vasquez said. "It's all about staying relevant."
"St. Mary's has given me courage and confidence. The professors remind me I don't have limits," Rangel Olvera said.