Degree
Bachelor of Business Administration

https://www.stmarytx.edu/academics/programs/international-business/

https://www.stmarytx.edu/wp-content/uploads/2020/07/international-business-student.jpg
Contact
International Business at St. Mary's
The International Business program at St. Mary's University is designed for students seeking careers in the global arena.
International Business majors develop a comprehensive understanding of management functions, strategies and practices of international enterprises.
What sets this program apart:
A year-long practicum that exposes students to diverse cultures, languages and business practices from around the world. Students are encouraged to complete the practicum in a different country.
See the catalog for degree requirements:

Students can pursue two track options:

International Marketing Track: This track emphasizes understanding of international markets, products and consumers.

Students learn how to understand and analyze global opportunities, and navigate cross-cultural/multicultural environments successfully to compete in the global marketplace. Students become prepared for leadership careers in international marketing management, international marketing research, global public relations, and international advertising.

International Trade Operations Track: Students gain an understanding of the principles and practices of international trade.

This track emphasizes global supply chain management, operational strategies of globally linked companies and global sourcing of products and services.

Students explore techniques to establish international operations, and develop an understanding of the global flow of goods and services. You'll become prepared with the operational management skills needed for a global career in trade.
In addition to their major courses, students from the Greehey School of Business take courses from the St. Mary's Core Curriculum and the Greehey School of Business Core.

Students develop a global mindset to succeed in our intricately linked global economy.

Global Social Media Marketing
International Finance
International Market Analysis
International Market Entry
Strategy Global Supply Chain Management
Operations Management

Browse course titles and descriptions:

Students in the International Business program have obtained internships and job opportunities at the following organizations, among many others:

Frost & Sullivan International Marketing Consultants
H-E-B Global Sourcing
International Air Transport Association
North American Development Bank
San Antonio Economic Development Foundation
Universal Pictures International
World Affairs Council of San Antonio
Outside the Classroom
Students can also participate in a wide variety of clubs, events, activities and special programs. Highlights include: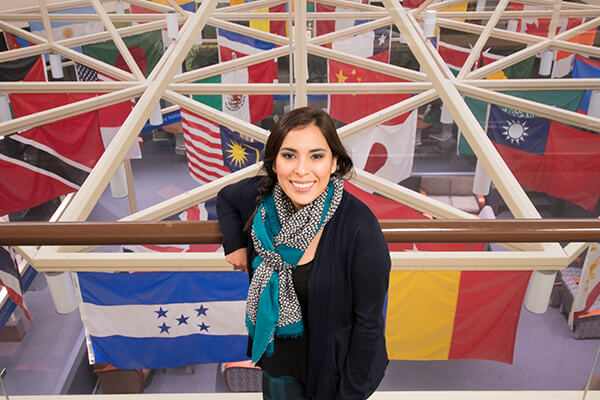 Learn more about the International Business Program
Interested in pursuing a degree in International Business? We're eager to hear from you and answer any questions you have. Feel free to reach out to speak to one of our dedicated faculty.