11:1
Student to Faculty Ratio
Degree
Bachelor of Business Administration

https://www.stmarytx.edu/academics/programs/international-business/

https://www.stmarytx.edu/wp-content/uploads/2020/07/international-business-student.jpg
Contact
International Business at St. Mary's
The International Business program at St. Mary's University is designed for students seeking careers in the global arena.
International Business majors develop a comprehensive understanding of management functions, strategies and practices of international enterprises.
What sets this program apart:
A year-long practicum that exposes students to diverse cultures, languages and business practices from around the world. Students are encouraged to complete the practicum in a different country.
See the catalog for degree requirements:

The international business major educates students to be professionals in global business. Students learn the intricacies of international business in areas such as international trade operations and strategy, international marketing, global supply chain management, and international finance. Moreover, students gain practical experience by working with companies on international projects, serving as interns for international companies, and participating in study abroad business programs.
In addition to their major courses, students from the Greehey School of Business take courses from the St. Mary's Core Curriculum and the Greehey School of Business Core.

Students develop a global mindset to succeed in our intricately linked global economy.

Global Social Media Marketing

International Market Analysis

Global Supply Chain Management

International Business Practicums

Browse course titles and descriptions:

Students in the international business program have obtained internships and job opportunities in organizations such as:

Frost & Sullivan Research and Consulting

International Air Transport Association

North American Development Bank

San Antonio Economic Development Foundation

Universal Pictures International

World Affairs Council of San Antonio

International business degree holders are employed in jobs roles such as:

Global Business Consultant

International Marketing Manager

International Business Analyst

Business Development Director
Outside the Classroom
Students in the International Business program participate in international case competitions such as the Network of International Business Schools (NIBS) Worldwide Case Competition, serve as interns for international companies, study abroad to gain valuable international business insights, work on international projects for companies, attend presentations by international business leaders across the globe, go on company visits, and engage in service-learning projects.
Students can also participate in a wide variety of clubs, events, activities and special programs. Highlights include: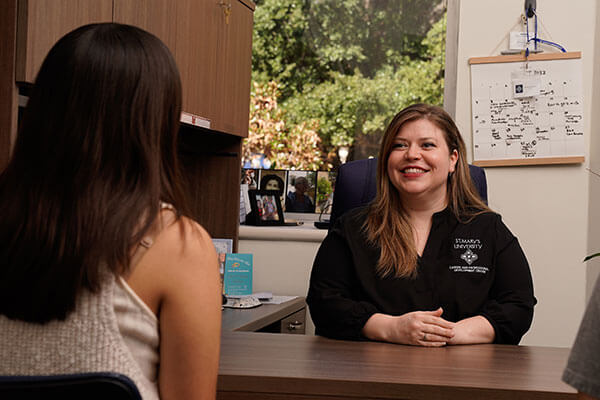 Learn More
We're eager to hear from you and answer any questions you have! Feel free to reach out to learn more about St. Mary's University.