Degree
Bachelor of Business Administration

https://www.stmarytx.edu/academics/programs/business-and-law/

https://www.stmarytx.edu/wp-content/uploads/2023/04/st-marys-bba-business-law.jpg
Department
Business and Law Major at St. Mary's University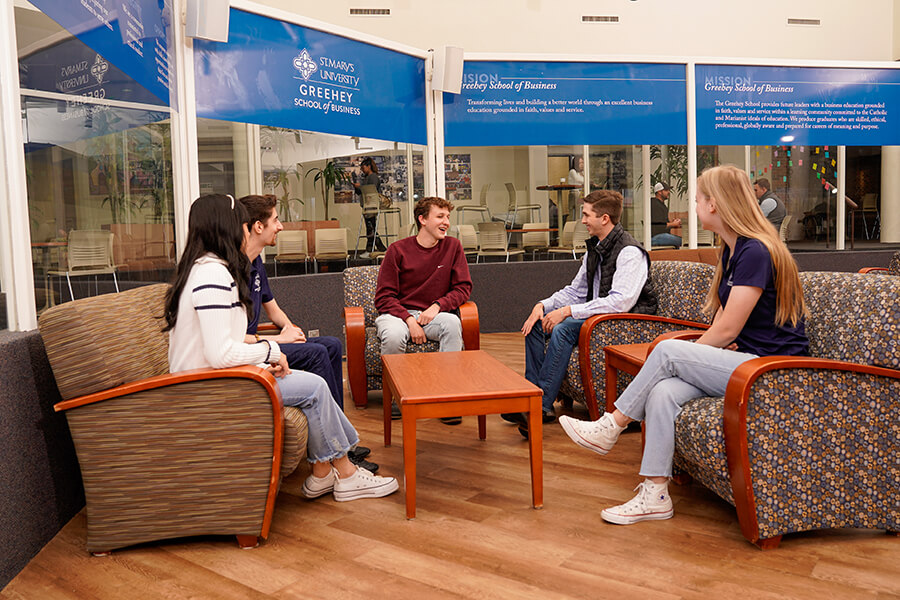 The Business and Law major will prepare students for a broad spectrum of professional careers and graduate programs, where knowledge of both business and legal topics is important.
This innovative program is a collaboration between the Greehey School of Business and St. Mary's University School of Law.
The major is intended to appeal to students who seek professional advancement through competency in advanced business, as well as legal topics.
Operating in an ever-expanding environment of federal, state and administrative regulations, organizations have a significant interest in recruiting and retaining employees who are familiar with statutes regarding topics such as corporate formation and formalities, contract law, commercial paper, legal procedure, payroll and employment law, entrepreneurship, risk management, personal injury, business succession planning, tort law, products liability, business communication, compliance, identity theft, corporate intelligence, cybersecurity, negotiation, and insider trading, as well as the corresponding tax consequences of each.
The B.B.A. in Business and Law at St. Mary's requires 120 credit hours in order to graduate.

This includes 42 hours of the St. Mary's Core, 45 hours of the Greehey School of Business Common Body of Knowledge, 17 hours of Business and Law major courses and 16 hours of electives.

With sixteen hours of electives, Business and Law majors are offered the flexibility to select courses that appeal to their interests, both in the Greehey School of Business as well as the unique opportunity to complete between five and fifteen credit hours of LW courses taught by law school faculty.

Course highlights include:

Fundamentals of American Law

The Entrepreneurial Mindset

Compliance, Ethics and Risk Management
A degree in Business and Law is perfect for students who want to become supervisors of new and evolving professions that require a broad business education and an understanding of the legal environment. Possible careers include:

Other students may be interested in non-profit, judicial or government work, such as court administrators, juvenile and adult probation officers, FBI agents, city planners or politicians. Lastly, some students may decide to pursue a law or other graduate degree in the future.

The pursuit of graduate studies, such as the M.B.A. or M.P.A., may be attractive to students who have studied both business and legal topics as undergraduates.

There are also numerous reasons why a student who studied Business and Law might apply to a J.D. or M.Jur. program in the future.

First, familiarity with legal topics might pique an interest to further pursue legal studies. Second, exposure to law pedagogy is advantageous for students in advance of graduate lectures and exams. And third, careers for attorneys, paralegals and legal assistants look positive.