Layla Dickerson gears up for St. Mary's University's new B.B.A. in Business and Law
Layla Dickerson went from being an elementary student who had to sit in the hallway because she kept acting out to a rising sophomore at St. Mary's University who helped advocate for the new B.B.A. in Business and Law.
"I'm proof it doesn't matter where you start; you decide where you finish," Dickerson said. "Teachers in my past didn't even want anything to do with me, and now I'm introducing a new major!"
"Often, students major in disciplines, such as Political Science or Criminal Justice, when they have an interest in law or going to law school," said Rowena Ortiz-Walters, Ph.D., Greehey School of Business Dean and Professor of Management. "Up to now, they have not had other options. The new Business and Law major affords an exciting pathway for students to engage with legal matters exploring different disciplines than they traditionally have."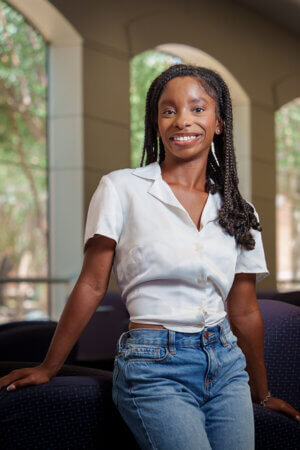 Dickerson said she believes the new major has "unmatched potential" for future J.D. students who want to practice in fields related to business.
After she first heard that the major was being considered, Dickerson rushed to Ortiz-Walter's office and asked if she could submit a short video about how much the course of study would help her as a student who wanted a career in real estate law.
She had one night to get it done. She wrote her notes on her phone and enlisted her 10-year-old sister for help.
"I recorded it in my bathroom," she said. "My little sister Lela was on my floor lying down, and I poked her leg with my foot so she would scroll my phone down so I could read my notes. It was a team effort."
Ortiz-Walters said Dickerson's commitment to the University's new major is inspiring.
"In the true Marianist spirit, Layla has already volunteered to help new incoming Business and Law majors by serving as a mentor through the GSB Advantage Mentor Program," Ortiz-Walters said. "Since she has completed her first year, she knows first-hand the value of having someone give you a hand. She thrives from helping others succeed."
Dickerson credits her own mentors at the University with helping her navigate the college experience as a first-generation student, especially as one for whom schooling was not always a positive one. Growing up in Chicago, she was often getting into trouble. If her parents were getting called to the school, it was because teachers had something bad to say, she shared.
Everything changed about 10 years ago when her mom got a new job in San Antonio. Dickerson was homeschooled and thrived in the new environment. She knew she wanted to go into real estate like her grandfather, who was a mentor of hers, but she also wanted to expand into real estate law. After her grandfather died, Dickerson made a promise to herself and him that she would graduate law school. She also wanted to be a good example for her younger sisters.
"I'm proof it doesn't matter where you start; you decide where you finish."

Layla Dickerson
She decided to apply to St. Mary's after her mom heard an ad about it on the radio. She found out she was accepted on her father's birthday. From her first day, Dickerson immersed herself in legal studies as well as Business School. She is now a mentor for other students.
"From my very first interaction with her this past fall, she radiated enthusiasm for St. Mary's University," said Vice President and Dean of Students Tim Bessler, Ed.D. "She joined the Office of Community Engagement as a student team member and, because of her thoughtfulness, inquisitive nature and hard work, immediately made positive contributions to projects and the team."
Dickerson is also in the Pre-Law Program and has joined Registered Student Organizations for legal studies. She was recently able to shadow someone in the Bexar County District Attorney's Office who handles misdemeanors. She also picked up tips from a legal writing class taught by Associate Service Professor of Law Victoria Duke-Dawson, J.D.
Dickerson can barely contain her excitement about starting the new major in the fall. She sees nothing but opportunities in her future.
"I was the kid who was always in trouble at school, and now I'm the student who professors like, and they want to talk to my parents to tell them positive things," she said. "Your life can change. Anything is possible."