A single teen mom. A successful business owner. A competitive bodybuilder. And now a joint-degree student at St. Mary's University earning her Master of Business Administration and her Doctorate of Jurisprudence. Vanessa Ortega has paved her own path to success and helps others find theirs. 
"I went back to school after 15 years because I wanted to finish what I had started, which was pursue my dream of becoming an attorney," she said. "As a mother, it's important to me to show my son that society does not get to dictate when and where we do things in our life."
Ortega, an El Paso native, was 17 when she had her son. She used financial aid and paid her own way at Arizona State University, graduating with a Bachelor of Arts in Political Science. To be a part of her son's life, she started her own businesses — two pet-sitting businesses and worked as a bookkeeper, a skill she learned from her father. During this same time, she began bodybuilding, a hobby that had her rising from bed at 4:30 a.m. daily and even saw her competing at the national level.
"It became the way I meditated and took care of myself," she said.
Her journey brought her to San Antonio, but before leaving Arizona, Ortega sold her two pet-sitting businesses for a profit. Once in the Alamo City, her son graduated high school, and Ortega became an empty nester. She decided it was the perfect time to go back to college. She chose the St. Mary's joint-degree program because she wanted to combine her business skills and a law degree to help business owners secure their legacy through probate law.
Ortega has thrived as a student of the St. Mary's School of Law and the Greehey School of Business.
"If I had not gone to St. Mary's, I would not have thrived the way I'm thriving here. The University gave me the opportunity to learn what it means to be in service to others."

Vanessa Ortega, MBA/J.D. student
School of Law Assistant Dean for Admissions and Recruitment Catherine Casiano (J.D./M.B.A. '07) got to know Ortega through her work as a member of the Student Recruitment Corps, which comprises a group of students who volunteer to help at events organized by the School of Law Admissions and Recruitment Office.
"Vanessa embodies the Marianist spirit because she is genuine, caring and wants to truly help people learn, not only about St. Mary's, but about life as a law student," Casiano said. "Vanessa quickly stepped up to become one of the most present volunteers throughout her entire time in law school."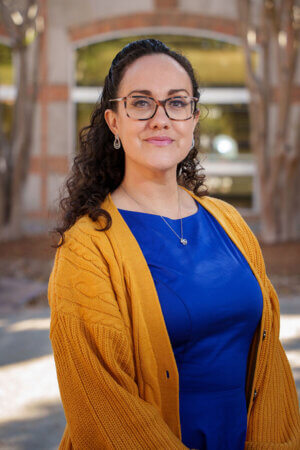 Ortega's volunteerism with the Women's Law Association and First Generation Professionals, along with her mentorship hours with St. Mary's 1L Edification Program (SM1LE), all registered student organizations, has garnered awards and accolades.
She received the Outstanding MBA Student Award in October, the law school's Leadership Service Award for serving 243 pro bono hours and the Women in Law Leadership Award.
Along with all of that, Ortega volunteers with a national organization called Mental Health First Aid, which helps train students to assist others in a mental health crisis.
"I always want to give back to my class and my community," she said.
Greehey MBA Programs Director Jeremy Grace said Ortega brings "a positive energy to all of her interactions and authentic care to her approach to engaging with the learning material."
This is an integral part of St. Mary's University and the MBA program, which are rooted in values-driven thinking.
"Recognizing that all individuals are on some kind of journey seeking meaning and transformation is at the heart of our approach to education," Grace said. "As a natural byproduct of such thinking, meaningful relationships and in-depth conversations are fostered in the classroom. Vanessa embodies these ideas and is a champion of our program."
Ortega graduates with her MBA in December and her J.D. in May 2023, taking the lessons she has learned at St. Mary's back into the professional world.
"If I had not gone to St. Mary's, I would not have thrived the way I'm thriving here," Ortega said. "The University gave me the opportunity to learn what it means to be in service to others."