About
"Big data" is everywhere, and it is only getting bigger. St. Mary's University wants students to be ready, so we offer a Bachelor of Business Administration in Accounting and Data Analytics. In this new major, students complete the basic 120-credit-hour accounting major, plus an additional 30 credit hours in data analytics and information systems courses and electives.
View the Accounting and Data Analytics Requirements and Degree Plan
Career opportunities
This major will diversify job opportunities for students, while further emphasizing accounting ethics, privacy and security elements in this emerging field. Students in the Accounting and Data Analytics program have obtained internships and job opportunities at the following organizations, among many others:
Acelity
Ernst & Young, L.L.P
Frost Bank
IDEA Public Schools
Liberty Mutual
NuStar Energy, L.P.
Rackspace
Sea World
SWBC
Tsakopulos Brown Schott & Anchors
The median salary for entry-level data analytics jobs is $48,000, according to PayScale. All industries have "big data" to be analyzed, especially financial services, healthcare, insurance, retail, manufacturing and government. Local corporations in need of data analysts include USAA, Southwest Research Institute, Rackspace, H-E-B and Valero.
The program includes a number of courses focusing on accounting/information systems, quantitative management and financial modeling to address industry trends. These courses cover material that is at the intersection of accounting, data analytics, information systems management and quantitative management, and the curriculum has been designed around input from industry and the employment market.
"I am currently working as a tax accountant and I cannot emphasize enough how advantageous it was for me to choose accounting and data analytics as my major. I use Excel and different ERP systems on a daily basis so my data analytics background has helped me develop the perfect skills for this job." – Sandy Y. Guevara (B.B.A. '16)
Graduate Ready for the CPA Exam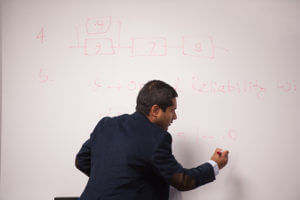 The Accounting and Data Analytics major is an enticing option for accounting students who wish to take the CPA examination right after graduation. The exam requires that they have completed a bachelor's degree and have a total of 150 hours, including 30 hours of upper division accounting courses. This degree path has the additional advantage of allowing many students to maintain their undergraduate financial aid, which may be reduced for students who graduate with 120 or more hours but continue to take undergraduate course work or who elect to satisfy CPA examination requirements by enrolling in graduate course work.
Learn more about the St. Mary's Accounting and Data Analytics program
Loading…