by Alex Z. Salinas (B.A. '11, M.A. '19)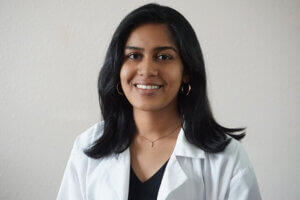 Biology junior Cherry Rubannelsonkumar is having a prolific publishing year in 2020-2021: three of her co-authored articles featured in respected science journals, including Cell.
"Needless to say, this speaks volumes about the quality of Cherry's research and her aptitude as a student," Macrini said. "Few students publish at all as an undergraduate, much less in three quality journals."
Born in Chennai, India, Rubannelsonkumar and her fraternal twin sister, Gabriela (a Bioinformatics junior at St. Mary's) were age 2 when their parents immigrated to the U.S.
Rubannelsonkumar, a graduate of Health Careers High School in San Antonio, said St. Mary's University had long been on her college radar, citing as a deciding factor her participation in the University's Joint Admission Medical Program Pre-Medical Summer Camp as a high schooler where she met professors such as Macrini.
"The consistent follow-ups and the good environment at St. Mary's made me want to enroll there," she said.
With her scientifically minded upbringing — Rubannelsonkumar's mother has a Ph.D. in biochemistry — and a drive for academic excellence, Rubannelsonkumar discovered early she wanted to become a medical and research doctor.
At St. Mary's, she found a support system — and a renovated lab or five — where should could work toward her dreams.
"She is outpacing many seasoned researchers," said Ahmad Galaleldeen, Ph.D., Associate Professor of Biological Sciences. "Cell, for example, is one of the top three journals in our field. It takes a lot of work, dedication and commitment to produce such elegant work."
Rubannelsonkumar's co-authored article in the Oct. 15, 2020, issue of Cell — Lactate Elicits ER-Mitochondrial Mg2 Dynamics to Integrate Cellular Metabolism — details the "regulation of magnesium dynamics in cells," which can help scientists better understand the development of sepsis, cardiovascular diseases and diabetes, she said.
Rubannelsonkumar — an Honors Program student — also co-authored articles in Science Signaling (April 21, 2020) and JCI Insight (Feb. 8), the former examining the blockage of calcium flow in mitochondria, and the latter investigating insulin receptors in kidneys.
"My parents were over the moon," she said. "It adds another emotional level being an immigrant, them coming here to give my sister and me more opportunities, more happiness."
In addition to classwork and maintaining a heavy research schedule, Rubannelsonkumar has spent her time during the pandemic playing volleyball, jogging and studying for the MCAT.
Before she graduates from St. Mary's, Macrini expects she'll publish more science articles.
"With undergrads like Cherry, you have to almost treat them like graduate students," he said. "You have to keep raising the challenges and expectations to see what they're really capable of doing.
"OK, so she published three papers this year. What can she do next year to top that?"