Explore the Honors Program at St. Mary's University
Students in the St. Mary's Honors Program have the opportunity to study abroad, participate in research, and even live with other Honors Scholars. The Honors curriculum includes once-per-semester courses including those in the social and natural sciences, aesthetics and theology.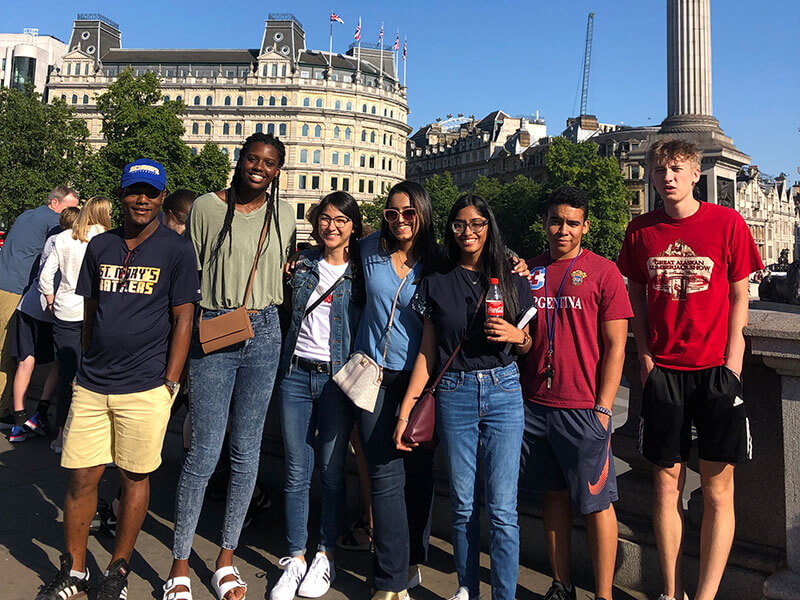 To complete the "academic marathon," each Honors Scholar undertakes a senior thesis or project demonstrating the ability to conduct original research at an advanced level.
Beyond our curriculum, we offer a stimulating variety of activities ranging from plays and concerts to community service projects and social events, often in collaboration with our student organization, the St. Mary's University Society of Honors Scholars.
The Honors Program is a member of the National Collegiate Honors Council.
Many of the Honors Scholars graduate with honors (summa, magna or cum laude), win the Presidential Award and hold student leadership positions on campus. The great majority of our graduates go on to pursue further studies in medicine, law and other professions. We estimate that more than one-third will eventually earn doctoral degrees (M.D., Ph.D. or J.D.) in their chosen fields.
Benefits of Joining the Honors Program

Challenging, seminar-style courses

Opportunity to attend research conferences

Tight-knit community where you attend classes with the same cohort of students, as well as live together in the Honors Living and Learning Community

Academic accolades, including recognition during Commencement

Annual study abroad trips (we are going to Rome in 2023)

Access to priority registration

Funding for research, internships, service projects and study abroad/away
Students in the program must maintain a cumulative GPA of 3.0 or higher in their first year and 3.25 GPA after their first year.

If a student falls below the required minimum GPA, the student will be placed on probation for the Honors Program and will be given one semester to increase their GPA.

If the student does not raise their GPA to the required minimum after one semester, they are transitioned from the Honors Program.
The Honors program serves a diverse community of students who have proven themselves especially talented, skilled and successful in their academic careers. Our mission is to attract such students to St. Mary's University and to provide them with a challenging and rewarding program—a program which complements their professional development with courses in the Catholic intellectual and liberal arts traditions, encourages them to engage critically in the self-conscious formation of their worldview, and prepares them to succeed after graduation to make a positive difference in the world.
Diversity and Inclusion Statement
The National Collegiate Honors Council (NCHC) supports and values inclusive excellence by promoting educational equity and non-discriminatory practices. As an organization of institutions, honors educators, students, and staff, it is our responsibility to promote the inclusion and success of academically motivated and high-potential learners from all communities, understanding that each of us holds varied, intersectional identities. We make inclusive excellence possible by understanding that differences between and among us are strengths. In response to historical, cultural, and institutional restrictions that have limited student access to honors education and the hiring of diverse faculty and staff, the NCHC is committed to modeling best practices in inclusion, and to using inclusive leadership strategies, research, and partnerships with other organizations to help honors colleges and programs pursue honors practices and programs that serve and empower all communities.
With a demanding sequence of eight courses culminating in a senior thesis, the Honors Program curriculum fulfills many of the core curriculum requirements, which all St. Mary's students must meet.
Examples of the courses that Honors Scholars, in addition to pursuing their major courses of study, normally take each semester include:
HO 2302: Emergence of the Universe introduces students to the study of the natural sciences as (1) a method, (2) an ethical process and (3) an on-going quest for a comprehensive understanding of the physical, chemical and biological evolution of the universe.

HO 3301: The Aesthetic Experience fosters an understanding of the evolution of aesthetic expression in literature and the arts in Western culture and the ability to interpret individual works of literature and art through their historical context.
Living Learning Community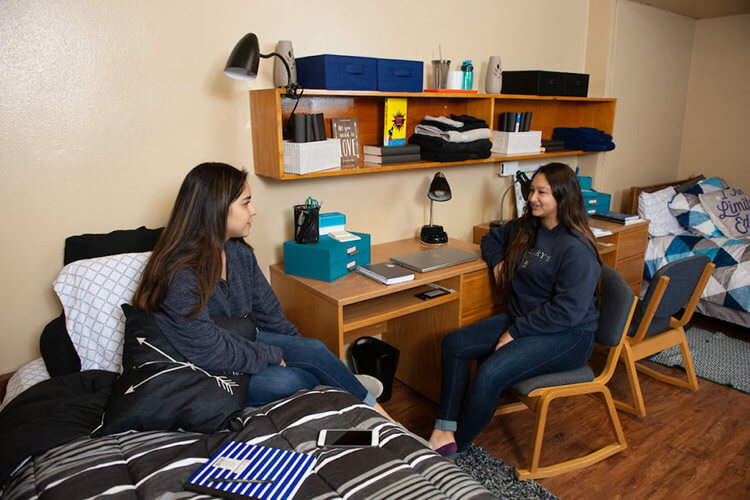 Students in the Honors Program have the opportunity to reside alongside their fellow Honors Scholars in the on-campus Honors Program Living Learning Community, where students who welcome academic rigor can join in community with their like-minded classmates.
Honors Scholars participate in study groups and game nights together and even bring in speakers for enriching discussion.
Apply to be in the Honors Program
The Honors Program seeks exceptionally well-qualified and well-motivated students of all religious, economic and cultural backgrounds. We delight in the diversity of talents and experiences that students have brought to our program through the years.
Most Honors Scholars are recruited to the program directly from high school, where they typically rank in the top 5 percent of their classes. Those interested in joining the program are urged to complete their applications for undergraduate admission to St. Mary's as early as possible. Top applicants will be invited to make a separate application to the Honors Program online.
Sophomore admission is an alternative avenue into the Honors Program. Application is by invitation, which is sent in May. Decisions are made in June. To be eligible for sophomore admission to the Honors Program, students must have:

Completed 15 hours at St. Mary's University

Students will be able to transfer no more than 6 hours into the HO core. After successfully completing the application process, new members receive "catch up" advising and are formally admitted to the program in the fall.