When Jamira Richardson joined the St. Mary's University English Literature and Language program in Fall 2016, her professors were confident she'd go far with writing. It was no surprise that she was selected as the youngest member for the Writers' League of Texas Fellowship Program right after graduating with her bachelor's degree in Spring 2020.
We asked her a few questions to learn her story and how she became one of four writers in this highly selective fellowship.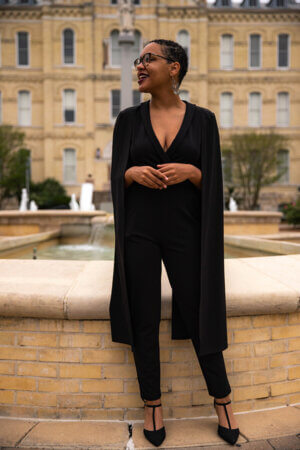 Q: Why did you choose to attend St. Mary's?
A: I took a tour of the campus during my senior year at Communications Arts high school (in San Antonio) and my mom was just blown away by the campus. She really, really wanted me to go. She thought it would be a good opportunity for me and loved that I would stay close to home. When I got the acceptance letter, she was super excited for me. Seeing her excitement really just solidified for me that St. Mary's was the school I needed to attend.
Q: How long have you had a love for writing? How did it start?
A: I have loved writing for as long as I can remember. It started in elementary school. All of my free time was spent with my nose in either a book or journal. I never really played at recess or did all those kid things — I was always writing and reading. That was my source of entertainment. It has always been my passion.
Q: Why did you choose to be a writer?
A: I was a military brat so I moved around a lot. I grew up in three different continents before I was a teenager so I didn't make many friends growing up. Books were my way to feel less alone. They helped me cope with the stress of moving and the anxiety that comes with growing up, maturing and coming into young adulthood. Because I was so inspired by the words of others, I wanted to give back. I wanted to write for the next generation and create stories that they can resonate with and find themselves in.
Now, I write a lot for representation purposes. Growing up as an African American girl, I didn't read a lot of books with African American characters. I'm aware of how to bring in that representation and how important it is. I just want people to see themselves and find hope in what I write.
Q: Who or what influences you as a person and as a writer?
A: The person who has had the biggest impact on who I am as a person is my mother. She made a lot of sacrifices so I can be where I am today. Everything that she has taught me growing up — to be independent, empowered and aware of my gifts and intellect — really shaped who I am today.
Growing up, my mom let me borrow books off her bookshelf because I went through all my books so quickly. The author I was drawn to as a kid was Judy Blume. She talked about real women and about what we go through in life. I was exposed to that internal narrative that my characters now take on. While writing, I'm not just thinking about the external action and what's happening to the character, I'm thinking about the emotional and mental changes that my characters go through.
Q: Tell me about a time that you realized you wanted to further pursue writing.
A: When I was facing my anxieties in school, I started to think I should just give up writing altogether. Professor Refugio "Ito" Romo, Ph.D., and Professor Melissa Scully were always there to remind me that I had a gift.
During my sophomore year, I realized that I didn't approach literature the way my classmates did, so every time we'd get essays back, I would have panic attacks because I was so scared that there would be one paper that would confirm to me that I wasn't meant to be a writer. Professor Scully heard me crying about feeling like a bad English major. On the very first paper she graded and gave back to us, her comment on my paper was, "this is why you're an English major." The fact that she wanted so badly to reassure me that I was where I was meant to be was so powerful. Professor Romo did something very similar. To hear from these people who have dedicated their entire lives to what I'm striving toward was just so encouraging.
Q: What's a challenge you've faced with your writing?
A: The biggest challenge I've faced in my writing is a common challenge that writers face: the imposter syndrome. When I got to college, I was introduced to this very restricting perception of writing where there are right ways to be a writer and wrong ways. I think that it's really affected my writing now that I'm looking for a career. If I want to actually make this work, I have to do it correctly, as they would say. This fellowship is teaching me that at the end of the day, what remains is that you should be having fun. I am trying to unlearn my habits of thinking: What are the rules? Am I breaking the rules?
"I was one of four writers in the entire state of Texas chosen for this fellowship. That encouraged me, gave me hope and reminded me that I am a writer. I'm meant to be a writer and other people see that."

Jamira Richardson
Q: What do you hope your pieces do for your readers?
A: I care a lot about relatability. I care about people seeing themselves in my writings and creating a safe space — a space where people can see that no matter what's going wrong, no matter what you might be going through, there's always a light at the end of the tunnel.
I've learned to put my characters through hell so that they can grow. That's really how life is, we grow through the setbacks and obstacles. I want my characters to always have some form of hope that they will make it out in the end.
Q: Tell me about being selected as part of the cohort of the Writers' League of Texas Fellowship Program?
A: The program spans from January to December of this year, and I've taken 15 classes so far. I actually wasn't going to apply at first. I saw how selective it was and I didn't want to apply.
I ended up applying because I thought it would help immerse me back into the writing world. I submitted a writing sample — a short story I wrote in a creative writing class I took at St. Mary's during a very difficult year for me. One of the questions on the application asked about what I am currently writing. I was honest and told them about my insecurities and about my current slump. I explained how this fellowship was important to me because this was the best shot for me to bring writing back into my life again.
I was one of four writers in the entire state of Texas chosen for this fellowship. That encouraged me, gave me hope and reminded me that I am a writer. I'm meant to be a writer and other people see that. Now I just need to see it.
Q: As the cohort's youngest member, what perspective do you feel you bring to the table?
A: I bring passion to the table. I'm in a very unique position at my age where I'm not fully in my career yet so I have the luxury to pour my heart and soul into one thing. Whereas, the other fellows have other responsibilities to juggle. They have full-time jobs apart from writing, and some have children to tend to, so they have a lot on their plate. I think it's sometimes harder for them to remember the passion for it. Whenever we're having our conversations about writing and the struggles that we're having when it comes to writing, it's easier for me to remind us that it's about the love and our passion for the work.
Q: Do you have any upcoming pieces that you are excited to share?
A: The piece that I'm the most excited about is a work of nonfiction called Mary Shelley's Cherries. It's a play on maraschino cherries and it's my attempt at humor. The entire piece is basically ragging on maraschino cherries and how they're fake cherries. I talk a little bit about the process of how maraschino cherries come about, but I also bring in these really contemporary topics, like cultural appropriation. For example, I say that maraschino cherries are just real cherries that have been stripped of their melanin and then dipped in red face. Cherries aren't that serious, but it's a way for me to go into those harder topics with a more lighthearted image of America. I take that image and try to spin it to give some cultural wisdom. My favorite part of the whole piece is at the end when readers will find out why it's called Mary Shelley's Cherries.