October 16, 2018
Higher education event includes symposium, music performance, rare art exhibit
For more than a century, private higher education in San Antonio has propelled the city's trajectory and shaped the minds of many outstanding leaders. St. Mary's University will engage fellow institutions and the community in a symposium celebrating the past and present of private higher education on Thursday, Oct. 18.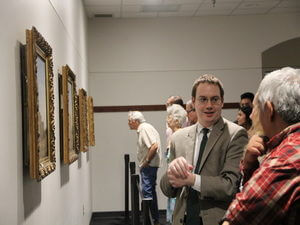 "As San Antonio's first higher education institution and the oldest Catholic university in the Southwest, St. Mary's has helped define the role for higher education and faith-based liberal arts in this great city for more than 165 years," said University President Thomas M. Mengler, J.D. "Bringing together our fellow private higher education institutions — Our Lady of the Lake University, Trinity University and University of the Incarnate Word — for this in-depth discussion will better ensure the success of our diverse community and our city during its next 300 years."
As an official San Antonio Tricentennial event, this symposium is free and open to the public. The intra-university celebration, "Private Higher Education in San Antonio: Past and Present," will be held in the University Center, Conference Room A and Foyer, from 1 to 7 p.m. on Thursday, Oct. 18.
"Thursday's conference covers the history of private higher education and explores the importance of the liberal arts, the professions, faith and diversity on our campuses," said the event's organizer Gerald E. Poyo, Ph.D., St. Mary's University Professor of History and O'Connor Chair for the History of Hispanic Texas and the Southwest. "This is intended to remind San Antonians of the critical role private colleges and universities have played in the development of our city."
Attendees will also hear compositions rooted in San Antonio's musical culture and traditions performed by the St. Mary's University's Department of Music, and view on campus a collection of five 19th century paintings of the San Antonio Missions by Jean Louis Théodore Gentilz (1819–1906). Gentilz taught art at St. Mary's College from 1864 to 1894.
His highly detailed realist works are owned by St. Mary's University, but are typically housed at the San Antonio Museum of Art. The paintings will remain on display in the University Center, Conference Room B, through October.
Intra-University Tricentennial Lectures and Celebration schedule
1 p.m., Welcome Remarks and Invocation
1:30 p.m., San Antonio's Private Universities: An Historical Overview

Keynote Speaker: Gilbert Hinojosa, Ph.D., Professor Emeritus, University of the Incarnate Word
Marianist brothers in 1852 established the first school that became a deeply rooted university in San Antonio. The Incarnate Word Sisters and the Sisters of Divine Providence followed with their own schools and, later, Trinity University relocated to San Antonio. Hinojosa will explore the rich history of San Antonio's private universities.

2:30 p.m., Liberal Arts, Faith and the Working World in San Antonio

Keynote Speaker: Edward Speed, (B.B.A. '70, M.A. '86), Chief Executive Officer, Retail Banking and Financial Services (Retired)
Panelists: Jane Ann Slater, CDP, Chancellor, Archdiocese of San Antonio, and former President, Our Lady of the Lake University; Lopita Nath, Ph.D., Chair and Associate Professor of History, University of the Incarnate Word; Judith Norman, Ph.D., Professor of Philosophy, Trinity University
San Antonio's private colleges and universities emerged from faith traditions and a commitment to the liberal arts. Speakers will explore the importance of the liberal arts and faith-inspired values in today's technological and specialized economy and workplaces.

4 p.m., Diversity and Private Higher Education: Responsiveness and Resistance

Keynote Speaker: Marybeth Gasman, Ph.D., Judy & Howard Berkowitz Professor of Education, University of Pennsylvania Graduate School of Education
Panelists: Arturo Madrid, Ph.D., Professor Emeritus and former T. Frank and Norine R. Murchison Distinguished Professor of the Humanities, Trinity University; Rick Sperling, Ph.D., Associate Professor of Psychology, St. Mary's University; Maribel Lárraga, Professor of Spanish, Our Lady of the Lake University
Institutions of higher education across the United States place a great deal of emphasis on the value of diversity within their campus settings, but exactly what diversity means is not always obvious. Speakers will explore the meaning of diversity in the context of San Antonio's private universities, including exploring the idea of Hispanic-Serving Institutions.

5:30 p.m., Cultural Event featuring St. Mary's University's Department of Music

Professor of Music and Director of Bands Matthew Mireles, D.M.A., will present compositions rooted in San Antonio's musical culture and traditions.

6:15 p.m., Reception