About the program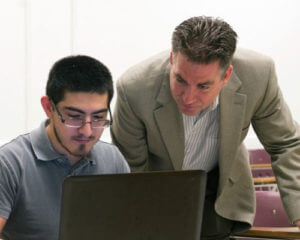 In the Theology Department at St. Mary's University, students explore the sources and ideas central to Christian faith while searching for practical application that faith has for the way people and communities live. Through critical investigation and the use of diverse methods, students in the Theology program apply critical thinking and interdisciplinary knowledge to understand the origins of Christianity and its meaning for today.
The interdisciplinary Theology curriculum at St. Mary's is rooted in the Catholic and Marianist tradition of service while offering courses that are inclusive of all students and faith traditions.
Students of all majors take at least two courses in Theology as part of the Core Curriculum. Through the open, critical study of scripture, moral theology and systemic theology, majors build on a commitment to the compatibility of faith and reason.
Courses and degree plan
Students can pursue one of the following program options:
Bachelor of Arts in Theology Requirements and Degree Plan
Minor in Theology Requirements and Plan
Combined Master of Arts and Bachelor of Arts in Theology Requirements and Degree Plan
Career options
Theology majors have gone on to teach in Catholic parochial and high schools, to work in parish and diocesan administrative positions, and to serve as catechetical leaders. Others have pursued master's and doctoral studies and have taught in colleges and universities.living in Dayton, Ohio.
Scholarship Opportunities
In addition to University scholarships, qualified students enrolled in the Theology program may be nominated to join Theta Alpha Kappa, a national honor society for students studying religion and theology. If nominated to join, students can compete for undergraduate scholarships and graduate fellowships, and they can submit papers for publication in the Journal of Theta Alpha Kappa.
Learn more about the St. Mary's Theology Program
Loading…