October 8, 2018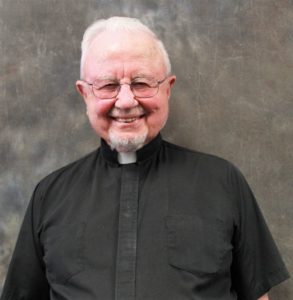 The Rev. George Montague, S.M., S.Th.D., author of more than 20 books on both the scholarly and popular levels, will discuss "Biblical Images of the Holy Spirit" on Tuesday, Oct. 9. The discussion in Assumption Chapel inside St. Mary's University's Reinbolt Hall is part of the Escobedo Saint John's Bible Lecture Series.
Montague, who specializes in the pneumatology of both Old and New Testaments, will lead a second discussion of the topic on Wednesday, Oct. 10, at Holy Rosary Catholic Church.
Montague has researched and written in the field of biblical interpretation (hermeneutics), and in the Marian theology in the Gospel of John. Montague is a Professor of Theology at St. Mary's University. The courses he teaches are about the New Testament and deal with values that he believes are important to life and raise the question of faith as the source of a fully human life.
Those traveling to campus for the event on Tuesday, Oct. 9, are asked to park in Lot V, off Camino Santa Maria; Lot D, near the NW 36th Street entrance; or Lot H, near the Culebra Road entrance. Visit the campus map for more information.
About The Saint John's Bible
The Saint John's Bible is the first handwritten, hand-illuminated Bible to be commissioned by a Benedictine Abbey in more than 550 years, and its seven-volume Heritage Edition now resides at St. Mary's University. The Saint John's Bible was commissioned in 1998 by the Benedictine monks of Saint John's Abbey and University in Collegeville, Minnesota. The Heritage Edition, valued at about $150,000, is a full-scale reproduction of the original masterpiece; each volume measures 2 feet tall by 3 feet wide when open. Only 299 sets exist. St. Mary's was the first in Texas to own one.
Rubén M. Escobedo (B.B.A. '60) and his wife, Verόnica Salazar Escobedo, gave $500,000 in 2014 to create the Escobedo Saint John's Bible Lecture Series Endowment. The gift allows for the recruitment of scriptural scholars, research and curriculum design, and other programming as St. Mary's continues to move forward in establishing a Center for Catholic Studies.
St. Mary's acquired the Bible in 2013 through the generosity of John and Susan Morrison, longtime friends of St. Mary's President Thomas M. Mengler, J.D.