"I graduated with a Bachelor of Fine Arts, and my focus was on using the gift of my artistic talent…," said Pimentel of her undergraduate degree from what was then called the University of Texas-Pan American, "… until the day things changed completely."
One evening, while living at home in Brownsville, Pimentel needed to get out of the house — tensions were high. She wanted to continue her art education, but her father expected her to stay in Brownsville and get married. She called a friend who said she was going to a prayer group.
"St. Mary's became a foundation for me, especially in my relationship with others."

Sister Norma Pimentel (M.A. '89)
"I wasn't too excited about going to a prayer group myself, so I asked, 'What are you doing afterward?'" Pimentel said. They were going to a more exciting prospect afterward — Pizza Hut. She asked to be picked up after the prayer group.
"My friend said, 'Norma, you have to come to the prayer group. We're not going to go back for you.' And that's when everything changed for me," she said.
During that fateful prayer group, Pimentel felt a significant shift in life direction.
"I cannot describe it in words, but I started to see life differently," Pimentel said.
She joined the Missionaries of Jesus and began her religious formation soon after. The sisters sent her to St. Mary's University to earn a Master of Arts in Theology.
"One of the things I learned from my courses was that every story, every parable, everything that Scripture teaches us, helps me understand people better," she said. "St. Mary's became a foundation for me, especially in my relationship with others."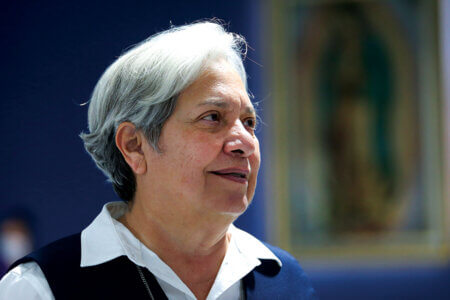 In her humanitarian work along the border, relationships are paramount. Between meetings with government officials, prayer vigils and collaboration with religious groups, Pimentel finds time to sit and be present with migrants of all ages.
"My heart is with the people. I love to spend my time finding ways to help," she said. "There are many who are not able to enter the United States. So I go almost daily to the border towns of Mexico to be part of the response."
The danger in which these families find themselves during their search for safety is of constant concern to Pimentel and her team at Catholic Charities.
"They don't have enough water to drink. They could dehydrate with extreme heat," she said. "We're talking about thousands of people. That keeps me up at night."
Pimentel's courageous work has been recognized globally. She has been named Rio Grande Valley's Citizen of the Year; awarded Catholic Charities USA's Martin Luther King Jr. "Keep the Dream Alive Award;" received the University of Notre Dame's Laetare Medal, which is among the highest honors for an American Catholic; and accepted the Leadership Conference of Women Religious Outstanding Leadership Award.
Earlier this year, when presenting Pimentel with the Pacem in Terris (Peace on Earth) award on behalf of the interfaith Pacem in Terris coalition, Thomas Zinkula, the Bishop of Davenport, Iowa, said, "Sister Norma, you truly embody the words of Pope John XXIII as 'a spark of light, a center of love, a vivifying leaven' to your brothers and sisters around the world."
In his article for TIME honoring Pimentel as a 2020 Most Influential Person, former San Antonio mayor and U.S. Secretary of Housing and Urban Development Julián Castro wrote, "Her boundless hope and fearless compassion have earned her the moniker of 'the Pope's favorite nun.' Sister Pimentel will keep changing the world, one act of kindness at a time."