About the program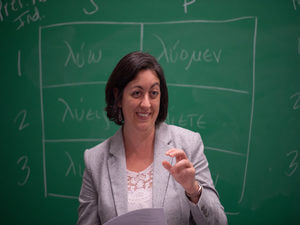 The Department of Theology at St. Mary's University prepares lay men and women as well as members of religious communities to serve the Catholic Church in the Southwest. Our students have gone on to teach in Catholic parochial and high schools, to work in parish and diocesan administrative positions, and to serve as catechetical leaders. Others have gone on to pursue doctoral work and then teach in colleges and universities. No matter their interest, for more than 50 years students have encountered a program dedicated to the traditional Marianist values of the importance of theological education, servant leadership, and of Christian church communities living and growing in a family spirit.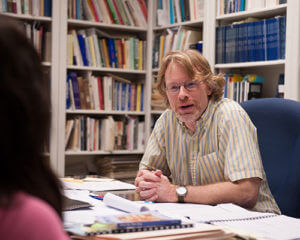 St. Mary's University is one of a very small number of institutions that offers a real-time classroom experience to students through video conference technology. Distance Learning students outside of the San Antonio area and across the country can participate together with students on campus. Graduate Theology classes bring together a wide variety of students in an environment that is effective, creative, and communal. Students interact not only with the professor but also with each other. Through this program, the Department of Theology continues the dedicated work initiated by the Society of Mary to foster critical reflection on the Catholic faith and work that is open to ecumenism and inter-faith dialogue. 
The Master of Arts in Theology at St. Mary's is academically rigorous. It instructs students in the careful reading of theological texts and church documents, the importance of historical and philosophical influences on textual interpretation, and the use of essential research tools. In addition to this scholarly preparation, students consider how and why it is important to implement the results of theological research in creative and practical ways.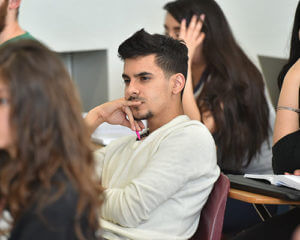 Unlike many graduate programs, the Master of Arts in Theology at St. Mary's requires courses in scripture, which provides students with a deep investigation into traditional and contemporary interpretations. In addition to essential courses in areas such as the Church and Trinity, students take courses in Christian Life and Practice, where students they encounter rich theological reflection on topics such as catechesis or theology of lay ministry, as well as Catholic moral and social teaching. Students often use their degrees for various church ministries, including religious education, or go on to pursue doctoral studies.
No one profile describes all our graduate students, but most have full-time jobs in the day and take courses one or two evenings a week. Although many incoming students have previous training in Theology or Religious Studies, this background is not required. Students new to the study of Theology will be supported during their transition by taking one or more courses with undergraduate majors until they are prepared to thrive in graduate courses. 
Theology at St. Mary's is rooted in Catholic tradition, but welcomes students of all backgrounds who share our commitment to the compatibility of faith and reason and the need for critical inquiry in the search of insight wherever it may be found. 
Students can pursue the following program option:
Master of Arts in Theology Requirements and Degree Plan
Combined Master of Arts in Theology and Doctor of Jurisprudence Requirements and Degree Plan
Combined Law Degree Option
In addition to separate degree programs in law and Theology, the Law School and the University also offer a combined program of studies leading to the degrees of Doctor of Jurisprudence (J.D.) and a Master of Arts in Theology (M.A.). The combined degree programs allow a student to complete the requirements for both degrees in three or four years.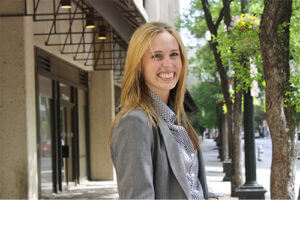 The degrees may be earned with the completion of 108 hours of law and theology credits, 18 hours less than the normal requirement. To satisfy the 90 hours of Law for the J.D. degree and the 36 hours of Theology for the M.A. degree, 12 hours of Law courses are transferred as elective credits to the M.A. degree and six hours of Theology are transferred as elective credit toward the J.D. degree. Students must complete a minimum of 24 semester hours of Theology courses at St. Mary's University, exclusive of prerequisites.
The first year of study consists of Law courses. During the second and third years, the student completes the remaining law courses and appropriate theology courses. Admission to the combined programs requires application to both schools although application to the graduate program need not be made until the student begins at the St. Mary's School of Law. An acceptable score on the LSAT, GRE, or MAT is required for acceptance to the Theology program.
Financial Aid
St. Mary's offers various scholarships, grants and assistantships to graduate students. Military, their dependents and Department of Defense employees may be eligible for a tuition discount. Please contact the Office of Financial Assistance at 210-436-3141 or finaid@stmarytx.edu for additional information or visit www.stmarytx.edu/finaid.
Learn more about the St. Mary's Master of Theology Program
Loading…