Degree
Master of Arts

https://www.stmarytx.edu/academics/programs/master-theology/

https://www.stmarytx.edu/wp-content/uploads/2020/07/assumption-chapel-detail.jpg
Department
This program instructs students in the careful reading of theological texts and church documents, the importance of historical and philosophical influences on textual interpretation, and the use of essential research tools.

In addition to this scholarly preparation, students consider how and why it is important to implement the results of theological research in creative and practical ways. Students take courses and electives in three major areas (Systematics, Scripture, Christian Life and Practice), complete comprehensive exams, and take a Capstone course. There is a thesis option for students who believe further research would support their career and academic goals.

A dual degree is also available, allowing students to complete both degrees in three to four years:

Unlike many graduate programs, the Master of Arts in Theology at St. Mary's requires courses in scripture, which provides students with a deep investigation into traditional and contemporary interpretations.

In addition to essential courses in areas such as the Church and Trinity, students take courses in Christian Life and Practice. Students encounter rich theological reflection on topics such as catechesis or theology of lay ministry, as well as Catholic moral and social teaching.

This program is offered in a synchronous online format, with some required in-person dates.

See detailed course requirements and descriptions in the catalog:
Our students have gone on to teach in Catholic parochial and high schools, to work in parish and diocesan administrative positions, and to serve as catechetical leaders.

Others have gone on to pursue doctoral work and then teach in colleges and universities.

Students often use their degrees for various church ministries, including religious education, or go on to pursue doctoral studies.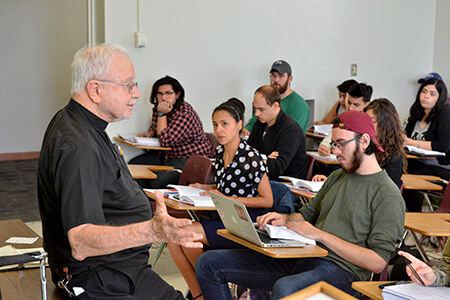 Statement of Purpose: One- to two-page essay explaining your interest in the program, your background, and your academic or professional goals

Transcripts: Official transcripts from all your degree-granting institutions as well as any record of previously completed graduate credits

Letters of Recommendation: Two letters of recommendation from teachers and/or other professionals who can speak to your academic preparation and potential for success.

Writing Sample: The prompt and short readings are included in the online application. Your response should demonstrate your ability to read carefully and think critically.

No GRE scores are required.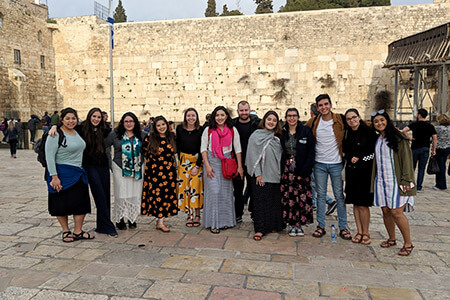 They will be able to express theological ideas with clarity and coherence, gathering information from contemporary and traditional sources. Graduating student will be prepared to engage in critical and constructive conversation with others about theological topics.