by Jasmine DeLeon (B.A. '11, M.A. '15)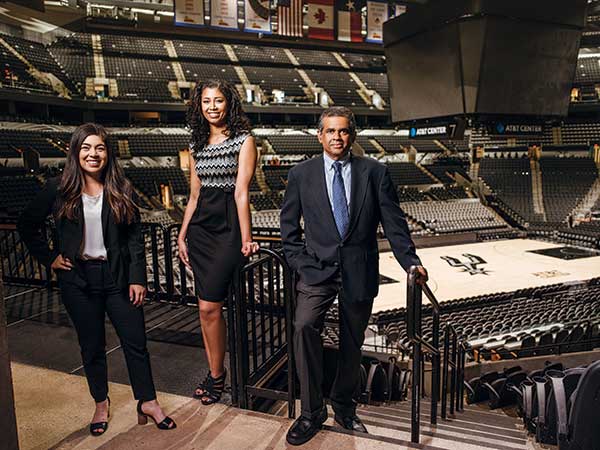 One by one, students introduce themselves to a room full of senior executives from Spurs Sports & Entertainment (SS&E).
This is how St. Mary's University students begin their journey in the Sports Marketing course offered by the Greehey School of Business. In Spring 2017, Kelly Contreras (B.B.A. '18), then a senior Finance and Risk Management major, was one of those students.
She never imagined that soon she'd be interning at the AT&T Center — home to the NBA's Spurs, AHL's Rampage and the San Antonio Stock Show & Rodeo. SS&E also runs the NBA G League's Austin Spurs and the United Soccer League's San Antonio FC.
"When I found out that I was invited to interview, it gave me a lot of confidence because I knew I had made a good impression on them in the course," said Contreras, who worked with the Premium Services Department, interacting with premium ticketholders on game nights. "It has been such a great experience, and I am so grateful for the opportunity. Everyone has been so willing to teach me everything I need to know to be successful."
For the past five years, Mathew Joseph, Ph.D., Emil C.E. Jurica Distinguished Professor of Marketing, has taught the course. Students who have a passion for the sports industry are assigned projects within the SS&E organization and matched up with executives for mentoring.
"The relationship with SS&E allows students to learn about the practical side of sports marketing from a world-class organization," Joseph said. "This learning experience provides networking opportunities, mentoring and the ability to work on real-world projects."
SS&E gives back to the community by meeting with local universities to share their experiences and help students build their skillsets. The partnership with St. Mary's has thrived thanks to former students like McKayla Schmidt (B.B.A. '13), who now serves as the liaison between SS&E and St. Mary's.
"I truly enjoy helping students have an impactful educational experience through the research projects provided by SS&E," said Schmidt, a premium retention account executive. "The course helps bridge the gap between the University and the working world. When I first graduated, I felt that it was hard to break into a career. Most companies would use the line of 'not having enough experience.'"
Leave it to the Spurs to turn promising rookies into seasoned professionals.