Mathew Joseph, Ph.D., enjoys taking an active role in the lives of his students. Case in point: In just the time it took for this short interview, a line of students formed outside his office.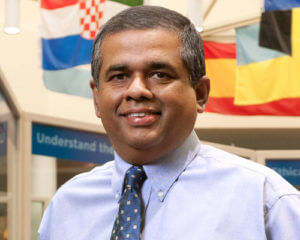 The Emil C.E. Jurica Distinguished Professor of Marketing holds leadership roles in a number of St. Mary's University organizations, such as the Faculty Academic Mentor (FAM) program, the McNair Scholars program, Study Abroad and the Greehey Scholars program, which he took over as director in June 2013.
"My goal for the Greehey program is to take it to the next level," said Joseph, who came to St. Mary's in 2008 from the University of South Alabama. "I tell students that the Greehey Scholars are the cream of the crop. They either go to work for a good company or they go to grad school."
By the end of the students' junior year, he would like them to make that decision, so he can help them secure an internship or prepare for admission to a top graduate school.
"A passion of mine is graduate education," he said. "I provide a lot of advice to students and encourage them to go to graduate school. Right now, with only an undergraduate degree, it's very hard to get a job."
Joseph spends his summers in pursuit of the same passion: He travels all over the world, giving Ph.D. workshops for free. When he leaves a country, he stays in touch with students on Skype. He has taught at the University of Bari (Italy), the Universidade Nova Lisboa (Portugal), Southern Cross University and Swinburne University (Australia) and University of Waikato in his native New Zealand.
"We are blessed in the United States," he said. "Most of the schools there, the students are really interested, but they don't have the skill sets or the supervisors who can help them. That's what I try to do, and I do it for free.
"In a lot of these countries, people are hungry for knowledge."
His international experience lends itself well to his role with Study Abroad. He took students to Malta the past two years, and is organizing a trip to Malaysia and Singapore in March. He makes the trips affordable and available for all St. Mary's students.
Joseph also lends his expertise to the Academy of Marketing Science, American Marketing Association, Academy of International Business and the Society for Marketing Advances, where he's a former president and current member of the board of directors. He's had more than 100 articles published in marketing journals and conference proceedings.
He's a busy man, but always makes time for the students. He serves as an adviser in the University's FAM program, which matches faculty mentors with first-generation college students to assist them in adjusting to college life. As a FAM mentor, he stresses the importance of mentoring and peer support because college, especially graduate school, is challenging.
"I'm very student-oriented; my door is always open," he said. "Anyone can come and if I can make a difference in someone's life, I'm more than happy to do it."
And the line of students waiting to see him proves it.