Sponsored by The MacTaggart Catholic Intellectual Tradition Lecture Series
St. Mary's University's Crossroads Symposium is a free, annual lecture series featuring men and women who have shaped the Catholic Intellectual Tradition — a tradition at the heart of the educational enterprises at St. Mary's.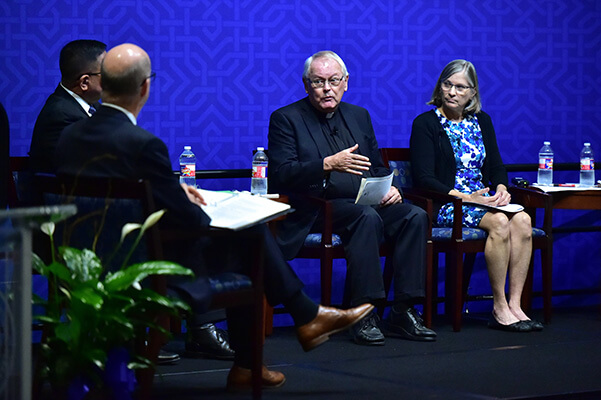 Speakers from various faith traditions are invited to speak to the University and San Antonio communities about such topics as Catholicism in a changing world, religion in a pluralistic society, and faith in areas such as art and science.
The symposium is one of the cornerstones of the recently established Center for Catholic Studies at St. Mary's, which is a result of the University's Defining Moment Comprehensive Campaign.
2021: Beyond the Pandemic: In the Light of Catholic Social Teaching

Tom Mengler, the president of St. Mary's University will moderate a panel of local religious, civic and academic leaders through a discussion about the future post-pandemic that advances our Catholic values in our local community. As leaders of the San Antonio community during the pandemic, the panelists have records of success in understanding and responding well to the needs of our community. With that experience, together they bring a unique perspective on our future and the challenges we face as we live beyond this pandemic.

Judge Nelson Wolff
Bishop Michael Boulette
Dean Rowena Ortiz-Walters, Ph.D.

2020: Faith and Politics — How Does Catholic Social Teaching Address the Issues of Today?

The 2020 Crossroads Symposium centered around Faith and Politics, focusing on the topics of voting, social injustice, systemic racism and COVID-19.

Shirley Gonzales, Council Woman, San Antonio District 5
Elizabeth Lutz, Executive Director, The Health Collaborative
Brother Steve O'Neil, S.M., Marianist NGO representative at the United Nations and Marianist representative with the Interfaith Center on Corporate Responsibility and former faculty member, St. Mary's University
Rev. Donald A. Page, Pastor, Faith Community Baptist Church, San Antonio
Vincent D. Rougeau, Dean, Boston College Law School

2019: A Church in Crisis Moves to the Future

St. Mary's inaugural Crossroads Symposium centered on the theme A Church in Crisis Moves to the Future, partnered with St. Mary's MacTaggart Catholic Intellectual Tradition Lecture. As a Catholic and Marianist university, one of the roles of St. Mary's Center for Catholic Studies is to lead conversations on difficult issues facing the Church, which is crucial so that we may be agents of change for healing and transformation.

The inaugural symposium offered exceptional speakers and panelists, many known across the nation, who addressed the crisis of sexual abuse in the clergy as well as other challenges in the Church. In addition, the symposium focused on opportunities that exist to re-engage Catholics in the Church, which is greatly needed.

Past Crossroads Symposia
Stay tuned for future events.