St. Mary's University's Crossroads Symposium is a free, annual lecture series featuring men and women who have shaped the Catholic Intellectual Tradition — a tradition at the heart of the educational enterprises at St. Mary's.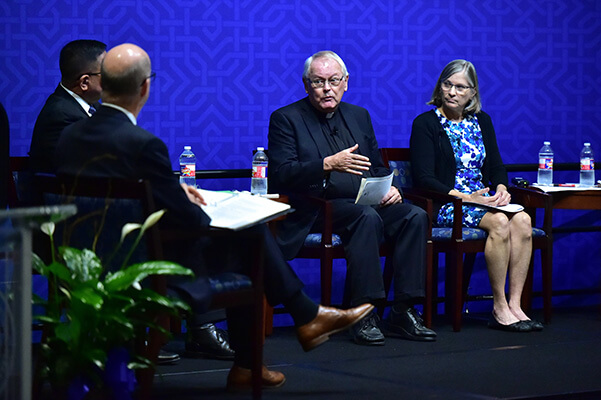 Speakers from various faith traditions are invited to speak to the University and San Antonio communities about such topics as Catholicism in a changing world, religion in a pluralistic society, and faith in areas such as art and science.
The symposium is one of the cornerstones of the recently established Center for Catholic Studies at St. Mary's, which is a result of the University's Defining Moment Comprehensive Campaign.
2020 Crossroads Symposium
Faith and Politics
How Does Catholic Social Teaching Address the Issues of Today?
Wednesday, Oct. 21, 2020
7 to 9 p.m.
via Zoom and livestream*
This year's Symposium will center around Faith and Politics, focusing on the topics of voting, social injustice, systemic racism and COVID-19.
Shirley Gonzales
Council Woman, San Antonio District 5

Born and raised in San Antonio, Gonzales is the daughter of Mexican immigrants, who started their own business in the heart of District 5. After graduating from Ursuline Academy, Gonzales earned her bachelor's and master's degrees in Business Administration from St. Mary's University. Gonzales is serving her fourth term as city council woman in District 5. She also serves chair of the Comprehensive Plan Committee (CPC) responsible for oversight of the SA Tomorrow Comprehensive Plan as well as on several boards and committees throughout the city.
Elizabeth Lutz
Executive Director, The Health Collaborative

Lutz is the Executive Director of The Health Collaborative. She has been with the organization since 2007, serving in multiple roles throughout her tenure. She asserts her passion for community health, equality in service, and collaborative vision to construct sustainable and resilient processes that will directly impact the health status of the community. Lutz assiduously works in tandem with the Board of Directors and staff to provide the highest standards of collaboration, sharing of resources and best practices to increase the impact of services to the community. Through these strengths, Lutz has been able to leverage resources to extend the mission of The Health Collaborative into a new caliber of service-oriented initiatives that bring together leaders in the field of community health to promote their joint efforts while fostering a shared vision of prosperity for the citizens of Bexar County, and diminishing duplication of services and the need for competition in the area of community health.

Lutz background includes over 12 years of business management, administration and program management, as well as experience in building community infrastructure and partnerships to develop resources for community health improvement.
Brother Steve O'Neil, S.M.
Former faculty member, St. Mary's University

O'Neil has been a Marianist brother for 33 years. He has a Master's degree in Biology and Creation Spirituality. Until recently, O'Neil was an adjunct faculty member of St. Mary's University teaching the Core Class on "Foundations on Nature."

He now lives in Philadelphia and returned to a previous ministry in the area of Peace, Justice and Integrity of Creation. From 2002 to 2014, O'Neil was the Marianist NGO representative at the United Nations and Marianist representative with the Interfaith Center on Corporate Responsibility.
Rev. Donald A. Page
Pastor, Faith Community Baptist Church, San Antonio

Page, is the founding Pastor of the Faith Community Baptist Church of San Antonio. The vision for Faith Community grew out of a 20-year journey of preaching, teaching, organizing and pursuing the blessings of God through service in the San Antonio Metropolitan area. Rev. Page came to San Antonio in the Fall of 1980 and served proudly in the military. At the end of his military commitment, he married his high school friend Rosiland, and earned a Bachelor's Degree at St. Mary's University. Donald and Rosiland have over 25 years of service to Christ through local churches and civic organizations including Macedonia Missionary Baptist Church, True Vine Baptist Church, SAMMinistries, Haven for Hope and Leadership San Antonio.
Vincent D. Rougeau
Dean, Boston College Law School

Vincent Rougeau became Dean of Boston College Law School in July of 2011. A vocal advocate for change in legal education, Dean Rougeau has led a reorganization in leadership structure at the law school that supports a more holistic approach to student services, expands the school's national and international recruitment of a diverse student body, and enhances the school's commitment to experiential learning and global engagement. Rougeau is president-elect of the Association of American Law Schools and serves as a member of its executive committee. He previously served a three-year term on the Council of the Boston Bar Association. His teaching interests are in contract and real estate law, as well as in law and religion.

An expert in Catholic social thought, Rougeau's current scholarly work considers the relationships among religious identity, citizenship, and membership in highly mobile and increasingly multicultural democratic societies. He serves as Senior Fellow at the Centre for Theology and Community in London, where he researches broad-based community organizing, migration and citizenship as part of the Just Communities Project. In June, 2020, Rougeau was named the inaugural director of the Boston College Forum on Racial Justice in America by university president William Leahy, S.J.
Livestream information will be shared soon.
2019: A Church in Crisis Moves to the Future

St. Mary's inaugural Crossroads Symposium centered on the theme A Church in Crisis Moves to the Future, partnered with St. Mary's MacTaggart Catholic Intellectual Tradition Lecture. As a Catholic and Marianist university, one of the roles of St. Mary's Center for Catholic Studies is to lead conversations on difficult issues facing the Church, which is crucial so that we may be agents of change for healing and transformation.

The inaugural symposium offered exceptional speakers and panelists, many known across the nation, who addressed the crisis of sexual abuse in the clergy as well as other challenges in the Church. In addition, the symposium focused on opportunities that exist to re-engage Catholics in the Church, which is greatly needed.

Past Crossroads Symposia