Center for Catholic Studies Programs
Dedicated to providing the University and local community, and in serve to the Church, these programs focus on the social issues and reflect the cultural faith practice of Southwest regional Catholic traditions. Key elements of the Catholic Intellectual Tradition, Catholic Social Teachings, and the Characteristics of a Marianist University are reflected upon within all of the Center's programs and events.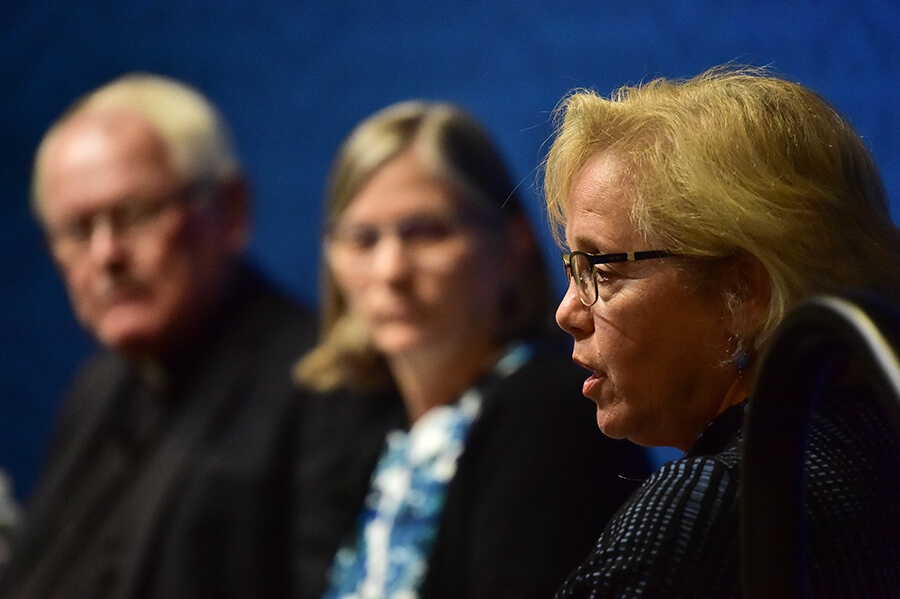 The Center hosts and co-hosts program that engage in presentations and research, conversations and dialogue around issues important to the Church and people of faith.
Reflecting the importance of the care for creation in Catholic social teachings and intellectual tradition and in Marianist spirituality, Gold and Blue Go Green brings together St. Mary's faculty and students in discussions on discipline-specific issues and actions regarding sustainability issues, local, nationally and globally.
The Edward and Linda Speed Catholic Studies Faculty Development and Research Fund
The Edward and Linda Speed Catholic Studies Faculty Development and Research Fund is an endowed fund used solely for the purpose of supporting St. Mary's faculty in their professional development, growth in knowledge, and research related to the Catholic Intellectual Tradition (CIT) and Catholic Social Teaching (CST). The Fund provides faculty with an opportunity to embrace our Catholic heritage more tangibly and intentionally, mission and its teachings.
The Escobedo Saint John's Bible Visiting Scholar Lecture Series
Thanks to a generous gift from former Board of Trustees Chairman Ruben Escobedo, a 1960 graduate of St. Mary's, and his wife Veronica Salazar Escobedo, the Escobedo Saint John's Bible Lecture Series was created and allows St. Mary's University to share the remarkable illuminated pages with members of the St. Mary's community, and with faith communities from across Texas and the nation. Each year, outstanding biblical scholars are invited to campus to give public presentations to enhance the interdisciplinary nature of our campus and community learning, while connecting our students and community to the creative, scholarly, and spiritual possibilities of the Saint John's Bible currently on campus.
In addition to the public lectures, each semester artistic events will take place that will bring together professional artists, scholars, teachers and students to work alongside our campus and local communities to foster the importance of the sacramental imagination as is present in the illuminations and calligraphy of The Saint John's Bible.
The Lin Lecture Great Speaker Series
The Lin Great Speakers Series is presented to the public as a community service. The lectures are made possible by an endowment established in memory of Shu-Chi Lin by his widow, Mrs. Chang Le-Chiao Lin, and their son, Vincent Lin, Ph.D., a St. Mary's alumnus and former faculty member. Lectures feature Nobel laureates and other distinguished speakers who represent music and the arts, science, engineering, technology and medicine, humanities and global interests, and economics, business and law. Topics of lectures have included health care, interfaith dialogue and the challenges of globalization.
Each year, as part of the Conference on Justice and Social Concerns, the Lin Great Speakers Series lecture brings the local and campus communities together to explore important social justice issues affecting society.
The MacTaggart Catholic Intellectual Tradition Lecture Series
Glenn MacTaggart (J.D. '79, M.A. '89), longtime attorney and counsel with Prichard Hawkins Young LLP, and his wife, Karla MacTaggart, gave a major gift to St. Mary's to create the MacTaggart Catholic Intellectual Tradition Lecture Series Endowment. The gift allows for the recruitment of speakers from various faith traditions to speak to the University and San Antonio communities about such topics as Catholicism in a changing world, religion in a pluralistic society, and faith in areas such as art and science. The lecture series will be one of the cornerstones of a Center for Catholic Studies that St. Mary's is in the process of establishing, which is a result of the University's Defining Moment Comprehensive Campaign.
Marianist Visiting Scholar in Residence
The Marianist Visiting Scholar in Residence program is part of Marianist Heritage Week and brings a Marianist, vowed religious or lay, who embodies the Marianist tradition, spirituality and educational characteristics through personal, spiritual, professional and scholarly achievement. The scholar presents a lecture and visits with faculty, staff and students, especially the Marianist Educational Associates and students in the Marianist Leadership Program.
Finding Common Ground for the Common Good
This panel discussion brings together public servants with years of experience navigating difficult discussions and tackling tough topics, working together with others to serve the common good. They are role models for finding common ground with people who think and believe differently from themselves. Learn from these experts about some of the challenges and opportunities that face all of us who want to engage in responsible citizenship and build a better world.