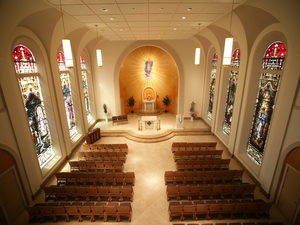 The newly established Center for Catholic Studies at St. Mary's University seeks to enable faculty and students to explore social policy issues and examine the Catholic Church in society and culture, particularly as it relates to the Southwest region of the nation and its growing Hispanic population in the Church and other Christian religions.
Following the 2,000-year path of the Catholic Intellectual Tradition, the Center will approach knowledge through the lens of Catholicism. Its programs and outreach will share opportunities for critical reflection and dialogue on issues concerning the Church and, in particular, the local Hispanic community, representing the variety of different modes of thought as found throughout the University.
Under the direction of the inaugural Beirne Director, the Center for Catholic Studies leads in developing campus cross-curricular conversations and programs, as well as scholarly activities and publications. It is a resource and a place for discourse and dialogue to further integrate the Catholic Intellectual Tradition throughout the institution.
The Center works in concert with various groups and departments across the University, particularly with the recently endowed Chairs in Human Dignity and Catholic Philosophy, to support existing programs that integrate the Marianist heritage of the University campus-wide.
Read more about the gift that endowed the Center's Beirne Director position.
---
About the Beirne Director
The Center for Catholic Studies was formally established with the hiring of inaugural Beirne Director Alicia Cordoba Tait, D.M.A., who joined St. Mary's in 2018. Tait was previously at Benedictine University as the Director of the Center for Mission and Identity.
A Message from the Director

It is an honor to serve as the inaugural Beirne Director of the Center for Catholic Studies at St. Mary's University. I have felt very welcomed into the community. As I continue to meet the community and talk about ideas for the Center, I am energized and excited about the potential the Center has to build on the compassionate, caring environment here and obvious love of the Church I have already seen so vibrant throughout campus.

I look forward to continued conversations as we, as a community, plan, create, and inspire the good works of the Center to fulfill the Catholic Marianist mission of the institution in forming a community in faith, one that believes in excellence, and provides students with an education that promotes professionalism, integrated learning and leadership for the common good.

May God bless you.

Alicia Cordoba Tait, D.M.A.
Inaugural Beirne Director, Center for Catholic Studies, St. Mary's University
---
Faculty and the Center
As part of University's commitment to integrating Catholic Intellectual Tradition into all academic arenas, the Center for Catholic Studies works closely with the University's related endowed Chairs.
Glenn Hughes, Ph.D., Chair in Catholic Philosophy
James Greenaway, Ph.D., Charles H. Miller Sr., M.D., Chair in Human Dignity
---
The Center's Programming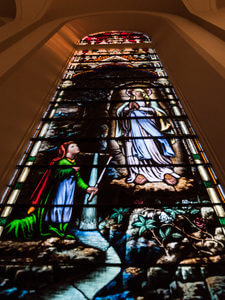 Integral to the Center for Catholic Studies is a focus on programming and opportunities to engage, study, and discuss with the University and external communities that focus on the key elements of Catholic Intellectual Tradition:
Compatibility of faith and reason
Collective wisdom through history
Inclusivity and diversity of peoples, cultures and religions
Importance of the communal nature of humanity
Integrative scholarship
Sacramentality
---
Mission-Related Programs and Resources Links
University Programs
External Resources