The newly established Center for Catholic Studies at St. Mary's University seeks to enable faculty and students to explore social policy issues and examine the Catholic Church in society and culture, particularly as it relates to the Southwest region of the nation and its growing Hispanic population in the Church and other Christian religions.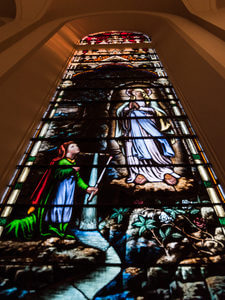 Integral to the Center for Catholic Studies is a focus on programming and opportunities to engage, study, and discuss with the University and external communities that focus on the key elements of Catholic Intellectual Tradition:
Commitment to Universal Truth
Compatibility of faith and reason
Integral relationship to the Catholic Church
Importance hospitality, community, tradition and dialogue
Sacramentality and the appreciation of creation
Dignity of the human person and the common good
The Center for Catholic Studies is a prominent part of St. Mary's and aims to fulfill its mission with students, faculty and staff across the University. Explore some of the ways the Center has made an impact with our community.
Mission-Related Resources

The Center for Catholic Studies serves as a resource hub for important documents, organizations and events in Catholic higher education and the Church relevant to current issues and ideas, and professional and scholarly development.