The Escobedo Saint John's Bible Lecture Series
The Escobedo Saint John's Bible Lecture Series Endowment is for the recruitment of scriptural scholars, research and curriculum design at St. Mary's University and related programmatic support throughout the Archdiocese of San Antonio. This program ensures St. Mary's plays a lead role in advancing Catholic Studies.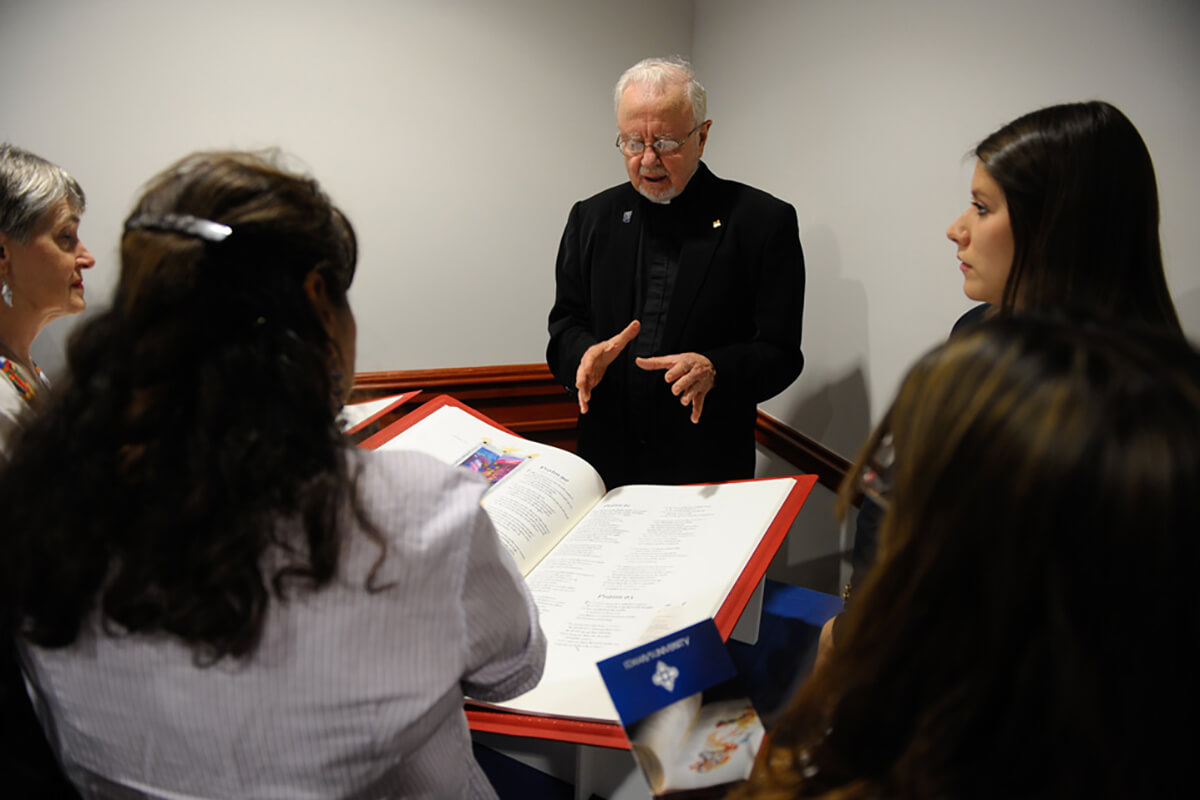 Thanks to a generous gift from former Board of Trustees Chairman Ruben Escobedo, a 1960 graduate of St. Mary's, and his wife Veronica Salazar Escobedo, the Escobedo Saint John's Bible Lecture Series was created and allows St. Mary's University to share the remarkable illuminated pages with members of the St. Mary's community, and with faith communities from across Texas and the nation. Each year, outstanding biblical scholars are invited to campus to give public presentations to enhance the interdisciplinary nature of our campus and community learning, while connecting our students and community to the creative, scholarly and spiritual possibilities of the Saint John's Bible currently on campus.
In addition to the public lectures, each semester artistic events will take place that will bring together professional artists, scholars, teachers and students to work alongside our campus and local communities to foster the importance of the sacramental imagination as is present in the illuminations and calligraphy of The Saint John's Bible.
For more information, contact Bob O'Connor, Ph.D., Director of The Saint John's Bible Project at St. Mary's University at 210-436-3799, or Sara Ronis, Chair of the Escobedo Saint John's Bible Lecture Series Committee, at sronis@stmarytx.edu.
They are also interdisciplinary in nature, reflecting on aspects of sacred scripture, interpretation, lived religious experience, and spiritual insight in conversation with other fields of study.

The Escobedo lectures are often part of a larger program in collaboration with academic departments and student life programs, such as University Ministry and Community Engagement, pairing scholarly presentations of the Bible with other creative, intellectual, and spiritual endeavors.

At St. Mary's, the volumes of The Heritage Edition have been in classrooms, at new student orientations, in campus liturgies and at the Marianists' residential communities. In addition, volumes are exhibited year-round in special hand-crafted display cases in St. Louis Hall, the University's signature building, and the Louis J. Blume Library on campus. Faculty, students, parents, alumni, donors, and other friends of the University experiencing The Saint John's Bible Heritage Edition in conjunction with the Escobedo programs have been astounded by the Bible at both on- and off-campus events at which has been exhibited. Learn more about the Saint John's Bible at St. Mary's University.

Learn more about the lecture series
"Biblical Hagar in Black and White" featuring Nyasha Junior, Ph.D., Associate Professor at Temple University

"I Am Babylon: A Postcolonial Womanist Interpretation of the Woman Babylon in the Book of Revelation" featuring Rev. Shanell T. Smith, Ph.D., teaching elder in the Presbyterian Church, professional doctoral coach, institutional consultant and speaker

Past Speakers
U.S. Immigration and Biblical Interpretation: The Politics of Belonging
Thursday, Nov. 18, 2021
7 to 8:30 p.m.
Assumption Chapel
Biblical interpretation is deeply linked to the geopolitical realities of the day. By examining the impact of U.S. immigration policies on ethnic/racial groups from the 19th century to the present, the presentation explores how the history of biblical interpretation takes on similar racial scripts of belonging in its aims and purposes.
Francisco Lozada, Jr. is the Charles Fischer Catholic Professor of New Testament and Latinx Studies and Director of the Borderlands Institute at Brite Divinity School (Ft. Worth, TX). Dr. Lozada holds a doctorate in New Testament and Early Christianity from Vanderbilt University. He is a past co-chair of the Johannine Literature Section (SBL), past chair of the Program Committee of the Society of Biblical Literature (SBL), and a past member of SBL Council.

He is a past president of the Academy of Catholic Hispanic Theologians of the United States. Dr. Lozada's most recent publications (co-edited, Latino/a Theology and the Bible, 2021; The Gospel of John: History, Community and Ideology, 2020; Toward a Latino/a Biblical Interpretation, 2017; and co-edited, Latino/a Biblical Hermeneutics: Problematic, Objectives, and Strategies). His research concerns cultural and ideological interpretation while exploring how the biblical text is employed and deployed in ethnic/racial communities. As a teacher, he co-led several travel seminars to El Paso, TX and to Nogales, AZ to study life and society in the U.S.-Mexico borderlands.
Apocalypse, Now What? Latina/o/xs and the Book of Revelation
Thursday, Jan. 27, 2022
7 to 8:30 p.m.
Location TBD
A global pandemic, terrifying and unpredictable weather, ongoing political and economic turmoil, too much suffering and grief in the face of death. These past few years have felt apocalyptic for so many. Although we often take the Apocalypse to mean the end of the world, we are not the first generation (nor are we likely to be the last), to wonder, is this it? From Guadalupe in Los Angeles to cries of "apocalyptic devastation" in the wake of Hurricane María, in this talk, we examine Latina/o/x perspectives on the Book of Revelation and five hundred years of living with the Apocalypse in the Americas.
Jacqueline M. Hidalgo is Professor of Latina/o/x Studies and of Religion as well as Associate Dean for Institutional Diversity, Equity, and Inclusion at Williams College. She is a past president of the Academy of Catholic Hispanic Theologians of the United States (ACHTUS) and President-Elect of the New England/Eastern Canada Region of the Society of Biblical Literature.

Hidalgo is the author of Latina/o/x Studies and Biblical Studies (2020) as well as Revelation in Aztlán: Scriptures, Utopias, and the Chicano Movement (Palgrave Macmillan, 2016). With Efraín Agosto, she also co-edited the collection of essays Latinxs, the Bible, and Migration (Palgrave Macmillan, 2018).