Reflecting the importance of the care for creation, Gold and Blue Go Green brings together St. Mary's faculty and students in discussions on discipline-specific topics and actions regarding sustainability issues, locally, nationally and globally.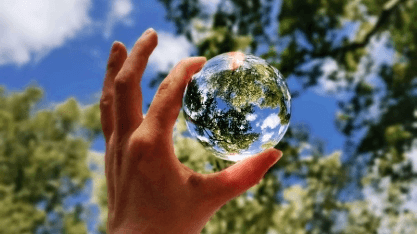 In 2021, President Mengler signed a commitment letter that established us as a Laudato Si' University with the Vatican's Dicastery of Integral Human Development. Upon acceptance by the Vatican, we began a seven-year journey for integral ecology along with other Catholic universities around the world.
The Laudato Si' Action Platform is a seven-year initiative launched by the Vatican in 2021, commemorating Pope Francis's 2015 encyclical on integral ecology. Coordinated by the Dicastery for Promoting Integral Human Development, the platform identifies seven broad goals related to Laudato Si' and invites all Catholic sectors (universities, churches, NGOs, etc.) to develop concrete plans to advance the goals within a seven-year timeframe.
St. Mary's University Laudato Si' Action Platform ad hoc committee is charged with fostering a community-wide appreciative inquiry conversation to be held on Earth Day, Friday, April 22, 2022 and designing a seven-year university-wide action plan related to Laudato Si' Action Platform. The working group brings together faculty, staff, administrators and students from all over the university.
Marianist Encounter Project
In February 2022, the Marianist Family Council of North America endorsed the formation of the Marianist Family's Encounter Project to facilitate a multi-year journey of responding to Pope Francis' calls to action in his encyclicals, Fratelli Tutti (2020) and Laudato Si' (2015).
Celebrating Laudato Si' on Earth Day

2022: Protect Our Species Including Us — Creating a More Sustainable Campus

The intention of the appreciative inquiry session is to learn from the collective wisdom of the St. Mary's University community regarding what we feel we are doing and what more we feel we can do regarding our Marianist Educational Characteristic "Educate for Care for Creation." As a designated Laudato Si' University, we have committed ourselves to a seven-year journey of integral human ecology. Similar to the appreciative inquiry process, the Church has asked us to work together as people of faith through the synodal process. Today, we gather in dialogue to uncover existing programs, learn about hopes and dreams for new projects, and collectively work toward developing and implementing strategies for improvement and implementation.

Beginning Our Seven-Year Journey towards Integral Ecology at St. Mary's University

Friday, April 22, 2022
9 a.m. to 2 p.m.
Location TBD

Welcome, Invocation, StMU Voices of Support
9 a.m.

Keynote Speaker | Title TBD
9:30 a.m.
Vincent Miller, Ph.D., Professor, Gudolf Chair in Catholic Theology and Culture
Member, Laudato Si' Universities working group

Discover and Dream — Laudato Si' Action Platform Appreciative Inquiry
10:30 a.m.

Alicia Cordoba Tait, D.M.A., Associate Vice President and Beirne Director, Center for Catholic Studies

Savio Franco, Ph.D., Director Leadership Development, Research, and Partnerships, Marianist Province of the United States

Jessica Uhlig, Ph.D., Associate Provost for Academic Administration and Mission Integration

Greg Pool, Ph.D., Program Director and Professor, Industrial/Organizational Psychology

Student Facilitators: TBD

Lunch and Activity
1 to 2 p.m.

The Response to the Cry of the Earth is a call to protect our common home for the well-being of all as we equitably address the climate crisis, biodiversity loss and ecological sustainability.

The Response to the Cry of the Poor is a call to promote eco-justice, aware that we are called to defend human life from conception to death, and all forms of life on Earth.

Ecological Economics acknowledges that the economy is a sub-system of human society, which is embedded within the biosphere – our common home.

The Adoption of Sustainable Lifestyles is grounded in the idea of sufficiency and promoting sobriety in the use of resources and energy.

Ecological Education is about rethinking and redesigning curricular and institutional reform in the spirit of integral ecology to foster ecological awareness and transformative action.

Ecological Spirituality springs from a profound ecological conversion and helps us to "discover God in all things," both in the beauty of creation and in the sighs of the sick and the groans of the afflicted, aware that the life of the spirit is not dissociated from worldly realities.

Community Resilience and Empowerment envisage a synodal journey of community engagement and participatory action at various levels.

Here at St. Mary's University…

What would it take to get there?

Earth Day 2022