by Alex Z. Salinas (B.A. '11, M.A. '19)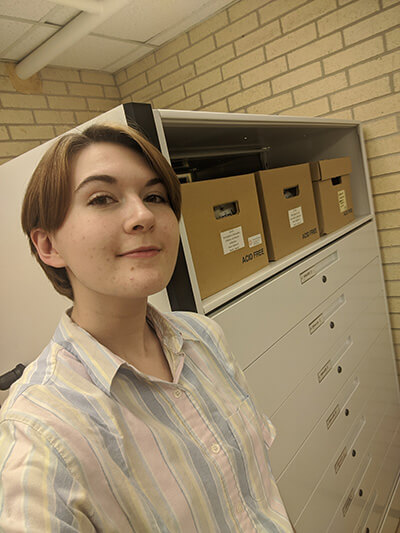 Glory Turnbull (B.A. '20), a student in the Master of Arts in Public History program at St. Mary's University, received in May the Student Excellence Award from Texas Digital Library for digitizing archival documents and subsequently creating an exhibit on the Old Spanish Trail (OST) — a 2,817-mile automobile route constructed in the early 20th century stretching from St. Augustine, Florida, to San Diego, California.
The trail, which passes through San Antonio's historical missions, "was a sort of big tourist trap — on the one hand bringing commerce to small towns, to farmers on the margins, and on the other hand celebrating aspects of colonialism, conquest," Turnbull said.
Digitizing original OST documents, housed in the Blume Library, began in 2019 with help from History senior Christopher Hohman and English major Danielle Slaughter, who graduated in the spring.
"We cataloged everything, put everything in acid-free boxes," said Turnbull, who called learning digitization techniques "one of the most important things to know" as a modern historian.
Contrary to popular belief on handling paper documents, Turnbull said that "as long as your hands are clean, it's fine to touch most of them with your bare hands," as cotton gloves sometimes snag paper.
In Spring 2020, Turnbull entered metadata on the digitized materials then collaborated with members from the OST Association to produce a portable, eight-panel comprehensive exhibit.
"I think Glory worked really diligently to try to uncover some of the complexities of the language that the Old Spanish Trail boosters were using at the time," said Lindsey Wieck, Ph.D., Public History Graduate Program Director. "We know that in that time, the people who had the leisure and means to buy cars were predominantly white and middle-class.
"Glory figured out how to delicately interpret this history and how it chooses to celebrate some stories while leaving others out."
Wieck said she hopes the OST exhibit will be displayed at the Blume Library starting in Fall 2021, then lent out as needed for public exposure.
Turnbull, a Corpus Christi native, became a Rattler because "for almost a decade my mother lamented that she should have gone to St. Mary's."
While majoring in History as an undergraduate, Turnbull, after years of prior identity struggle, discovered a supportive environment at St. Mary's to identify as nonbinary. Because of this, Turnbull called the History Department "the best department at the school."
"The professors in that department are amazing," Turnbull said. "I've learned how to make whiteboard animations, how to design exhibits and online interactive tools for people, how to be a museum professional, how to write papers. Everything on my résumé comes from St. Mary's.
"But more than anything," continued Turnbull through tears, "they practice a caring model of teaching I've never heard of or seen anywhere else. When COVID-19 happened, they cared more about us than the grades."
Once Turnbull — who works this summer at the Museum of the Coastal Bend in Victoria — receives their master's degree from St. Mary's in August, it's off to Aberystwyth University in Wales where Turnbull was accepted into the M.A. in Archives Administration program.
"History combines my love for knowledge and my efforts, wants and wishes for social change," Turnbull said. "History has the ability to change people's lives."