April 29, 2021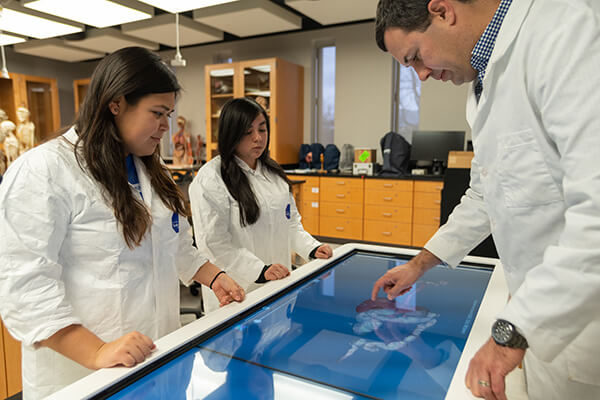 Upon completion of Spring 2021 Commencement, 23 St. Mary's University graduates will enter medical school — the most the University has produced since 1997.
"This year we had a strong group of students to begin with," said Ted Macrini, Ph.D., Chair and Professor of Biology. "We also had more students apply to medical school (36) than in nearly 20 years, and they scored higher on the MCAT than in recent years."
With 10 Pre-Health Professional Programs — all of which prepare St. Mary's students for entry into medical, graduate or professional school — and the decades-running MARC U*STAR Program, the University has long championed pre-medical studies, especially for underrepresented minority students.
"Our faculty are deeply invested in the success of students, and we actively seek the help of our alumni to improve outcomes for our students," Macrini said.
Winston Erevelles, Ph.D., Dean of the School of Science, Engineering and Technology, believes the COVID-19 pandemic re-engaged science students on a deeper level.
"I believe students are seeing health care providers — physicians, nurses and others — through new eyes and even more respect," he said. "While many of us had the opportunity to work safely from home, our health care providers did not.
"Our students desire to do good and I feel that this pandemic, despite all the hardship and loss experienced by so many, will result in a renewed sense of commitment and service in the minds of students," Erevelles said.
Of the 23 students accepted into medical school this year, two are Presidential Award recipients.
El Paso native Andrea Aldaz — a Biochemistry major who will attend Texas Tech University Health Science Center Lubbock School of Medicine — said St. Mary's "taught me to appreciate medicine for its ability to foster my curiosity and to test my problem-solving skills."
Another Presidential Award recipient, Kathryn Drees, a Biology major from Boerne, while not one of the 23 accepted into medical school, was accepted into Kent State College of Podiatric Medicine, showcasing the variety of career pursuits in the health professions.
Drees commented on the University's well-documented family spirit.
"St. Mary's University has a tradition of opening its doors to students and the community, offering a genuine, loving embrace," she said.