by Alex Z. Salinas (B.A. '11, M.A. '19)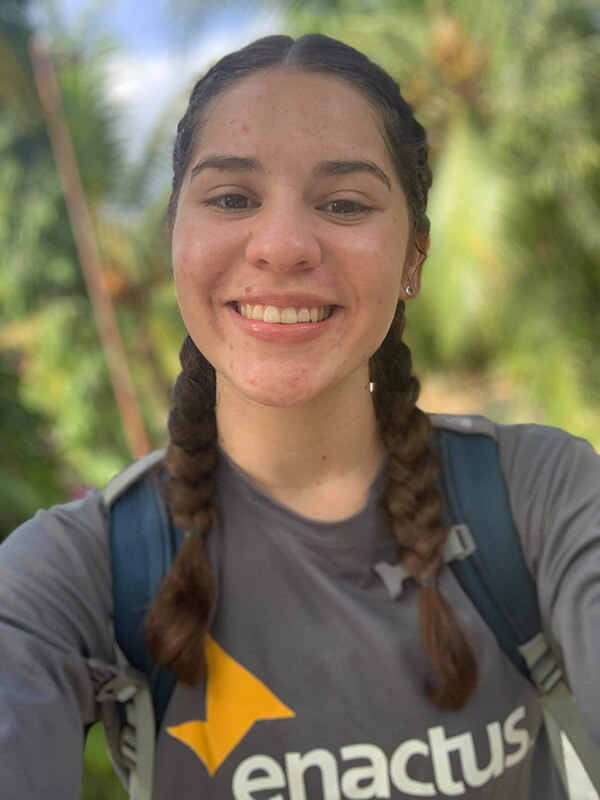 When Wilzave Guzman thinks of her homeland — Puerto Rico — she is filled with good memories of growing up in a tight-knit neighborhood, volunteering with military organizations to help feed the island's needy.
In 2017, Guzman was a high school senior at Escuela Superior Vocacional Nueva Antonio Lucchetti in Puerto Rico, living with her mother, when Hurricane Maria upturned their lives.
The Category 5 hurricane — one of the deadliest to ever sweep across the island — ravaged Guzman's home, like many others. She described her bedroom as looking like a "waterfall."
Her school shut down, suspending Guzman's education. Meanwhile, a family friend in San Antonio offered a room in her house for Guzman and her mother.
"I didn't want to leave Puerto Rico," Guzman said, having established strong grades and connections where she was.
Ultimately, Guzman's mom believed it best to relocate to Texas, especially so her daughter could resume her schooling.
At Burbank High School in San Antonio, Guzman started anew socially, also improving her English communication.
When she began searching for colleges, a series of coincidences placed St. Mary's University in the front her mind, chief of which was a conversation with an adviser informing her about the University's Environmental Science program because of her interest in agriculture.
After Guzman and her mom toured St. Mary's — accompanied by fellow Puerto Rican Rosalind Alderman, Ph.D., Vice Provost for Enrollment Management — she went from feeling like walking through an "unknown place" to being "welcomed to a new home."
"God granted me the strength to come here, to have a purpose," she said. "I was happy to find a faith community at St. Mary's, professors you can easily talk to."
With "deep trust" in God and a friendly disposition, Guzman quickly established herself on campus, regaining the self-confidence she'd lost after uprooting to Texas.
She discovered a mentor in Associate Professor of Environmental Science David Turner, Ph.D., who met Guzman and her mom when they toured St. Mary's.
"The campus was pretty quiet and they were kind enough to spend time with me as I talked about our program and showed them the historical timeline and St. John's Bible on the first floor of St. Louis Hall," Turner said.
In addition to receiving a scientific foundation for agricultural knowledge, Guzman double-majored in International and Global Studies to gain a wider humanities perspective, which she has directly applied through her involvement with the student club Enactus via the Greehey School of Business.
"I traveled to Panama in 2019 as a project lead to help indigenous communities improve their waterways, better market their crops and study children's health," Guzman said. "We met people from the United Nations. We had an amazing time there."
Of converting classroom experiences into direct action abroad, Turner said, "service learning and community engagement are core parts of who we want to be as an institution, and Wilzave represents the best type of dedication to service we hope to instill in our students."
Working toward her Certificate in Public Health, Guzman, once she graduates from St. Mary's, hopes to join an environmental nonprofit concerned with addressing issues, such as the lack of clean water and air.
Drawing on her memories, the devastation of Hurricane Maria, has reminded Guzman that "we're all part of nature."
"We must be more aware of our activities as they relate to global warming, and remember that natural processes allow our world to regenerate itself," she said.